Public funding helped complete I-15 project
October 5, 2007 - 9:00 pm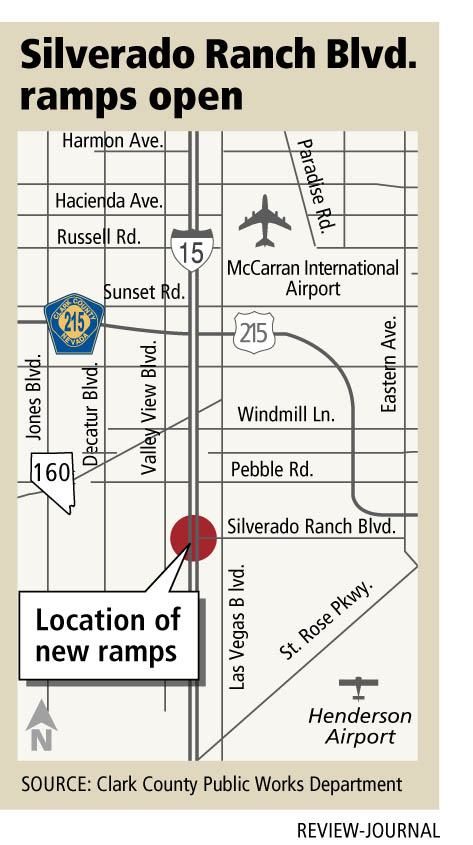 Travel got a bit smoother Thursday for folks living near Interstate 15 and south of Blue Diamond Road.
Community leaders and officials from the South Point used giant scissors to cut a ribbon officially opening the Silverado Ranch Boulevard-Interstate 15 interchange.
The northbound ramps have been open for about a month.
The diamond interchange was erected at a cost of $38.7 million, said Bobby Shelton, spokesman for Clark County's public works department, which oversaw the construction. Another $25 million was used for land acquisitions associated with the project, Shelton said.
Officials praised the public-private funding of the project. South Point contributed about $5 million to the construction costs. The northbound exit ramp leads right to the resort.
The opening should help ease congestion at Blue Diamond and spare some commuters headaches.
The interchange and overpass will spare motorists traveling Silverado Ranch from one side of I-15 to the other, from making a detour of about four miles. When one woman was asked about that commute — a trip that takes you two miles north to the Blue Diamond overpass before heading south two miles, back to Silverado Ranch — she rolled her eyes in disgust.
This is the first new I-15 interchange to be constructed since the Russell Road interchange was built in the early 1990s, Shelton said.
South Point owner Michael Gaughan said the project should've been completed years earlier, which is why he helped pay for it. Gaughan bought the south Strip hotel in July 2006 for more than $500 million after selling his Coast Casinos company to Boyd Gaming Corp.
Construction on the interchange started the next month. Design and planning for the project began in 2001.
"I thought it was going to be done three years ago," Gaughan said.
"It would have been cheaper."
Contact reporter Francis McCabe at fmccabe@reviewjournal.com or (702) 383-0279.