Quagga mussel reproduction dwarfs that of cousin mudsnail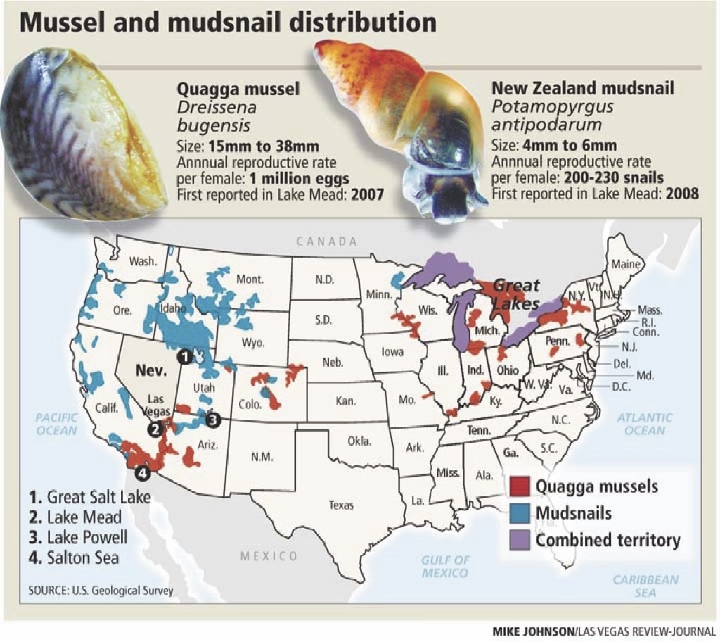 Consider this world-class matchup of invasive species: New Zealand mudsnails versus Ukrainian quagga mussels.
While both have been found in lakes Mead and Mohave in Southern Nevada, and mudsnails have recently turned up in Lake Tahoe up north, the tiny critters from New Zealand are no match for the much larger, pesky quaggas native to the Ukraine's Dneiper River drainage. Quaggas were found in Lake Mead in 2007.
Since then, quagga mussels, a cousin of zebra mussels that invaded the Great Lakes region a couple of decades ago, have rapidly spread to waterways on the Lower Colorado River system.
Unlike New Zealand mudsnails, quagga mussels already are a headache for water supply agencies and recreational boaters because they multiply rapidly, with colonies of them clogging water intakes, marine structures and watercraft engines. Their infestation costs $1 million annually in maintenance at Lake Mead and Hoover Dam.
Although no one knows for sure the final tally of their populations in Lake Mead, quagga mussels win by trillions.
"So far the quagga mussel is our focus," according to David Wong, an expert on quagga mussels from Wisconsin who was recruited to assess the invasive mollusk problem for the University of Nevada, Las Vegas.
"We don't have enough sampling sites for New Zealand mudsnails to estimate their population. One thing is for sure: They are far less abundant than quagga mussels with 3 trillion in Lake Mead," Wong said in an e-mail this month, days after biologists confirmed that New Zealand mudsnails had been found along a Lake Tahoe boat ramp.
Wong said scientists plan to sample lakes Mead and Mohave in the fall for New Zealand mudsnails.
"We don't know how and when they got here," he said.
They were first reported in Lake Mead in 2008. Before that, New Zealand mudsnails had been found in the Colorado River system. According to Wong, adult New Zealand mudsnails are one-fifth the size of adult quaggas, which measure between 15 millimeters and 28 millimeters or about the diameter of a penny.
"This snail is not as bad as quagga mussels," Wong said Tuesday. "The damage they can bring is only ecological consequences such as competing (for) food with native snails and insects.
"If native snails and insects cannot compete with New Zealand mudsnails, their populations will decline."
He said another issue with New Zealand mudsnails is that a female can only have about 200 babies a year.
"Compared to almost 1 million eggs produced by an adult female quagga mussel, this is not even close to the impacts from invasive quagga mussels," he said, noting that "we still need to keep eyes on these invasive snails due to their negative ecological impacts on native communities."
Quagga mussels were discovered in Lake Mead's Boulder Basin on Jan. 6, 2007, the first known occurrence of the species in the Western United States. So far, they haven't turned up in Lake Tahoe but if they do, the Army Corps of Engineers has estimated the Tahoe economy could suffer an annual loss of $22 million because of lost tourism, declining property values and maintenance costs associated with the mollusks.
Since 2007, Lake Mead's quagga mussel population jumped from 47.8 billion to 2.9 trillion in 2008 just in the Boulder Basin.
With the right mix of food, calcium, dissolved oxygen and water temperature, quaggas can reproduce six times a year in lakes on the Lower Colorado River system.
Biologists think quaggas arrived at Lake Mead by hitchhiking in bilge water or equipment of a boat from the Midwest. They have spread rapidly in the lake and downstream to lakes Mohave and Havasu and waterways in southern and central California.
Quagga mussels, like the zebra mussel, were transported to the Great Lakes in the ballast water of ships from the Ukraine region in the mid-1980s.
Contact reporter Keith Rogers at krogers@reviewjournal.com or 702-383-0308.