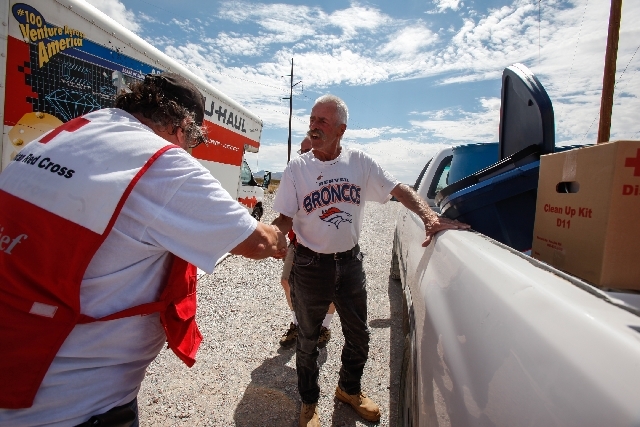 When police knocked on the Masanz family's front door last week, it wasn't the first time.
The 23-year Mount Charleston residents had been asked before to leave their home because an encroaching wildfire was threatening their safety, according to Janet Masanz.
But this time, federal and local authorities used the word "mandatory," which means there's no choice in the matter. The 500 residents of Kyle, Trout and Lee canyons had to leave.
But police, fire officials, Bureau of Land Management and the U.S. Forest Service can't — on their own authority — make someone leave their property because of a threatening disaster. At least not in Nevada.
"That order can only come from the office of the governor," said Christopher Smith, chief of Nevada's Division of Emergency Management within Homeland Security.
State law says that only the Nevada governor or Legislature can "compel the evacuation of all or part of the population" from an area after declaring a state of emergency or disaster.
However, the governor has done no such thing for any of Nevada's wildfires this summer, Smith said. All of the evacuations across the state have been voluntary. Smith can't remember a time when the governor used his power to call mandatory evacuations.
But the evacuations should still be taken seriously and obeyed, he said.
"We don't do it lightly."
Across the country, the power of mandatory evacuations usually lies with governors but is rarely used, Smith said. But if evacuations are made mandatory, several states, but not Nevada, specifically give police the power to arrest resisting residents, making it a criminal offense to stay. Fines can also be levied.
Because Mount Charleston's evacuations aren't actually mandatory, that means residents can't legally be forced to leave, even though they still should, Smith said.
However, local police do have the authority to block residents from returning to unsafe areas.
"There have been holdouts all over the state," he said of landowners who feel they can do a better job of protecting their property.
Whether Las Vegas police overstepped their powers and forced residents out or simply called the evacuations mandatory remains to be seen.
Department spokesman Bill Cassell didn't return calls for comment Thursday and Friday.
"They told me to get off the mountain," said Rose Meranto, a resident of Old Town in Kyle Canyon who was under the impression she had no choice and left immediately.
On the other hand, the Masanz family and a few other Kyle Canyon residents stayed, not wanting to leave. They holed up in the community church, fleeing after a visit from police a couple days later.
"They forcefully told us we need to leave, asking 'What are you trying to accomplish by being here?' " Masanz said.
It usually doesn't take much to convince residents to leave, "just a conversation," Smith said. That usually entails a reality check: If your life is in danger, no help may be on the way because conditions would also put responders lives at risk.
"They often change their mind," Smith said of residents.
In addition to a 2012 North Carolina law making it a criminal offense with a fine of up to $1,000 for ignoring a mandatory evacuation, North Carolina law also says residents will be billed for their rescue if they ignore a voluntary evacuation.
Nevada law hasn't gone that far.
But are mandatory evacuations "unnecessarily paternalistic" to begin with or is it considered acceptable, like seat belt laws, asks several Columbia University researchers in a 2006 study, "The Challenge of Mandatory Evacuation: Providing For and Deciding For."
Even though unwilling evacuees argue they're only putting their own lives at risk, that's not the case for minor children put in danger by defiant parents, researchers found, noting that U.S. courts have upheld the government's authority to compel evacuations.
In the end, the Masanz family left at the police's insistence.
"In a sense, I'm glad I left," said Masanz, remembering how safe they felt at home. "It's like you're in the eye of the storm. Calm. We didn't see the danger around us."
But then they descended into Las Vegas Valley and looked back at the mountain shrouded by smoke, something they had been too close to see.
Contact reporter Trevon Milliard at
tmilliard@reviewjournal.com or 702-383-0279.