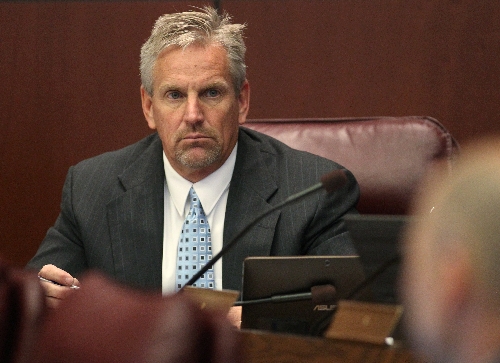 CARSON CITY — A month removed from his last pancreatic cancer operation, weakened-but-wily White Pine County rancher Hank Vogler drew comparisons Monday between the Southern Nevada Water Authority's pipeline to eastern Nevada and the aggressive disease that tried to kill him.
"This cancer must be stopped before it metastasizes into all the valleys of rural Nevada," said Vogler about the water authority's plan to siphon groundwater from several sparsely populated valleys, including his own.
He joined several American Indian leaders in pleading for State Engineer Jason King to deny the authority's request to pump up to 126,000 acre-feet of groundwater a year from beneath an area they consider their ancestral home.
"I have the most to lose," said Vogler, who is part American Indian and fighting to protect the water he uses for his sheep ranch in Spring Valley, about 50 miles east of Ely.
Already widely quoted thanks to his homespun sense of humor, Vogler made headlines earlier this year when he threatened to call his sheep and other livestock as witnesses during the state water hearing now under way.
The 62-year-old had hoped to testify last month but underwent operations for pancreatic cancer on Oct. 4 and 14.
Fellow White Pine County rancher and outspoken pipeline opponent Dean Baker drove Vogler to Carson City in a Chevrolet Suburban so he could lie down in back when he needed to rest.
Vogler jokingly referred to Baker as his "ambulance driver."
It was Baker's second trip to the capital in less than a week. On Thursday, he testified against the groundwater project, calling it a bad investment for Las Vegas and a death sentence for rural Nevada.
Vogler was welcomed to the hearing by King and Division of Water Resources hearing officer Susan Joseph-Taylor. He has been a member over the years of the state Tax Commission, the Wildlife Commission and the Agriculture Board.
In his testimony, Vogler called Las Vegas a "great city" with great water needs that can best be satisfied through ocean desalination in coastal Mexico or California.
But instead of pursuing that, the authority is threatening to take what little water he needs for his sheep operation, which basically equals "a Las Vegas swimming pool and half," he said.
"A 5-gallon-a-minute spring owned by me should not stop the health and future of Las Vegas," Vogler said.
In an interview after his 10-minute appearance, he said he is cancer-free and confident of a full recovery from one of the deadliest forms of the disease.
Following his testimony, Vogler expressed doubt that King will reject the water authority's groundwater applications.
"I don't believe the political pressures will allow him to do what he should," he said.
Even if King denies the applications, the water authority will just bide its time before filing once again for water across rural Nevada, Vogler said.
He isn't crazy about the authority's entry into the ranching business either.
At one point in the hearing, he said "jack-booted" thugs were put in charge of the ranch next door to his in Spring Valley after it was bought by the water authority. They put so many cattle on the ranch that it started to look "like the surface of the moon," Vogler said.
New tenants are now in charge of the ranch, and his relationship with them "remains to be seen," he said.
Water authority officials declined comment on Vogler's statements.
The hearing on the authority's groundwater applications began Sept. 26 and is expected to conclude Friday.
King is not likely to make his decision until March.
Review-Journal writer Henry Brean contributed to this report. Contact Capital Bureau Chief Ed Vogel at evogel@reviewjournal.com or 775-687-3900.
Watch the water hearing live:
www.leg.state.nv.us
Documents and other information associated with the hearing:
water.nv.gov/