Rancher refuses to budge in standoff with BLM
April 14, 2012 - 10:59 pm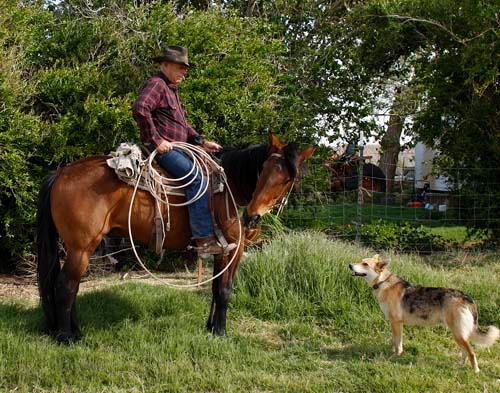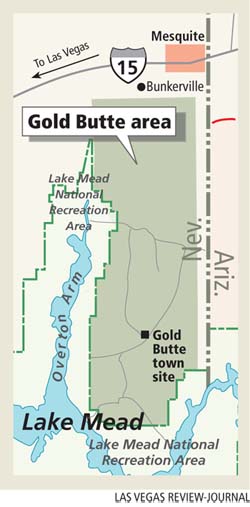 Sheriff Doug Gillespie rode with Cliven Bundy in his weathered, white pickup down a bumpy trail on the outskirts of Bunkerville. They chatted about the Bureau of Land Management's plans to round up the rancher's cattle.
The sheriff agreed to disagree with the 65-year-old rancher's suggestion of what he should do as Clark County's elected law enforcer to keep federal land managers from "stealing" his cattle.
"These are federal lands. They can do what they want to do," Gillespie recalled telling Bundy during the April 6 tour of the Gold Butte range, 80 miles northeast of Las Vegas. "I use my influence to make sure whatever is done is done by the law and, No. 2, it is done peacefully."
Then and now, Bundy remains steadfast in his intention to resist government efforts to round up his cattle from rangeland where his family has lived since 1877.
The BLM had canceled Bundy's permit for the Bunker­ville allotment in 1994. But he continued to let his cattle graze on the vast, sage-dotted landscape — without paying the $2-per-head-per-month fee and in violation of a federal court order that he remove his herd to preserve the habitat for the federally protected desert tortoise.
So, the BLM finally hired cowboys and planned a helicopter-assisted roundup last week to remove his herd — anywhere from 500 to 900 head of cattle depending on who's counting.
The BLM's last-minute decision to divert its roundup plans, at least for now, to pursue another legal avenue raises questions about how one man's resistance to the bureau's rules will affect other ranchers in the West.
This could signal the resurgence of the Sagebrush Rebellion, a homegrown state's rights movement against federal land ownership that swept across rural Nevada and surrounding states in the 1980s.
LONG-SIMMERING FEUD
Bundy didn't mince words when he put the BLM contractor on notice about the cattle gather that was supposed to begin Wednesday.
"There is a volatile situation currently taking place," Bundy wrote to Cattoor Livestock Roundup Inc. "Cliven Bundy will do whatever it takes to protect his property and rights and liberty and freedoms of those of, We the People, of Clark County Nevada."
His threat seemed to have worked, at least for the time being. The BLM blinked when officials in Washington, D.C., decided late Tuesday to suspend the roundup indefinitely because of safety concerns for people involved.
That disappointed BLM Southern Nevada District Manager Mary Jo Rugwell. She and her staff had spent months plotting the roundup and coordinating with BLM rangers, a special bureau agent for the Southwest region and the sheriff's staff and officers who work out of the area's rural substation.
The FBI even sent a representative to listen in, Gillespie said.
After all, they didn't want the long-simmering feud over grazing rights to boil over into a deadly confrontation like what occurred at the Weaver Ranch in Ruby Ridge, Idaho, that left two family members and one federal marshal dead in 1992. Or, like the standoff in Waco, Texas, that ended on April 19, 1993, when federal agents besieged cult leader David Koresh's Branch Davidian ranch, ending in a fiery assault that killed 76 people.
"Nobody wants this to turn into a confrontation where violence would occur," Gillespie said. "Mr. Bundy doesn't want that and neither does the BLM."
While he's not concerned that Bundy or his family would resort to violence, the sheriff said, the situation is complicated and emotions run high.
"I always get nervous when people come to support a cause on one side or the other. Whether on the environmental side or the cattle rancher side, we have to do our best to mitigate those situations from occurring," the sheriff said.
Gillespie's advice to the BLM was to revisit legal avenues for dealing with the disgruntled rancher. He said he felt uncomfortable trying to be the peacemaker after the 1998 court order that federal land managers were trying to enforce had withered with time.
"Those court documents are old," Gillespie said. "I ask them to take that back to court and address the issue. Then, OK, if he continues to trespass, then you seize the cattle.
"In my conversations with the BLM from their legal standpoint, I see it as a case of 'could you, should you.' Could you? Yes. Should you? No. Cattle does not trump human life."
CATTLE'S IMPACT
Rugwell made removing Bundy's cattle one of her priorities when she took the reins of the local BLM office in 2008. In the early 1990s when he was still paying grazing fees, the herd on his 158,666-acre Bunkerville allotment was capped at 150 head. About 10,486 acres of the allotment was on National Park Service lands along the tip of Lake Mead's Overton arm.
After his grazing permit was canceled in 1994, the herd grew and some cattle migrated to far reaches of the Gold Butte area.
Last week, Bundy estimated his adult cattle numbered about 500 in what the BLM describes as the 500,000-acre Gold Butte area.
Rugwell said her staff in December began planning for the roundup but the cattle's impact on the landscape was getting out of hand, causing considerable damage to natural resources even though Bundy had been diligent in maintaining some 30 spring-fed water systems in the area.
"We really didn't know how big the problem was until we started doing counts last year. There were as high as 900 (cattle) out there," Rugwell said Thursday.
Subsequent counts in August tallied 730 cattle, and the latest one this month turned up 750. That doesn't include strays that had wandered over the state line to Pakoon Springs, Ariz.
Rugwell had set a target of early to mid-April for the roundup because conditions would be right for it.
"We were making sure that it's not too hot, because there would be less stress on cattle and people. That's the reason for the timing," she said.
Rugwell notified Bundy in an April 3 letter about his cattle trespassing on public lands. She informed him they would be rounded up and impounded because the herd had been roaming for 18 years "without authorization in areas that are closed to grazing" in violation of the 1998 federal court injunction.
The letter said Bundy would be contacted after all the cattle had been gathered and he would be allowed to claim any that bear his brand.
"In my mind, the most important issue with respect to trespass is the fact trespass is unfair to other users, like recreationists. They pay fees and follow rules. In my mind it's a fairness issue," she said Wednesday after the roundup had been suspended indefinitely.
THE LEGAL ISSUE
Cases like Bundy's have been tried before in the courts, and county sheriffs in Nevada, California and Idaho have had varying degrees of support for ranchers and their causes.
But Bret Birdsong, a professor at the Boyd School of Law at the University of Nevada, Las Vegas and an expert on public land and natural resources litigation, said Bundy's legal arguments that federal rangers and BLM staff have no jurisdiction over the federal lands he uses for ranching "are based on interpretation of the Constitution which has been debunked by the Supreme Court for many years."
"That is clearly not the law," he said.
Bundy contends the limitless authority that the federal government had over the territory evaporated when Nevada became a state in 1864.
However, Birdsong said the BLM still has power to enforce laws on public land and to seize cattle through a court order or even by administrative action.
"I don't see personally why they couldn't go back to court to seek enforcement of the injunction," Birdsong said. "The idea that the sheriff should come to his defense seems just wrong."
Bundy appealed the U.S. District Court ruling, and the 9th U.S. Circuit Court of Appeals affirmed the injunction against him in a 1999 order.
However, there is concurrent jurisdiction between the BLM and the sheriff with enforcing laws on federal land.
"If someone steals your car while you're camping at Gold Butte that would be enforceable under state law," he said. "But if the state passes a law that allows grazing on federal land, and federal law says you can't, then federal law prevails where there's a conflict."
Birdsong points to a 1997 cattle trespass case in Northern Nevada that stands as a precedent for legal action by the BLM over Bundy's continued effort to run cattle where grazing is prohibited in Gold Butte.
In the 1997 case, Clifford Gardner was charged with trespass by the U.S. Forest Service for letting cattle from his Dawley Creek Ranch roam part of the Humboldt National Forest that had been ravaged by a wildfire. Although Gardner and his wife, Bertha, had a permit to graze there, the Forest Service had reseeded the burn area and closed it to grazing for two years.
Gardner violated the order by sending his cattle in and was fined for trespassing. He was sued by the Forest Service after refusing to pay the fine, arguing that the federal government didn't have title to the land so he couldn't be in trespass.
The 9th Circuit, however, held that the United States, not Nevada, owns public lands in the state and that they have power to regulate grazing under the Constitution's property clause.
PUBLIC LANDS, PRIVATE RIGHTS
The U.S. government's authority over public land is far-reaching; its agencies hold 87 percent of the land in Nevada. The BLM alone manages more than 47 million acres including about half of the land in Clark County, or roughly 2.7 million of the county's 5.1 million acres.
Reno resident Ramona Morrison, daughter of the late Sagebrush Rebellion icon Wayne Hage, said she is closely following the Bundy-BLM feud as a member of the Nevada Agriculture Board.
"We need to be sure due process of law is being followed and state law is being followed and the BLM is not conducting a rogue police operation," she said.
Her father battled the federal government for decades over public lands and private property rights after the Forest Service greatly reduced the number of cattle he could graze. Hage sued the agency for harassment and prevailed in 2002 when a judge ruled he had a right to graze cattle and use springs on federal land north of Tonopah.
But others argue that federal agencies aren't doing enough to protect public lands from overgrazing.
The Center for Biological Diversity is contemplating suing the BLM for dragging its feet on the roundup, noting the county bought up the grazing rights in 1998 and retired them to benefit its Multiple Species Habitat Conservation Plan, considered a model for allowing development and sensitive ecosystems to coexist.
"On the ground, even though good intentions have been made, nothing is different than before," said Rob Mrowka, a spokesman for the environmental watchdogs.
Greta Anderson, deputy director of the Western Watersheds Project, a nonprofit conservation group, said the BLM needs to follow through on its roundup instead of knuckling under to Bundy's threats of resistance.
"They have all the legal authority in the world but not the political will."
Contact reporter Keith Rogers at krogers@reviewjournal.com or 702-383-0308.