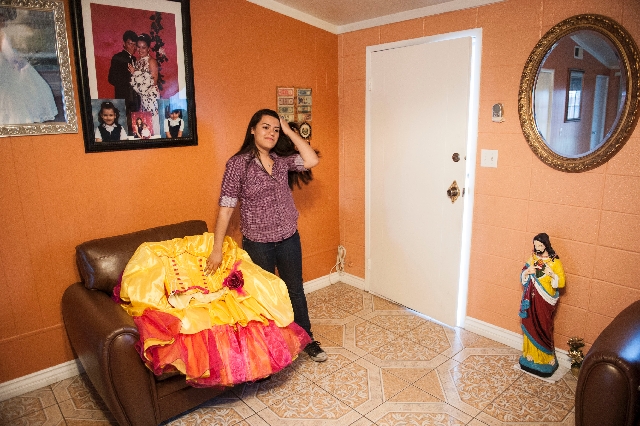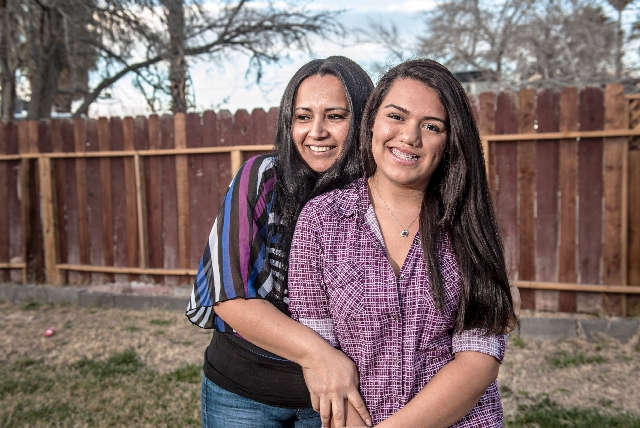 As she sat on the family sofa next to her proud mother and squirmy little sister, Jacky Martinez started by saying she was grateful for her life.
She knew better than most teenagers how precious that gift is, and is reminded every time she looks in the mirror of how close she came to losing her life almost before she had the chance to start living it.
At 1 month old, she was shot in the head by a stranger as her parents, Reina and Antonio Martinez, made their way up East Sahara Avenue at Sixth Street. While the fact she was alive at all is nothing short of miraculous, today she thrives in school and covers her scar with nothing more than strands of her long raven hair.
But it wasn't that distant trauma that was on her mind as she moved through the school year at Valley High. What the charming young lady really wanted was a quinceanera. You know, the formal celebration that recognizes a girl's transition from childhood to maturity. A tradition in Mexico and other parts of Latin America, a "fiesta de quince anos" is more than a blowout 15th birthday party. It not only recognizes a girl's transition into womanhood, but it also spotlights the importance of family and God along with lots of food, music and dancing.
And those formal dresses, well, they're nothing short of amazing. Quinceanera gowns make Disney princesses blush with envy. Although Jacky is partial to the jeans and high-top sneakers favored by most teenagers, she fantasized about a dress of yellow satin with fuchsia flowers and lace.
She'd nurtured her quinceanera dream since age 8. But these aren't easy times around the Martinez house, a small but immaculate one-story located in a worn neighborhood near Valley High. The bills never end, and even after nine surgeries Jacky's medical treatment continues.
Originally from El Salvador, Reina earns Culinary union wages as a restaurant hostess at Treasure Island and Antonio works long hours as a pastry chef, but even with both parents on the job Jacky's quinceanera request was an extravagant expense the Martinez family couldn't afford.
That's where their extended family stepped up and helped make Jacky's dream come true right down to the gown. Not the least of the contributions on that special January evening was a chauffeur-driven '47 Packard Super Clipper limousine.
The man behind the wheel?
Former Metro Lt. Randy Sutton.
At approximately 6 p.m. on Feb. 25, 1998, nearly all of Jacky's life ago, Sutton was steering a black-and-white up East Sahara when he noticed a commotion on the sidewalk near the Eureka Casino. A frantic couple with a newborn still in a car seat was desperately seeking emergency assistance.
"Help my baby, my baby!" Reina Martinez cried in broken English.
Blood was everywhere. The baby was so small. There was no time to wait for an ambulance. Sutton grabbed the blood-soaked bundle and returned to his vehicle, giving the infant mouth-to-mouth resuscitation all the way to University Medical Center, where emergency room professionals were standing by as the squad car arrived.
Although the baby's face was nearly torn away by the bullet, she was stabilized and the first of many surgeries followed. Today, Jacky is relieved to remind a visitor she remembers none of that traumatic time.
"When they tell me what happened," she said, "I feel like it happened to someone else."
Reina and Antonio will never forget that awful night when four or five gunshots sounded like a car backfiring. When the mother turned to check on the daughter in the back seat, "There was a hole in her face and blood."
Sutton still tears up when he recalls the scene and the indescribable relief of hearing the silent baby cry out as it breathed on its own. Not only did the little one known as "Baby Jaquelin" survive, but Sutton set up an account at a local bank to help the family defray its medical expenses.
"It was hard, but we got a lot of support from people," Reina said, still grateful 15 years later. "It was hard, but at the same time it was nice to see how people cared about us."
That fast action not only saved Jacky Martinez, but it changed Sutton's life as well. His personal story about the day he met Jacky helped lead to his first book contract. Today the former lieutenant, who retired after 34 years in law enforcement, is a published author. He lectures about upholding professional integrity on the job.
"I experienced a lot of darkness in my career; every cop does," Sutton said. "She is a ray of light.
"She's a very inspiring young lady. She doesn't know it, but she is. She's really a shining example of a survivor and what can be done in a family filled with love. Our legacies, our fates, became intertwined."
So when it came time last month for the girl's quinceanera, Sutton was an honored family guest. Antonio Martinez gave him the privilege of being the second man to dance with his daughter.
And to play the trusty chauffeur, of course.
"I literally got the Packard back one week before her quinceanera," Sutton said. "For me to be able to take her in that car was a great thrill."
Jacky said, "He's not my godfather, and I don't have a godfather, but I consider him like my godfather. He's always been there for us."
She even found the perfect dress, a dreamy gown in yellow satin with fuchsia flowers. Her 7-year-old sister Kayla wore one just like it.
In the end, this isn't a story about senseless gun violence, a shooting that remains unsolved, or a murder that almost happened. As dramatic as it was, this isn't even about an act of heroism that exemplifies Metro at its best.
This is really about an innocent child who, given a chance, has become a young woman with a promising future full of bright possibilities.
Now that Jacky Martinez's quinceanera wish has come true, there's no telling what dreams may come.
John L. Smith's column appears Sunday, Tuesday, Wednesday and Friday. Email him at Smith@reviewjournal.com or call 702-383-0295. He also blogs at lvrj.com/blogs/smith. Follow him on Twitter @jlnevadasmith.