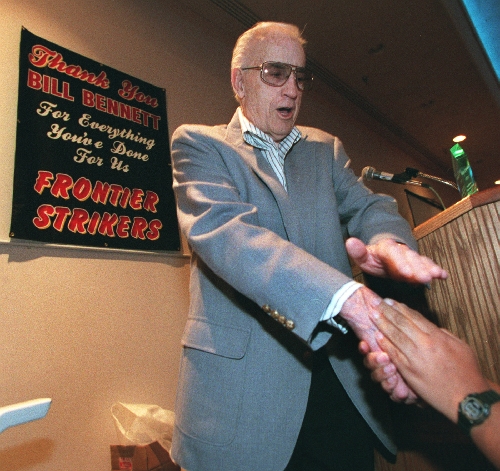 MTV's "The Real World" is returning to Las Vegas next month, eight years after helping define the Palms as the young hip rival of the Hard Rock Hotel.
This time it's the Hard Rock in the host role and hoping for a similar brand boost.
The Palms was the upstart on the block in early 2002 when owner George Maloof took a gamble on a reality show, a concept considered too risky by others.
He hit the marketing jackpot when the oversexed cast produced big ratings and a bonanza of buzz.
The cast of Season 25 of "Real World" is reportedly camping out in the Hard Rock's new tower until the end of the year.
BOOK BUSINESS
Prolific Las Vegas author Jack Sheehan has finished his biography on William "Bill" Bennett , the casino giant who built Circus Circus, Luxor and Excalibur and owned the Sahara when he died in 2003.
Sheehan assesses how Bennett came back from bankruptcy in Phoenix in the 1950s to rank among Forbes Magazine's 400 Wealthiest Americans by the 1980s.
Titled "Forgotten Man," the book goes on sale in November.
The key, said Sheehan, was how Bennett and partner Bill Pennington tapped into drawing the middle-America market to Las Vegas by offering affordable vacations.
Financier Michael Milken told Sheehan, "Bill Bennett was the Sam Walton of Las Vegas. He's clearly in the top five most important figures in the city's history."
The book is being published by Stephens Press, LLC, a sister company to the Review-Journal. …
Look for former Durango High homecoming queen/ex-Power Ranger Cerina Vincent today on NBC's "Today" show with Kathie Lee and Hoda. Vincent, whose nude role in "Not Another Teen Movie" in 2001 put her on the hot list, is plugging her third book, "Live Like a Hot Chick." Her website is www.heydayproductions.com.
THE SCENE AND HEARD
Twenty-one cast members from "Love" (Mirage) appear on the finale of "America's Got Talent" 8 tonight on NBC (KSNV-TV, Channel 3) . They're giving a special performance. …
"Dr. Phil" welcomes the showgirls of Donn Arden's "Jubilee!" on Friday's episode of his talk show in celebration of his 60th birthday.
SIGHTINGS
Joey Fatone of 'N Sync fame, taking in Human Nature (Imperial Palace) on Monday… Adventurer Les Stroud, who stars in the reality show "Survivorman," dining with family and friends Monday at Eiffel Tower Restaurant (Paris).
THE PUNCH LINE
"Lindsay Lohan is in talks to make her first post-jail/rehab appearance on 'Oprah.' I just hope Oprah doesn't give her a car." — Jimmy Kimmel
Norm Clarke can be reached at (702) 383-0244 or norm@reviewjournal.com. Find additional sightings and more online at www.normclarke.com.