Recall effort against Ross gaining steam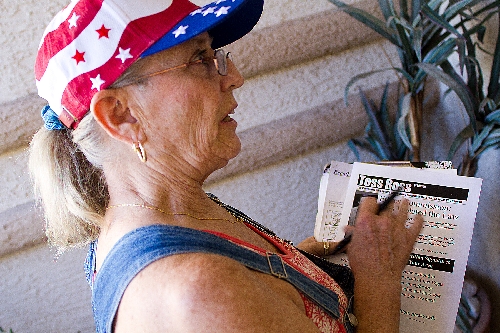 A quiet campaign to force a recall election on Las Vegas Ward 6 City Councilman Steve Ross has gathered more than half the signatures it needs with a little less than a month left before the petition deadline.
The petitioners need 1,083 valid signatures from registered voters in the ward by Aug. 17. As of Thursday, they had about 650.
"We should not have a problem meeting that goal," said Tyson Wrensch, a Las Vegas resident and one of the organizers of the recall effort. He's one of Ross' longtime critics and was part of a group that filed a 2009 complaint that landed Ross before the Nevada Ethics Commission.
The fact that the ethics commission dinged Ross for conflict of interest violations should have clued him in that people were watching him, Wrensch said.
"Clean up your act," he said. "An empty seat would be better at this point. He's got to go."
Steve Redlinger, who manages Ross' campaigns, said the petitioners aren't in tune with the rest of the ward but that Ross is taking the matter "seriously."
"It's something that we continue to monitor," he said. "We'll see where it is at the end of the process.
"They're not showing me a coalition of people who are representative of the voters in Ward 6. They're just making a lot of noise."
Ross' camp has also been making noise at the secretary of state's office, alleging that campaign law has been broken.
Part of the recall push comes from Joe Scala, owner of the former Courtesy Automotive in Centennial Hills. He campaigned against Ross' mayoral bid earlier this year. Ross' camp alleges the recall effort didn't follow campaign finance reporting rules. The secretary of state's office did not respond to a request for comment Friday.
The recall petition lists four complaints: the ethics violations, the approval of Molly's Tavern in Centennial Hills, Ross' alleged inaction to prevent Courtesy Automotive from closing, and the fact that he accepted a pay raise for his council post after promising not to.
In 2009, the Nevada Ethics Commission ruled that Ross should have abstained from votes on the new city hall proposal in 2008 and 2009 because he had a conflict of interest.
At the time, he was secretary-treasurer for the Southern Nevada Building and Construction Trades Coalition. Commissioners held that the coalition was negotiating with the developer of city hall to use union labor on the project at the time of Ross' votes, a finding Ross disagreed with. He said those negotiations started later, and he did abstain from later votes.
Ross has since left the trades coalition. The commission said the violations were not "willful," which meant Ross was not subject to a fine.
Molly's Tavern opened in September in a shopping center at Buffalo Drive and Sky Pointe Drive, and critics said it's too close to a library, a park, a school and a residential area.
It needed special permission to locate in the shopping center, since the land use didn't allow taverns, and the Las Vegas Planning Commission and planning staff recommended against the new designation. Ross has said that the tavern's owner went out of his way to reach out to the neighborhood and that no complaints were received until after the approval.
Courtesy Automotive got special permission to sell used cars. Like many other dealerships, the dealer lost its franchise agreement with its auto manufacturer in the economic crisis, and Centennial Hills rules require dealers to have such an agreement.
The requirement was lifted temporarily but not renewed, forcing the business to close. Critics say Ross should have protected the business and the jobs, but Redlinger said the business owner is to blame for waiting until the last minute to push for an extension.
Lastly, Ross became eligible for a new, higher City Council salary when he was re-elected in 2009. He had previously promised not to accept the increase to $69,238 from $48,238, but accept it he did.
"Steve Ross is not representing the best interests of his constituents," the petition against him states, "and we find him to be unresponsive and incompetent."
Lisa Mayo-DeRiso, a longtime northwest Las Vegas activist and Ross critic, said the recall effort has stayed low-key on purpose.
"We wanted to wait until we were really out there and had some signatures," she said.
The group has formed a political action committee, the Committee to Recall Steve Ross, started the website www.tossross.com and is using a mix of paid staff and volunteers to gather signatures door-to-door, she said.
Ross was first elected to the City Council in 2005. Earlier this year, he participated in the open mayor's race, but garnered only 6.3 percent support and was eliminated in the primary.
His council races have been relatively close. He edged into office in 2005 with a 51 percent to 49 percent win, just 128 votes separating Ross and Mary Gillins. The 2009 margin was wider, 55 percent to 45 percent, but his challenger Jennifer Taylor still came within 417 votes.
Las Vegas' last recall election was in 2005. Voters turned out Janet Moncrief halfway through her first term representing Ward 1 because of alleged campaign finance violations and ineffectiveness on the council. Lois Tarkanian won the seat and still holds it today.
Contact reporter Alan Choate at achoate@reviewjournal.com or 702-229-6435.