Recent emergencies prompt travel safety warning for Death Valley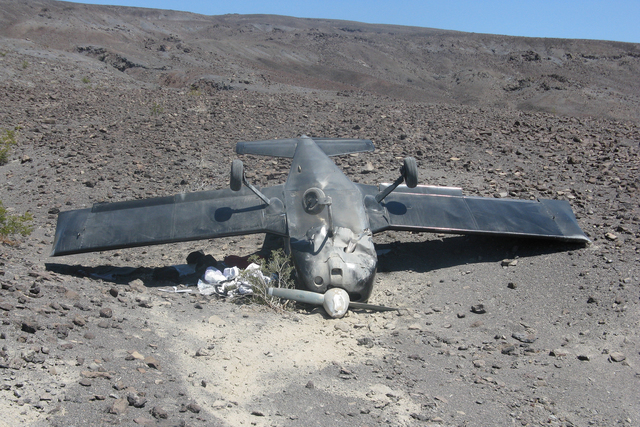 The National Park Service is warning visitors about the dangers of remote travel in extreme heat after a string of recent emergencies, one of them fatal, in Death Valley National Park.
On Thursday, park visitors found a man dead on Harry Wade Road, a remote, 30-mile dirt track that runs into the south end of Death Valley from California Route 127.
The man's name and age were not released. His motorcycle was parked nearby, upright and in working condition.
His death is under investigation by the Inyo County Sheriff's Office, though heat may have been a factor. Thursday's high was 118 degrees at the park's official weather station in Furnace Creek, California, about 125 miles west of Las Vegas.
"This makes me so sad," said Death Valley National Park Superintendent Mike Reynolds in a written statement. "We don't know what happened to him, but if he had been on Highway 190 or near Badwater — places that lots of people visit year-round — maybe we could have saved him."
Thursday's death marked the third incident so far this month involving visitors who failed to prepare for the heat or traveled to remote areas without taking necessary precautions.
On June 1, two French tourists got their car stuck in loose sand on the unpaved West Side Road. Park officials said no one knew their specific travel route, and they were out of cellphone range in temperatures above 110 degrees.
The man and his mother walked about a mile to Badwater Road and another mile along the pavement before they were picked up by a family visiting the park from Korea.
By the time they reached the Furnace Creek Visitor Center about an hour later, the woman was unconscious and exhibiting symptoms of heat distress. She survived but spent about a week in the hospital, according to the Park Service.
Reynolds was one of the park rangers who came to the woman's aid.
"We were doing everything we could, but it takes a helicopter about an hour to get here," the park superintendent said. "I didn't know if she would survive, if she would get to the hospital in time."
Then on Sunday, a small airplane crashed while landing on a remote airstrip in Saline Valley, near the western edge of the 3.4 million acre park. The two-seat airplane, registered out of Topanga, California, ran off the end of the short runway and flipped over on its roof.
Both people in the plane were able to get themselves out weren't injured.
Park officials said the pilot did not file a flight plan, so if they had been hurt they might have found themselves stuck inside the wreckage in 111 degree heat. Saline Valley, a 4-hour drive from Furnace Creek over rough dirt roads, is a popular destination during cooler months, but on the day of the accident, only the park's volunteer campground host and one camper were present.
Contact Henry Brean at hbrean@reviewjournal.com or 702-383-0350. Find @RefriedBrean on Twitter.
Death Valley National Park's safety tips for summertime travel:
Plan your travel route carefully and stay on paved roads;
Tell someone specifically where you're going and when you will plan to return
Make sure your vehicle and spare tire are in good condition;
Carry at least one gallon of water per person per day;
Cell coverage is spotty in Death Valley, so don't rely on your phone for directions or communication;
If you are stranded, stay with your vehicle. You can use the vehicle for shade and will be found more easily.