Record rain brings rare bloom in Southern Nevada
September 20, 2012 - 3:35 pm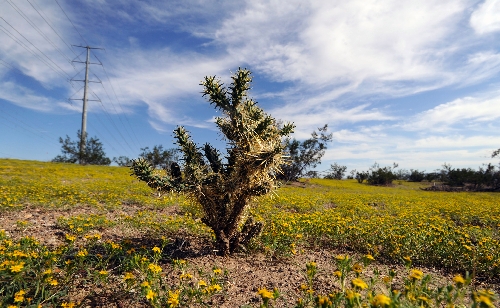 They happen regularly in the wetter Sonoran Desert, but monsoon blooms in the northern Mojave are as rare as, well, rain.
Jim Holland has worked at Lake Mead National Recreation Area for 20 years, and he can remember only one other bloom like the one now under way in parts of Southern Nevada.
South of Boulder City, the desert is carpeted with large patches of Chinch Weed blossoms. They look like very small sunflowers, Holland said, and they sprang from seeds that lay dormant in the ground for a decade or more, waiting for just the right amount of late-summer moisture.
"It's turning the Eldorado Valley yellow right now," said Holland, park planner for Lake Mead. "This is kind of fun."
Since Aug. 1, the official weather station at McCarran International Airport has logged almost 3½ inches of rain. Las Vegas typically receives less than 4¼ inches of rain a year, making it the driest city in North America.
Last month was the second-wettest August on record, and this month already ranks as the fifth-wettest September.
The desert quickly responded with a late-summer show of yellows and greens seen only a few times in a generation.
"At best, it's an occasional occurrence in this part of the Mojave," Holland said.
With the bloom comes insects, including a minor invasion of bright green caterpillars in the hills around Lake Mead.
Alex Jones is an education specialist with the Great Basin Institute, a Reno-based nonprofit that provides contract employees to the National Park Service at Lake Mead and elsewhere.
He counted close to 100 caterpillars within 2 or 3 feet of the River Mountains Loop Trail during a 300-yard stroll Tuesday.
The critter with orange and black markings and a horn on its tail also has been spotted in large numbers near the Historic Railroad Tunnel trailhead and the shuttered visitor center at Lake Mead.
One ranger told Jones she had to avoid stepping on caterpillars, some as long as 3 inches, during her morning jog in the park.
"It's not like you're going to see hundreds of them on a single bush. But if you're out there, you'll see them," Jones said. "I would say they're impressive."
Just don't wait too long.
Some time soon, the caterpillars will bury themselves in the ground to begin their transformation into white-lined sphinx moths.
Jones said the moths, some with wingspans approaching 4 inches, probably will emerge this fall to sip nectar after dark.
Holland is more interested in the bloom, which he expects to peak within the next week or so.
"The caterpillars are just a byproduct," he said. "The story to me is the desert responding to the rain."
Contact reporter Henry Brean at hbrean@reviewjournal.com or 702-383-0350.