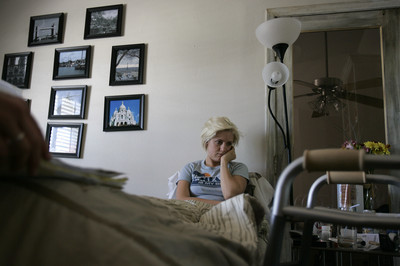 Blair Stirek's bones and bruises are healing.
She has left behind a wheelchair and walker.
She is nearing full recovery.
But the 23-year-old longtime Las Vegan still has painful memories of March 19.
Her lips quivered, her voice cracked, and she fought back tears earlier this month recalling how a planned day at the gym turned into weeks of being bedridden after she was pinned against her car by a sport utility vehicle driven by a young man.
Today she wonders how what started as a mere fender-bender at a Las Vegas Athletic Club parking lot turned into a physical assault and ended with her hospitalized with a fractured pelvis.
And she is angry that her assailant — whoever he is — has not faced any repercussions from the law.
"It's ridiculous," said the UNLV graduate and former senior class president at Cimarron-Memorial High School. "It shouldn't be this way. Justice should be served."
The lead detective in the case did not return phone calls seeking comment, but a Metropolitan Police Department spokesman discussed some details of the incident involving Stirek outside the Las Vegas Athletic Club on Eastern Avenue near the Las Vegas Beltway.
The spokesman, officer Marty Wright, said officers are investigating the hit-and-run. He said Stirek's assailant could be facing a felony charge of battery with a deadly weapon.
She said the incident started when a young man driving a Chevrolet Suburban backed his car into the front bumper of Stirek's Scion coupe while she was in her car. He was trying to leave his parking space, she added.
Stirek got out of her vehicle, a much smaller car than the Suburban, and tried to exchange insurance information with him, she said. But he refused and started ramming her car.
He rammed her car about five times and repeatedly shouted, "Move your (expletive) car," Stirek said.
She said the driver then intentionally hit her, wedging her between the two vehicles and then knocking her to the ground.
Stirek said she has never been in as much pain in her life as she was that day.
A police report provided by Stirek to the Review-Journal corroborates her account. In the report, the driver is identified as B.J., and is said to be 16 to 19 years old.
Stirek said police told her that cameras at the 24-hour gym did not capture the incident.
Officials with the Las Vegas Athletic Club did not return calls for comment.
Stirek was hit by the car about 12:30 p.m. She hadn't set foot in the gym.
The police report said that at least five witnesses spoke with police, but it did not say what the witnesses saw. The witnesses could not be located by the Review-Journal.
Stirek said another problem is that of the four people inside the Suburban, nobody would admit to police who was behind the wheel.
She said police have told her they have not determined who was driving the Suburban. Wright said police have not identified the driver because the driver was not the owner of the car.
Stirek said she is frustrated that her assailant apparently has to commit another crime for him to be locked up.
"It's going to take for him to do something worse than he did to me for him to be put in prison."
Stirek still has daily pains because of the incident. Six weeks after the assault, she has remnants of bruising on her body.
She faces other challenges because of the hit-and-run.
Her hospital bills total about $20,000. She is trying to qualify for a state-run program that helps victims of crimes pay for their medical bills.
At the time of the incident, she was just finishing her probationary period as a full-time employee and did not have health insurance.
She said the estimated $4,300 in damage to her car is being paid by the insurance company of the car that hit her, as is the cost of a rental car. She expects to get her repaired Scion back today.
About two weeks ago, Stirek returned to working full time as a marketing manager for a liquor company.
She said her job requires a lot of driving, and she sometimes has to lift heavy objects, which she still needs help to do.
Stirek's live-in girlfriend, Bobbie Archut, said watching Stirek struggle physically after the incident was difficult.
But it has been equally difficult waiting for someone to be arrested and figuring out how to pay hospital bills.
"It seems like we can't catch a break," Archut said.
Contact reporter Antonio Planas at aplanas @reviewjournal.com or 702-383-4638.