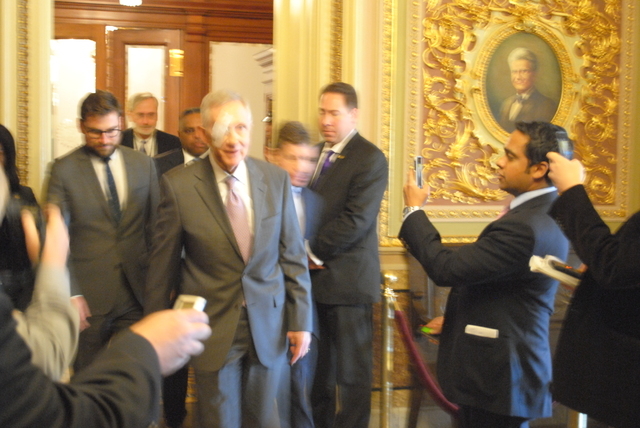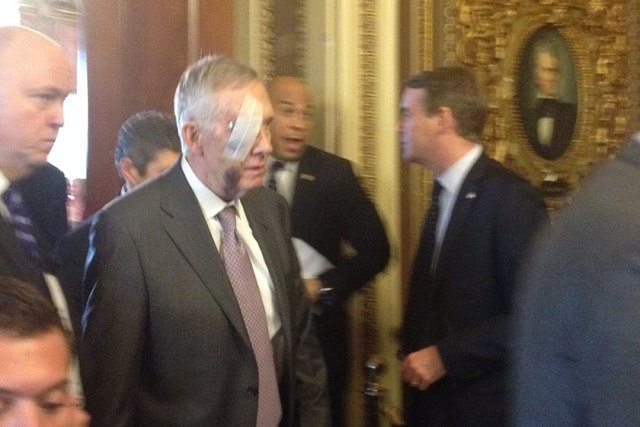 WASHINGTON — Sen. Harry Reid made his first appearance of the year in the U.S. Capitol on Tuesday, still recuperating from injuries suffered in an exercise accident on New Year's Day.
Reid, the Senate Democratic leader, arrived at work around 11 a.m., the right side of his face still bruised and wearing a bandage over his right eye. He conferred with staff on the Senate floor, and shortly afterward was cheered by fellow Democrats when he arrived for their weekly caucus luncheon.
"I never talk about the details of a caucus but it was resounding in terms of the caucus being pleased to have Senator Reid back," said Sen. Ron Wyden, D-Ore. "Nobody is tougher than a boxer, and Harry Reid is showing that again."
The Nevada Democrat was back for only a few hours, continuing to take it slow under doctor's orders. He was planning to do business by phone during the day and did not have any pre-scheduled visitors, spokeswoman Kristen Orthman said. After lunch he departed for a doctor's appointment.
Reid was gone by the time the Senate conducted votes on early amendments to a bill approving the Keystone XL Pipeline, which he opposes. His absence did not affect the outcomes.
Before he left, Reid reintroduced two major Nevada land bills. One would create a 350,000-acre national conservation area at Gold Butte, the segment of Clark County between the Overton arm of Lake Mead and Nevada's border with Arizona.
Also reintroduced was legislation to withdraw from mining and energy exploration 805,100 acres of federal land in Garden Valley and Coal Valley. The area that straddles Lincoln and Nye counties is prized by conservationists and is where noted sculptor Michael Heizer is creating the mammoth earth artwork "City."
Later, Reid was planning to return to his Washington home at the Ritz-Carlton and was not planning to attend the State of Union speech by President Barack Obama on Tuesday night. Aides said it might be the first presidential address Reid has not attended during his long career in Washington.
Reid did not meet with the Nevadans he had invited to watch the president's speech — Reno Mayor Hillary Schieve, Las Vegan Blanca Gamez, who obtained legal status under Obama's Deferred Action for Childhood Arrivals program, and Jeff Detrick, executive officer with the University of Nevada, Las Vegas Student Veterans Organization.
Orthman said Reid was continuing to take it "day by day" when it comes to his work schedule for the rest of the week.
Reid has worked from home since the new Congress convened on Jan. 6. He suffered a concussion, broke bones in his face and broke four ribs when a piece of exercise equipment broke, snapped in his face and threw him into cabinet furniture while he was working out at his home in Henderson on New Year's Day.
Besides the concussion and broken bones, Reid said he suffered a serious eye injury and that full recovery of his vision "was not anything that was a slam dunk."
As he entered the Democratic luncheon, Reid told reporters his eye was "doing better." He has been limiting his reading and time on screened devices in a bid to help his recovery.
Sen. Dick Durbin, D-Ill., said Reid was greeted at the luncheon with a standing ovation.
Reid has been "champing at the bit at home," Durbin said. "He can't watch TV, he can't read because of his eye. He's been following by telephone what's been going on in the cloakroom and on the floor."
Durbin, the No. 2 Democratic leader who has been filling in for Reid on Senate floor duties, said the Nevadan at the luncheon "was right into the substance of the moment. He knows what's going on on the floor. He talked about amendments" to the Keystone XL Pipeline bill.
Contact Stephens Washington Bureau Chief Steve Tetreault at stetreault@stephensmedia.com or 202-783-1760. Find him on Twitter: @STetreaultDC.