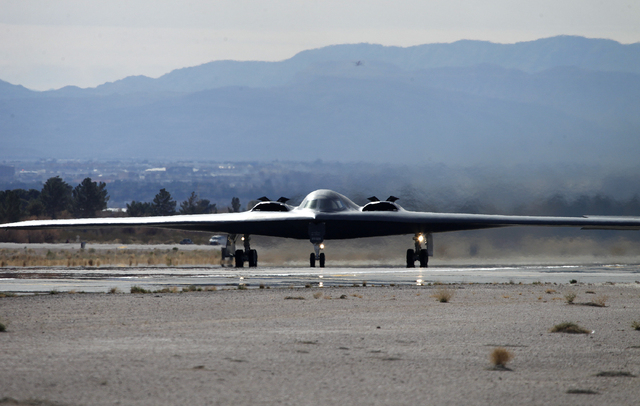 Royal Air Force Tornado fighter jets joined the chorus of man-made thunder Tuesday as military aircraft from the United States, Australia and the United Kingdom stormed off into a wintry sky toward the Nevada Test and Training Range to kick off another day of Red Flag exercises.
The air combat rehearsal staged out of Nellis Air Force Base is a chance for U.S. fighter pilots to train for a real air assault with their coalition partners to demonstrate that they will be playing from the same sheet of music if they have to attack a common enemy.
In Red Flag, the "good guys," as they are sometimes called by pilots and commanders, square off against camouflaged-colored, would-be enemy F-16s and F-15s from the 64th and 65th aggressor squadrons at Nellis. The aggressor jets lurk in the yonder of the nearly 3 million-acre range north of Las Vegas to make simulated attacks.
"It's a complex, choreographed, orchestrated aerial event when both new and seasoned pilots get a chance to cut their teeth on what they might expect in combat," Nellis spokeswoman Maj. Teresa Sullivan said after a busload of U.S. and foreign journalists scattered across the chalky soil between two runways for front-row viewing as the planes launched one by one.
"They're increasing their readiness and sharpening their skills so when they go into combat they're ready and prepared," she said.
This Red Flag rehearsal, which began Jan. 27, involves more than 125 aircraft from partner nations and the U.S. Air Force, Navy, Marines and Army. Dozens of fighter jets and bombers from 19 U.S. military units including refueling tankers, airborne traffic control planes and electronic attack jets will depart twice a day through Feb. 14. Each wave remains in flight for up to five hours.
A second Red Flag, scheduled for March 3-14, will feature warplanes from the Belgian air force, the Royal Danish Air Force and Royal Saudi Air Force with the usual complement of U.S. fighters and bombers.
Unlike last year, when the summer Red Flag was canceled with automatic budget cutbacks that took effect in the wake of the federal deficit-reduction sequester law, "there will be a Red Flag in July at Nellis," Sullivan said.
"As of right now, we're planning to move forward with our training," she said. "Red Flag is an integral part of Air Force combat readiness and creates Phd.-level war fighters to train the rest of the Air Force."
Sullivan said the Air Force spends $35 million annually on Red Flag exercises at Nellis.
In past Red Flags, the Air Force typically spent between $20 million to $60 million to fly friendly and aggressor aircraft, fire missiles, cannons and drop bombs.
"The Air Force is working hard to mitigate financial constraints on readiness exercises," Sullivan said.
In a statement Tuesday, Brig. Gen. Stephen N. Whiting, United States Air Force Warfare Center vice commander, stressed the importance of Red Flag, saying the "realistic, live-fly exercise … hones our service members' ability to survive and thrive in a high-threat environment."
"Red Flag is the premiere training venue where the Air Force integrates air, space, and cyber effects in a joint and coalition environment at the tactical and operational levels of war," Whiting said. "Red Flag continues to improve on its mission of providing the first 10 combat missions for our operational crews, maintenance personnel, and support team members."
He said the sprawling range north of Nellis with more than 15,000 square miles of airspace and 1,900 targets "is the only venue that allows the Air Force and our … teammates to conduct such realistic, relevant, and cross-domain training in a contested, degraded, and operationally-limited environment."
Spearheaded by Gen. Robert Dixon, who commanded the Tactical Air Command, Red Flag was established in 1975 for pilots to hone their skills and reverse the declining air-to-kill ratio trend that had fallen from about 10-to-1 during the Korean War to less than 2-to-1 during the Vietnam War.
Since its inception, airmen from 28 foreign countries have flown in the exercise, and several others have participated as observers. More than 440,000 U.S. military personnel, including 145,000 air crew members, have racked up 385,000 sorties and more than 660,000 hours of flying time, according a Nellis fact sheet.
Contact reporter Keith Rogers at krogers@reviewjournal.com or 702-383-0308. Follow him on Twitter @KeithRogers2.