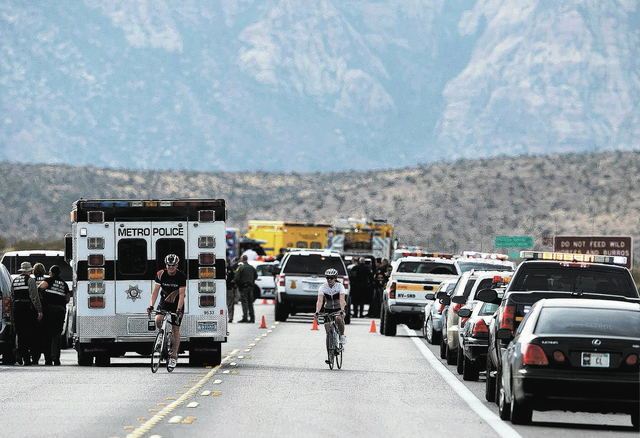 Officers shot and killed a man near the Red Rock National Conservation Area on Friday after the man evaded arrest, climbed into a police car and grabbed for a rifle, the Review-Journal has learned.
The man, who had not been identified by authorities as of Saturday, was shot by Bureau of Land Management rangers after he climbed into a Nevada Highway Patrol trooper's SUV and tried to remove an AR-15 rifle from a locked compartment. At least one ranger fired through the car's windshield.
It's unclear if the trooper fired.
The two federal rangers and the state trooper were called to state Route 159 about noon Friday after cyclists near Calico Basin reported an altercation with a pedestrian, described as a black man in his 20s, according to Highway Patrol.
Trooper Loy Hixson said Friday the officers "felt their lives were in danger," but he never specified a reason.
But the Review-Journal learned the officers fought with the man, who had been carrying a rolling suitcase, a backpack and a bedroll but was otherwise unarmed.
During the scuffle, the man gained access to the trooper's SUV and attempted to pull the gun from a locked rack holding the officer's rifle.
Investigators later found a screwdriver among the man's belongings, but the man didn't use the tool during the fight. Officers likely tried other tactics to subdue the man before using deadly force, the Review-Journal learned. Several cartridges from a police TASER were found on the ground by investigators.
No officers were injured, but the man died at the scene, Hixson said. The Clark County coroner's office arrived about 7 p.m. to remove the body.
A jogger told the Review-Journal she often saw the man walking on the road in recent weeks with his bedroll and a few other possessions. She suspected he was homeless.
The man walked with "such touching resoluteness," said the woman, who asked not to be identified. "I often wondered where he was from and where he was walking to with such determination."
Las Vegas police are leading the investigation into the incident, with assistance from the Highway Patrol and FBI.
Several eyewitnesses gave statements to Metro detectives, but there could be better evidence available. Highway Patrol cars have dashboard cameras, although it's unclear if Friday's incident was recorded.
Contact reporter Mike Blasky at mblasky@reviewjournal.com. Follow @blasky on Twitter.