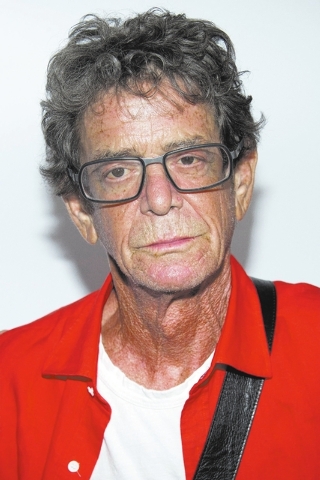 Lou Reed's Vegas breakdown happened in 2003.
As today's obituaries say, prodigies and garage bands have fed off of Reed's underground style for decades. But people also called Reed a jerk, and that will be part of his legacy too.
On the night in question at the Hard Rock Hotel in 2003, Reed was late, walking onstage at the old Joint. Not many tickets had been sold. He earned a discreet cheer.
I stood by the bar in the back.
"Mumble, mumble, mumble," he might well have said, because he was mumbling.
Reed, who was 61 then, sang only two songs, I think. Then he stormed off stage. There was confusion among diehard fans.
A bartender told me Reed was upset fans were buying drinks at the bar and making sounds while doing so, thus Reed had declared he would not return to the stage until drink sales stopped.
This sounded rich coming from the rocker known for writing the song "Heroin."
People at the show (who were getting increasingly drunker) called and texted friends to tell them the legendary Lou Reed was falling down the rabbit hole.
Soon after, people who received those texts and phone calls drove to the Hard Rock and piled into the Joint.
It was legitimate Vegas pageantry. A rock royal had gone mad and had become the subject of ridicule among his subjects.
It was the second-dumbest train wreck performance I ever saw when I was the R-J's music critic, second only to watching an entire crowd walk out, while laughing and pointing at Jessica Simpson when she was suspected of lip-syncing the wrong song to music coming out of the speakers.
That was the sad truth of the Lou-Reed-in-Vegas debacle. It was comparable to Simpson.
After about an hour of his absence, Reed returned to the stage. I recall hecklers getting ejected. Reed left the stage again. He would return once more later.
But I left. I had never seen Reed before, and although I preferred songs by his Velvet Underground collaborator Nico to him, I had come to see if Reed was any good in person. I found out.
You may be wondering why I am reminiscing about Reed's Vegas disaster instead of his songs, after his death. I'll tell you why. It is local lore, and it is true.
It was unfortunately my sole experience with Reed. Also, quite a few people criticized Reed's behavior while he was alive. The Village Voice's Tricia Romano once called Reed "a sorry excuse for a human being," and "the single meanest person I ever dealt with."
To give you a comparison from the other end of the spectrum, Paul McCartney has earned a reputation for being friendly to strangers and friends alike.
I once asked McCartney, who still puts on spectacular shows at sold-out venues, why he is always so nice to everyone.
McCartney told me it's because he doesn't want people to curse his name when he leaves a room.
As the late Roger Ebert (a prince of a man) wrote when he was 68, "We must try to contribute joy to the world. That is true no matter what our problems, our health, our circumstances. We must try. I didn't always know this and am happy I lived long enough to find it out."
You can have Lou Reed if you want. I'll take McCartney, Ebert and elegance, please, thank you.
Doug Elfman's column appears on Page 3A in the main section on Mondays, Tuesdays, Thursdays and Saturdays. He also writes for Neon on Fridays. Email him at delfman@reviewjournal.com. He blogs at reviewjournal.com/elfman.