Regent's dissertation copied material from uncited California report
September 4, 2015 - 6:47 pm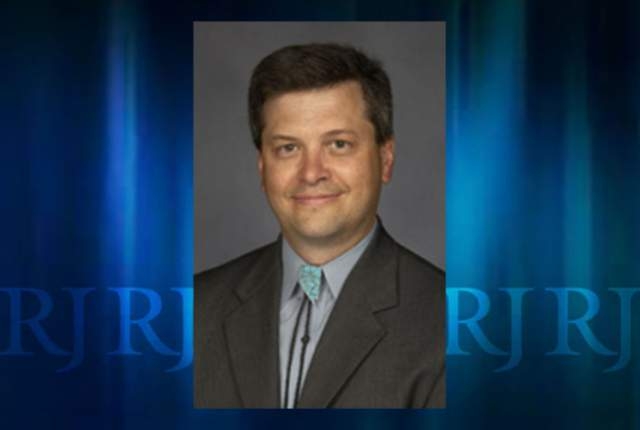 A member of Nevada's elected Board of Regents — who's defended higher education officials against allegations of plagiarism — used several paragraphs of a California report without citation in his University of Nevada, Reno dissertation.
Regent Jason Geddes earned a doctorate in environmental sciences and health from UNR in 1995.
Glenn Miller, Geddes' adviser — who co-authored parts of the paper, although not those with the passages in question — said Geddes' mistake didn't rise to the level of plagiarism and stressed that dissertations are not widely read.
"It's something I would have never done and I think one of my good friends said I should be shot for not catching it," Miller said Friday. "It clearly was incorrect — but rising to the level of plagiarism? I think it stops quite short of that."
Miller is a professor in UNR's natural resources and environmental science department and has been with the university for 38 years.
Geddes, who is Washoe County School District's energy conservation and sustainability program manager, wrote in an email Friday that he should have cited the report and used quotes around the material taken from it in his dissertation. He has been a regent since 2006 and is chairman of the regents' Academic, Research and Student Affairs Committee.
Lack of Citation
Nevada higher education officials' grasp of academic integrity has been under scrutiny over the past year.
Higher education faculty and experts cried plagiarism late last year when Nevada System of Higher Education officials came under fire for taking large sections of a think tank's report and using it without attribution. The allegations ultimately were not acted on because the agency's attorney, Brooke Nielsen, found they were unsubstantiated. She did not respond to Review-Journal emails asking how she came to that determination.
Geddes wasn't one of the critics. Among the regents, he's been one of the agency's most vocal defenders, telling the Review-Journal and other media that he didn't believe what happened was plagiarism.
In Geddes' case, his adviser said what happened was wrong but it doesn't change the science at the heart of Geddes' work, which he said was innovative. Geddes' dissertation, "Photochemical and hydrolytic fate of methyl isothiocyanate in the Upper Sacramento River," is on the aftereffects of a chemical spill in California after a train derailment.
One of the multiple examples of material from the California report that Geddes failed to cite:
"The Sacramento River in northern California has long been renowned for its beauty and trophy trout fishing. Originating near Mt. Shasta, it flows southward to Shasta Lake (Figure 1). Human population along this portion of the river is sparse."
The 1992 report by the California Health Services Department stated, "The Sacramento River in Northern California has long been renowned for its beauty and excellent trout fishing. Originating near Mt. Shasta, it flows southward to Lake Shasta (Figure 1). Human population along this segment of the river is generally sparse."
The paragraphs Geddes took were factual and background meant to establish that the spill had happened, Miller said.
"Plagiarism to me is when you actually use an idea or creative activity," Miller said. "His omission is not telling where he got it from and not putting it in quotes, but his desire to cite things is, I think, exemplified in his 150 other citations."
Geddes and the California study both cited the same congressional testimony. The Review-Journal pulled the minutes from the 1991 U.S. House of Representatives testimony to see if both Geddes and the California Health Services Department had perhaps copied the same testimony word for word.
That didn't turn out to be the case, but the check did reveal the dissertation and the California report had the same typo, spelling the name of an individual cited, Mike Mohan, wrong. Both wrote Mahon instead of Mohan.
Smoking Gun?
Identical typos are the smoking guns of the plagiarism world, Tricia Bertram Gallant, outreach coordinator for the International Center for Academic Integrity, which is affiliated with Clemson University in South Carolina. Gallant reviewed Geddes' dissertation at the Review-Journal's request.
"When students copy each other on the exams, it's when they copy the errors — that's the telltale sign that they copied," Gallant said. "I can see why he doesn't know what plagiarism is if this passed."
Gallant said Geddes' lift of the report is so blatant it implies that the university felt it was acceptable.
"When it comes to dissertations, who is more to blame — the student or the committee who passed it? It should have been stopped before it got published if the committee was doing their job," Gallant said.
Miller said he should have caught the lack of citation, but said he didn't feel Geddes should be punished for something that happened so long ago.
"Prior to dissertations only being distributed in an electronic format, the joke was passed around that each graduating graduate student should put a $5 bill between two pages of the dissertation that was put in the library, and then come back in 20 years to see if it was still there," Miller wrote in an email Friday.
According to UNR's student code of conduct, if a graduate of the university is "found to have been involved in material academic misconduct that impacts the reputation of the university, the university will invoke its authority to resolve the incident through a review of, and possible action to modify, the graduate's status and record including revocation of degree if warranted in accordance with (Nevada System of Higher Education) code."
Contact Bethany Barnes at bbarnes@reviewjournal.com or 702-477-3861. Find her on Twitter: @betsbarnes.