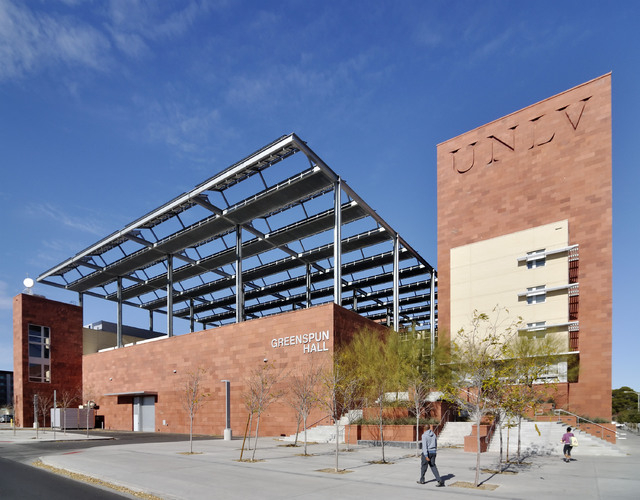 Nevada higher education leaders on Thursday approved starting the planning process for a University of Nevada, Las Vegas Medical School.
The state's Board of Regents unanimously voted to approve a memorandum of understanding that allows the presidents of UNLV and the University of Nevada, Reno, along with the dean of the University of Nevada School of Medicine, to develop a plan that's broken down in three steps.
Where those plans go and how quickly they materialize will mainly depend on funding. Some regents strongly supported the idea, while others expressed concern about the potential for two "underfunded medical schools."
"Medical schools are not cheap," said UNR President Marc Johnson. "Until the state identifies the funding, we are not going to jump to a second medical school."
Under the agreement, the first step would be to develop more residency and fellowship programs, with about three-fourths of them located in the Las Vegas area, Johnson said.
There are 330 residency and fellowship spots available now, said Thomas L. Schwenk, dean of the University of Nevada School of Medicine. But many of them leave the state to pursue their residencies in other states because certain specialties are not available in Nevada.
The second step calls for a medical campus, under the same management and accreditation of the current medical school, to be developed in Las Vegas.
Under the third step, officials hope that over the years the campus in Southern Nevada would mature enough to separate itself from the University of Nevada School of Medicine and become its own medical school — UNLV's School of Medicine.
"This is all about getting more doctors in Nevada," Johnson said. The plan "would enhance medical education in Nevada to keep them (doctors) here to address the current shortage and the impending shortage" with the Affordable Care Act.
Nevada ranks 46th in the nation for the number of primary care physicians per capita.
Regent Cedric Crear said he viewed this proposal as a UNLV medical school.
"How it is being sold already is as if it's an expansion of the UNR Medical School, which … I don't think that's the case," he said. "I think if you sell this project to the community down south, you have a tremendous amount of resources to do what you want to do. Everyone has to get on the same page on that, and in my opinion, it has to be a UNLV project."
Regent Rick Trachok said many things can happen, not all of them good.
"You don't need two underfunded medical schools in the state," he said. "This is critically important for the state of Nevada, and I only look at it from the perspective of the state of Nevada, not the north, not the south."
The UNLV Faculty Senate and the UNLV Graduate and Professional Student Association passed resolutions in support of a medical school in Clark County.
Several community members also spoke in favor of a new medical school during public comment.
One of them was Clark County Commissioner Steve Sisolak.
"We don't want a medical school in Southern Nevada, we need a medical school," he said, adding that the UNR Medical School has been a good partner.
He supported having a medical school in Clark County as soon as possible.
But that won't be easy.
"If there's no new money in the pot, it's very difficult to do this," said Regent Jason Geddes.
Regent Michael Wixom said he would like to see what the upfront cost would be, where the money would come from and what the operating costs would be.
"We need stakeholder involvement," he said. "I support incremental funding for the medical school, but … every dollar we spend now, is a dollar we can't spend anywhere else."
However, this is just the beginning of a long road.
"This (memorandum of understanding) defines a path and a start," said UNLV President Neal Smatresk. "It starts us on a path, and that in my opinion, is critical."
Contact reporter Yesenia Amaro at yamaro@reviewjournal.com or 702-383-0440.