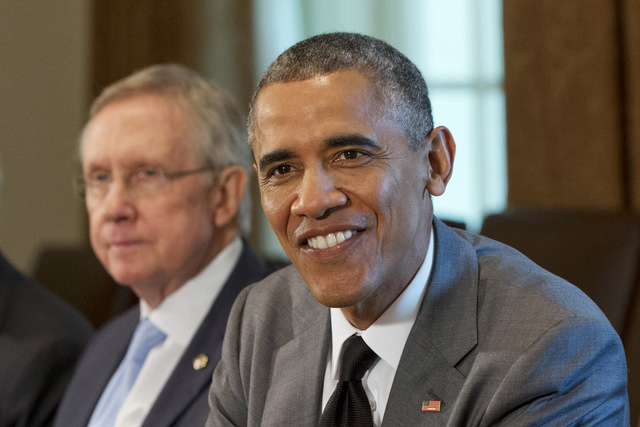 Democratic Senate majority leader Harry Reid apologized Saturday after it was reported he used racially outdated language to describe President Barack Obama.
Late Friday the Atlantic Magazine posted a description of the remarks on its Politics blog in a preview of the book "Game Change," an account of the 2008 campaign cycle by journalists John Heilemann and Mark Halperin.
The preview cites page 37 of the book and reports on a private conversation in which Reid, while attempting to speak favorably of Obama, reportedly said the nation was ready for a black President, especially one who is "light-skinned" and has "no Negro dialect, unless he wanted to have one."
A statement from Reid's senate office sent less than 10 hours after the posting acknowledged Reid's "poor choice of words." "I deeply regret using such a poor choice of words. I sincerely apologize for offending any and all Americans, especially African Americans for my improper comments," Reid stated, before highlighting his support for Obama, efforts to integrate the Strip and promote diversity in the Senate.
In another written statement Obama accepted Reid's apology: "I accepted Harry's apology without question because I've known him for years, I've seen the passionate leadership he's shown on issues of social justice and I know what's in his heart. As far as I am concerned, the book is closed."
It's not the first time Reid landed in hot water for making controversial statements.
In 2005 Reid apologized for calling President George W. Bush a loser during a talk with a high school civics class in Southern Nevada.
More recently, Reid riled Republicans with a speech in December that suggested opponents of health care reform were showing a mind-set similar to people who sought to delay the end of slavery in the United States.
Whether the latest verbal gaffe will hurt Reid politically remains to be seen.
David Damore, a political science professor at University of Nevada, Las Vegas, said it depends on whether the Obama remark starts a fire among liberals or Democratic-leaning minority groups.
"Usually most of his stuff has been going after Republicans. This is sort of the first time you could have some internal tensions with some minority groups here," Damore said. "If you get some civil rights groups responding to this, that apology isn't going to put out any brush fire."
Damore says antipathy from Democrats would be more damaging to Reid – who's unfavorable rating among Nevada voters is already at 52 percent – than howls of protest from Republicans.
For Republicans "it is more advantageous to have internal tensions among the Democrats than look as if they were trying to stir the pot," Damore said.
The Nevada State Democratic Party frequently takes Republicans to task for alleged offenses to cultural sensibilities of Nevadans.
The party's "Elephant Watch" Web site features pictures of anti-Obama protesters carrying racially charged signs and flags along with derisive comments suggesting the protesters represent the "real Republican" party.
A spokeswoman for the Nevada Democratic Party did not respond to messages asking whether party officials condemned Reid's description of Obama.
The National Republican Senatorial Committee, however, jumped at the chance to bash Reid over the remarks.
An e-mail from spokesman Brian Walsh said: "For those who hope to one day live in a color-blind nation it appears Harry Reid is more than a few steps behind them. Unfortunately, this is just the latest in a long history of embarrassing and controversial remarks by the senior Senator from Nevada."
Contact reporter Benjamin Spillman at bspillman@reviewjournal.com or 702-477-3861.