Reid budget proposal stirs skepticism
September 12, 2010 - 11:00 pm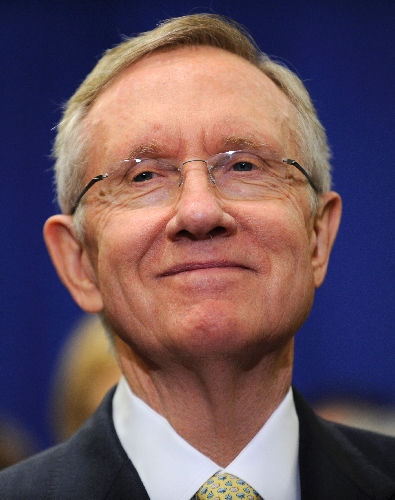 Democrat Rory Reid is the only major candidate in the race for governor of Nevada to present a budget proposal for the 2011-13 biennium.
Reid is trailing Republican Brian Sandoval, who has been quiet about his plans for the biennium but continues to promise a budget proposal.
Whether Reid's plan can actually produce all his proposed savings is another question.
Nevada Department of Corrections Director Howard Skolnik says he's skeptical that Reid can accomplish the $150 million in savings on corrections that is proposed for the biennium.
Skolnik questions Reid's proposal to kick off the savings by diverting some offenders into nonprison programs. Nearly $24 million of Reid's proposed savings comes from diverting nonviolent offenders from prison to alternative programs, as has been done elsewhere. Skolnik says the Legislature would have to change laws governing prison sentences to allow the governor and the corrections department to transfer current inmates into alternate programs.
Without the change, only newcomers to the system could be diverted, Skolnik said.
He also questioned Reid's assertion that savings of $22,000 per diverted prisoner would instantly materialize.
The number comes from the state's estimate of the annual cost to house a prisoner.
But Skolnik says it isn't as easy as saving $22,000 for every diversion because maximum savings aren't achieved until enough prisoners are moved to cut down on personnel and facility costs.
"What we actually would save is more like $1,500" per prisoner, Skolnik said.
"We are not going to be able to pull a correctional officer because somebody didn't come to prison," he said. "Until we can actually shut down entire prisons, we don't come anywhere close to that $22,000 number."
Shutting down prisons would likely be a controversial proposal, even if violent offenders remained incarcerated.
The prospect of layoffs among corrections workers would likely draw protests. The desire to keep prisons open was evident earlier this year when legislators fought Gov. Jim Gibbons' plan to close Nevada State Prison in Carson City.
Reid was among people who opposed closing the prison, saying it would cost jobs and could threaten public safety. Sandoval supported the proposed closure.
"There would definitely be layoffs, I don't see how we could possibly get around that," Skolnik said of the likely outcome of Reid's plan.
That said, Skolnik added that Reid's ideas could save the state money in the future.
"There is a tremendous potential down the road to reduce the (prison) population," Skolnik said.
Reid campaign spokesman Mike Trask defended the plan and said Reid would push for whatever legislation is required to bring it to fruition.
Trask also said prisons aren't the only place Reid plans to save money.
"It isn't just prisons. Some of this would be in court costs," he said.
— Benjamin Spillman
reid Republicans have backed democrats
Maybe the name of the "Republicans for Reid" list should be "Republicans for Democrats."
U.S. Sen. Harry Reid added to his list last week, including several top gaming executives who are Republicans with, it turns out, a history of backing Democrats — even President Barack Obama in one case.
Reid, the Democratic incumbent, has been touting his GOP support to show that some Nevadans inside Sharron Angle's own party view his GOP opponent as too extreme.
The "Republicans for Reid" list now numbers about 200, many from the gaming and business establishment that often supports politicians in power who might help them.
The newest members include Marybel Batjer, vice president of Harrah's Entertainment, Inc., and two executives with MGM Resorts International, Senior Vice President Alan Feldman and Chief Marketing Officer Bill Hornbuckle.
The endorsements are no surprise since the political action committees formed by MGM and Harrah's are top donors to Reid's $25 million U.S. Senate campaign.
While Feldman and Hornbuckle added their names to the Reid list, Federal Election Commission records don't show a history of the men donating money personally to Reid.
But Feldman has donated at least $4,500 to Rep. Shelley Berkley, D-Nev., since 2000, according to the FEC. And FEC records show that he gave at least $1,000 in 2009 and 2010 to Rep. Dina Titus, the freshman Democrat in a close race against Republican Joe Heck . Previously, Feldman gave to former Rep. Jon Porter, $500 each in 2004 and 2007, before the Republican lost his seat to Titus in 2008.
Hornbuckle's support for Democrats in the past focused on Berkley. He donated at least $5,000 to her campaigns between 1998 and 2003, according to the FEC. He also has supported several Republicans, including Porter with $1,000 both in 2000 and 2004, $2,000 for Sen. Jon Ensign in 2000, and $1,000 for Rep. Dean Heller in 2008, the FEC records show.
Batjer has donated generously to Democrats since 2008 at the federal level. She gave Obama's campaign at least $1,550, according to FEC records. She gave $1,000 to Heller's failed Democratic opponent Jill Derby in 2008 and $1,000 to the Democratic Congressional Campaign Committee in 2009.
More recently, Batjer donated $500 to Reid's Senate re-election campaign in March, three months before Angle shocked the GOP establishment by winning the June 8 Republican primary over two more moderate members of the party, Sue Lowden and Danny Tarkanian.
Batjer has been a top loyalist in the Republican Party for years, serving in the first Bush administration as well as the Reagan administration. In Nevada, she was chief of staff for Kenny Guinn, the late governor. Batjer also served in Republican Calif. Gov. Arnold Schwarzenegger's Cabinet.
At the state level, Batjer said she has supported Republicans such as state Sen. Bill Raggio, a moderate who nearly lost his GOP primary in 2008 to Angle. (Critics have called Raggio and Guinn RINOs, or Republicans in Name Only, a label conservatives use to attack moderates who compromise.)
But Batjer isn't backing the Republican contender, moderate Brian Sandoval, in the current gubernatorial race. Instead, she is supporting Reid's son, Rory Reid.
Batjer said she has been supporting mostly Democrats lately because she's concerned about conservatives who seem to be taking over the Republican Party.
"I have great disillusionment with these extreme policies," said Batjer, who explained she's pro-choice on abortion and supports stimulus spending to revive the economy, positions that put her in the minority of GOP thinking. "I can't support someone like Sharron Angle. She's just too extreme."
Batjer said she wouldn't have supported Lowden or Tarkanian, either, because she views them as too conservative as well.
Asked whether she's considering quitting her own party, Batjer said never, although Tea Party-backed conservatives such as Angle seem to be on the rise in half a dozen or more states. "I'm not going to let people like Sharron Angle drive me out of the party," Batjer said.
Batjer said she supports Reid and Obama because she believes their economic policies have saved Nevada and the nation from a deeper recession, although that argument is a hard sell these days in a state suffering record rates of unemployment, home foreclosures and bankruptcies.
"I worry that if we are not careful, we will go into a double-dip recession," said Batjer. "Time will show that if we had not had the political leadership we did, that's where we'd be."
— Laura Myers
Contact Laura Myers at lmyers@reviewjournal.com or 702-387-2919. Contact reporter Benjamin Spillman at bspillman@reviewjournal.com or 702-477-3861.
POLITICAL EYE BLOG