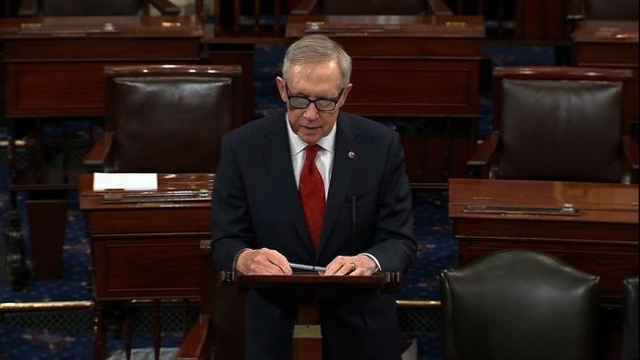 WASHINGTON — Senate Minority Leader Harry Reid on Thursday took to the Senate floor to attack Supreme Court Justice Antonin Scalia's comments during an affirmative action case as "racist," and sought to tie him to Donald Trump and Republicans.
The Nevada Democrat was responding to a line of questioning from Scalia during oral arguments at the court on Wednesday in an affirmative action case, Fisher v. Texas.
Scalia seemed to suggest that some African-Americans don't belong in top colleges.
"I'm just not impressed by the fact that the University of Texas may have fewer (African-Americans)," Scalia said, in part. "Maybe it ought to have fewer. And maybe some — you know, when you take more, the number of blacks, really competent blacks, admitted to lesser schools, turns out to be less."
Reid read Scalia's full comments on the Senate floor Thursday morning and tore them apart.
"These ideas that he pronounced yesterday are racist in application, if not intent," Reid said. "I don't know about his intent, but it is deeply disturbing to hear a Supreme Court justice endorse racist ideas from the bench on the nation's highest court. His endorsement of racist theories has frightening ramifications, not the least of which is to undermine the academic achievements of Americans, African-Americans especially."
Reid also tied the comments to rhetoric coming from Trump, the GOP presidential front-runner, and the broader Republican field.
"As we speak, Donald Trump is proposing to ban Muslim immigration. Other leading candidates are proposing a religious test, tossing around slurs on a daily basis," Reid said. "And now a Republican-appointed justice endorsing racist ideas from the Supreme Court bench. The only difference between the ideas endorsed by Trump and Scalia is that Scalia has a robe and a lifetime appointment. Ideas like this don't belong on the Internet, let alone the mouths of national figures."
Scalia was referring to a brief filed in the case that discussed an academic proposition called "mismatch theory."