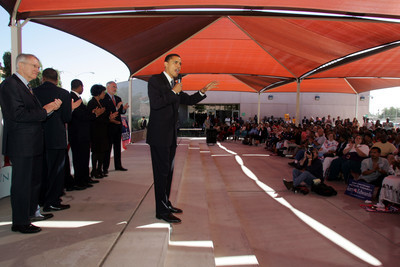 Senate Majority Leader Harry Reid, D-Nev., announced his support of presumptive Democratic presidential nominee Barack Obama on Friday.
Reid, who kept his vow to remain neutral despite a primary process that was far more drawn out than expected, issued a statement Friday morning calling the Illinois senator "a once-in-a-generation leader who connects with the hopes and dreams of the American people and will deliver the long-overdue change that our country desperately needs."
Obama clinched the Democratic nomination with the final primaries Tuesday, earning a majority of national convention delegates. His rival for the nomination, Hillary Clinton, is scheduled to throw her support behind him today.
"I could not be more excited to have Senator Obama lead a united Democratic Party to victory in November and I am committed to doing everything I can to help," Reid said in his statement. "I also congratulate Hillary Clinton for her tremendous contributions in this campaign and for our country. She is a wonderful Senator and friend whose vision and determination have made our party stronger. There is no question that she will continue to be a force for change."
Reid also criticized the presumptive Republican nominee, John McCain, and said Obama would end the war in Iraq and help working families.
In an interview on the cable news channel CNN Friday morning, Reid noted that with four Democratic senators originally in the presidential race, he had been in an awkward situation.
"But it's turned out just fine," he said. "This primary has been so great for the country, great for the state of Nevada, and I am so looking forward to John McCain coming back to the Senate."
The long primary has allowed millions of people across the country to cast their votes, he noted, while Nevada's first-time position as an early state, holding a caucus right after the Iowa and New Hampshire contests, helped Democrats build an advantage over Republicans in voter registration that's now more than 50,000 statewide.
Reid didn't say whether he favors a Democratic unity ticket with Clinton as the vice presidential nominee.
"She's going to be a great help to us no matter what role she has in the campaign," he told CNN. Reid's staff did not make him available for an interview Friday.
With the designation of Nevada as an early state, Reid announced early on that he would not choose a preferred candidate. He asked other prominent Nevada Democrats to follow his lead, but was not heeded, notably by his son Rory, a Clark County commissioner who became an aggressive voice for Clinton as her Nevada chairman.
Pressure on Reid increased as the campaign wore on and other Democratic superdelegates chose sides. His every utterance was read like tea leaves for signs of how the party's leadership might try to resolve the stalemate.
In the end, Reid got what he wanted, said University of Nevada, Las Vegas, political scientist David Damore. "He didn't have to put his cards down until it was a done deal."
Reid's belated endorsement of Obama is "kind of meaningless" to the campaign, he said. But combined with Clinton's announcement today, it contributes to the symbolism of the party coming together and Obama's status becoming official — similar to when McCain was greeted by President Bush at the White House after sewing up the Republican nomination.
Contact reporter Molly Ball at mball@reviewjournal.com or 702-387-2919.