Reid courts young voters, slams Angle over ad
October 19, 2010 - 11:15 pm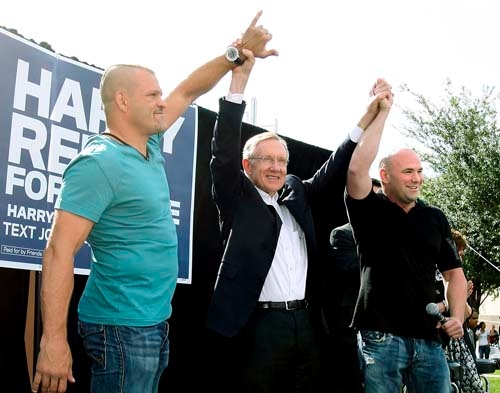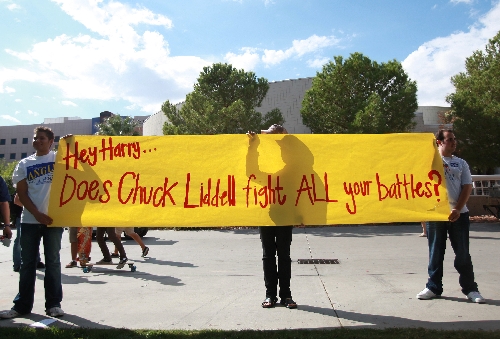 Making a pitch for young voters, U.S. Sen. Harry Reid on Tuesday served up free pizza to university students and fiery charges against his challenger Sharron Angle, blaming her for a TV ad from an outside Republican group that asked Hispanics to sit out the Nevada election.
"Listen to her latest-running ads on Hispanic television telling people not to vote. She's trying to keep people from voting," Reid told about 150 students at the University of Nevada, Las Vegas.
The Angle campaign hit back hard. Spokesman Jarrod Agen said it's a "blatant, desperate lie" that Angle was behind the ad by the GOP group called Latinos for Reform.
"We encourage all Nevadans to vote, and they should vote for Sharron Angle," Agen said.
Two weeks before Election Day, the focus of the U.S. Senate campaign was on young voters and minorities, groups that are key to Reid's re-election.
The heated exchange between Reid and the Angle camp came as the Democratic incumbent used the emotional race issue to energize young Nevadans, who are expected to vote in smaller numbers than they did two years ago, when Obama won more than two-thirds of their support.
Univision pulled the Spanish-language ad after it was widely denounced by Latino groups, Nevada's gubernatorial candidates Brian Sandoval and Rory Reid, and Democrats from President Barack Obama to the senior Reid, who needs high Hispanic voter turnout to win his close race with Angle.
"I think it is terrible," Obama said in Washington, D.C., during a roundtable with reporters from Spanish-language news outlets. "It is a cynical political ploy to try to drive Latino votes to benefit a Republican candidate in Nevada who would never vote for immigration reform."
The Angle campaign, in an attempt to turn the tables, criticized a new Democratic Senatorial Campaign Committee ad that suggests Nevada voters upset at Washington policies take out their frustration on a punching bag instead of at the ballot box.
"If you are angry now, just think of how angry you will be if Sharron Angle wins," the ad says in part, showing a pony-tailed woman pounding a heavy bag in a gym. The woman says she can't back Angle.
The four-term Reid, who is highly unpopular across Nevada, isn't mentioned in the ad.
"Harry Reid is a hypocrite," Agen said. "The DSCC is running an ad literally telling frustrated Nevadans to pound sand instead of voting. With the worst unemployment in the nation at 14.4 percent, it is easy to understand why Nevadans do not want to vote for Harry Reid."
At the rally on the UNLV campus, where about half of the 30,000 students are minorities, Reid suggested that he, not Angle, was on their side.
"As I look out over this crowd, I really don't know what my opponent was talking about because you all look like Nevadans to me," Reid told the outdoor gathering, which included Hispanics and Asians. Angle recently upset a Latino high school class by saying some of them looked Asian.
Reid's campaign stood by his comments blaming Angle for the Hispanic ad.
"The voter suppression tactics of this sleazy front group are simply un-American, and by remaining silent on such an important issue, Sharron Angle is supporting these tactics," said Reid spokesman Kelly Steele.
Angle spent the day calling voters and going door to door in Washoe County, Agen said.
Robert de Posada, founder of Latinos for Reform, is the former director of Hispanic affairs for the Republican National Committee. He said he wanted to run ads in Nevada and other states because Democrats failed to fulfill promises of comprehensive immigration reform in 2008. He also attacked the GOP for cracking down on illegal immigrants and wanting to deny children of illegal immigrants citizenship, policies supported by Angle, whom he called "irresponsible."
In the final days of the campaign, Reid's turnout machine must overcome a history of higher GOP participation in midterm elections as well as the Tea Party movement's enthusiasm for Angle and for getting rid of Democrats who have expanded government.
About one-quarter of Nevada's estimated 2.8 million population is Latino. Hispanic turnout isn't expected to hit the record high 15 percent of the electorate that it did in 2008.
Now, there are far fewer young voters, as well. More than 100,000 registered voters in Nevada are 18 to 24, or less than 10 percent of the electorate, according to the secretary of state's office. Of those, 43,210 are Democrats, 26,151 Republicans, 23,134 nonpartisan and the rest with third parties.
Overall, there are about 37,000 fewer young voters now compared with 2008, when Democrats held nearly a two-to-one edge over Republicans in the group thanks to an Obama registration drive.
After the Reid rally, UNLV student Arturo Soto-Nevarez, 22, said he decided long ago to vote for Reid over Angle, whose call for an illegal immigration crackdown hasn't won Hispanic friends.
"I was against Sharron Angle before she even opened her mouth," said Soto-Nevarez, who added that his family came from Mexico and all became U.S. citizens through proper legal channels.
Maui Gevero, 19, a freshman, said he used to volunteer for the Reid campaign and the Democratic Party and was disappointed more people didn't show up for the open-air rally. Cold soft drinks and slices of cheese and pepperoni pizza from Little Caesars drew some students who didn't hang around to hear the speeches from Reid and Rep. Shelley Berkley, D-Nev.
"The pizza was pretty good. Free's always good," Gevero said, finishing a slice as the large pies disappeared. "It wasn't that well advertised. I didn't know about it until yesterday."
The crowd was mostly friendly, applauding Reid several times and booing when he mentioned Angle's name. But hecklers and young college Republicans also interrupted Reid with shouted jeers.
"Where are the jobs?" one student yelled near the end of Reid's nine-minute talk.
"Why is unemployment so high?" another young man shouted.
A former boxer, Reid shared the stage with his wife, Landra, and with Dana White, president of the Ultimate Fighting Championship, a mixed martial arts organization, and Chuck Liddell, a UFC fighter.
In another sign of protest, students opposing Reid unfurled a big yellow banner at the edge of the North Field rally, saying in red letters: "Hey, Harry … Does Chuck Liddell fight ALL your battles?"
Matthew Jarzen, a 23-year-old history major, said as president of the UNLV College Republicans he and his peers are in the minority on campus. But he said they've been working hard to get students to back Republicans on the ticket, from Angle to Sandoval to Joe Heck, facing Rep. Dina Titus, D-Nev.
Beside the rally, in a walkway known as a free speech area, the young Democrats, Obama's Organizing for America and the young Republicans set up booths. Heck and Angle also had people staffing booths with buttons, bumper stickers and free muffins and juice.
"On any college campus, Republicans are outnumbered," Jarzen said. "But people are angry, and people who are graduating can't find jobs. So this is all about getting rid of Reid. We were promised two years ago that we'll find jobs for you. And that's just not happening."
Jarzen said he sees a lot of apathy among students of all political stripes.
Igor Tavuzhnyanskiy, youth coordinator for the Angle campaign, sweated in the early afternoon sun as he laid the table with pro-Angle and anti-Democrat material. One bumper sticker made a reference to both the Senate majority leader and House Speaker Nancy Pelosi, D-Calif.
"A vote for the Pelosi & Reid team is a vote for tyranny," the bumper sticker said.
Tavuzhnyanskiy said he arrived from New York about six weeks ago to help get out the vote for Angle on college campuses and even at high schools, where some pupils might influence friends and family. He also recruits young volunteers as the Angle campaign competes with Reid's organization.
"We're just trying to do everything we can to get people to vote," he said.
After the rally, Reid walked to the nearby Lied Library to cast his ballot on the first day of early voting on the UNLV campus, which plans three days of balloting through Thursday. Statewide, early voting began on Saturday and ends Oct. 29, four days before Election Day.
Reid, surrounded by security and more than a dozen TV cameras, was followed to the library by dozens of supporters who chanted, "Harry, Harry," and by hecklers who shouted them down.
"Harry, your time is done," one man yelled as Reid ducked into the library to fill out his ballot.
The Associated Press contributed to this story. Contact Laura Myers at lmyers@reviewjournal.com or 702-387-2919.
Harry Reid youth rally at UNLV
Harry Reid campaigns with Secretary Ken Salazar and Dana White