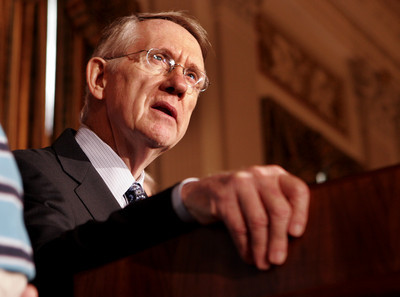 WASHINGTON — Sen. Harry Reid on Sunday denied a report that he pressured Illinois Gov. Rod Blagojevich on whom to appoint to succeed President-elect Barack Obama in the Senate and a suggestion that race was a factor in their conversation early last month.
The Senate majority leader confirmed in a televised interview that he spoke with Blagojevich in early December, but he said the conversation was general in nature and similar to talks he had with governors of New York and Colorado who also were looking to fill Senate vacancies through appointment.
Reports out of Chicago that Reid sought to influence the Illinois governor are "part of the Blagojevich cloud," Reid, D-Nev., said on NBC's "Meet the Press." "He is making all this up."
"Blagojevich is a corrupt individual, I think that is pretty clear," he said.
Citing unidentified sources, the Chicago Sun-Times reported over the weekend that Reid had lobbied Blagojevich to name state Attorney General Lisa Madigan or state Veterans Affairs chief Tammy Duckworth to succeed Obama in the Senate.
Reid reportedly argued against appointing Reps. Danny Davis or Jesse Jackson Jr. or state Rep. Emil Jones for fear that Democrats would not be able to keep the statewide seat in the 2010 elections.
The three are African-Americans, as is Roland Burris, the former Illinois attorney general whom Blagojevich appointed to the vacancy on Dec. 30.
Prince Riley, a consultant to Burris, sought to pin a racial motive on Reid's call.
"It's interesting that all those who are viable are white women and the ones who are unacceptable are black men," Riley told the Politico Web site.
When asked about Riley's comment, Reid said Sunday: "For anyone to suggest anything racial is part of the Blagojevich spin to take away from the corruption that has involved his office in Illinois."
The suggestion of racial bias drew an unlikely defense of Reid from the Nevada Republican Party on Sunday. Chairwoman Sue Lowden said people can call Reid a lot of things, "but racist is certainly not one of them."
"Harry may be wrong on 99 out of 100 issues politically — including national defense, taxes, spending, health care, immigration, education and Social Security — but to suggest that he's not comfortable around black people and wants to keep the Senate 'lily white' is absurd on its face and thoroughly offensive to all Nevadans of every political stripe," Lowden said in a state Republican Party press release.
Reid said he has worked hard to elect black Senate candidates, including Ron Kirk of Texas and Harold Ford Jr. of Tennessee. Reid added that in Nevada, he elevated Johnnie Rawlinson from Clark County assistant district attorney to a federal judgeship.
It was reported at the time that Rawlinson was Reid's second choice for the judgeship after U.S. attorney Kathryn Landreth, who is white, withdrew from consideration.
Rawlinson was confirmed to a U.S. District Court seat in Nevada in 1997. Three years later, she was confirmed a judge on the 9th U.S. Circuit Court of Appeals, again with backing from Reid.
"My one conversation with Blagojevich … make sure you give us somebody who can hit the ground running," Reid said. "Of course we are concerned about what happens in 2010, but this has nothing to do with 2010. This has everything to do about a corrupt governor."
Reid said he did not remember the conversation "other than the generalities."
"I did not tell him who not to appoint. He is making all of this up."
Assuming that the conversation was taped as part of a corruption investigation against Blagojevich, Reid said the recording would back him up. The call took place on Dec. 3, six days before the governor was arrested on allegations he was attempting to sell Obama's Senate seat.
Reid appeared on "Meet the Press" two days before the opening of the 111th Congress, where there is expected to be drama over whether Democrats follow through on their refusal to seat Burris.
Reid said that "clearly there is legal authority to do whatever we want to do" regarding Burris, who Democratic leaders and Obama have said would be tainted after being appointed by Blagojevich.
During the half-hour interview by show host David Gregory, Reid defended the famous comment he made in April 2007 that the "war is lost" in Iraq.
That remark, with ones in which he called President George W. Bush a "liar" and a "loser" on other occasions, have been seized by the Nevadan's critics as evidence that he can be impetuous.
"I am who I am. I am going to continue being who I am. You just have to call things the way you see them," Reid said. "I do believe President Bush is the worst president we have ever had."
Reid did not back down on his remark about the war. He said his comment merely echoed what Gen. David Petraeus, the U.S. military commander in Iraq, was conveying at the time: that the war could not be won militarily.
The troop surge policy that Petraeus recommended to Bush has been credited with stabilizing Iraq and leading to a reduced U.S. role in the country. Reid called Petraeus a "genius" but said that Iraq and the Middle East have been scarred by the war and that historians will have to judge its outcome.
Contact Stephens Washington Bureau Chief Steve Tetreault at stetreault@stephensmedia.com or 202-783-1760.