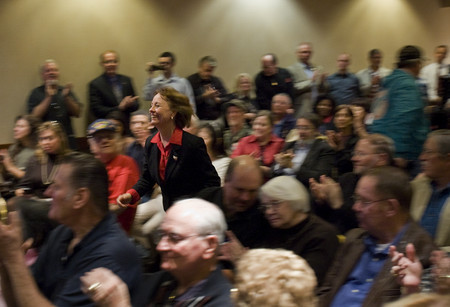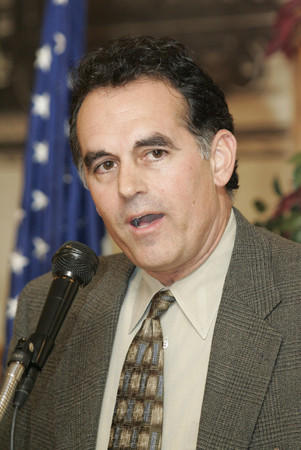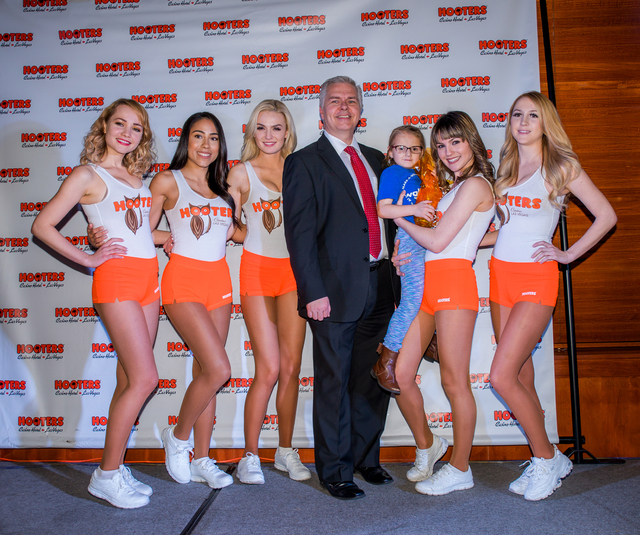 Sen. Harry Reid's Republican opponents used anti-spending and anti-government slogans to rally an eclectic crowd of "tea party" conservatives who vowed to vote him out in a race that shifted Tuesday to the "lean take-over" column for the GOP, according to a respected political analyst.
The Rothenberg Political Report rating was the latest blow to the Senate majority leader, whose re-election race moved from the "toss-up" column to the category that means his Republican opponent is more likely to win. It came as the Tea Party Express launched $100,000 in anti-Reid television ads in Nevada that are part of an expected $1 million campaign funded by the Tea Party Express' political action committee.
"His days are numbered. We're going to get rid of him," Sue Lowden, one of Reid's GOP rivals, said as she mingled with about 100 tea party people, a mix of disaffected Republicans, Ron Paul supporters, libertarians and independents.
Lowden, a Las Vegas state senator in the 1990s and former Nevada Republican Party chairwoman, said she had attended tea parties and written checks to support the grass-roots movement aligning itself with the Republican Party in an effort to defeat Democrats.
"This movement, as we've already heard, is growing," said Lowden, who declared she was the strongest GOP candidate among the field of nearly a dozen hopefuls ready to take on Reid.
"I am the voice. I am the one you want," she said, describing herself as anti-tax and spend.
Lowden spoke first during the hour-long event, held at the Westin Casuarina hotel, in a lineup decided by pulling candidates' names out of a hat.
She was followed by Bill Parson, a former Marine from Moapa, who said he is running for the U.S. Senate because he wants to reduce federal spending by 60 percent and ensure state sovereignty.
Parson dismissed the other candidates as too focused on "I," or themselves.
"I prefer we talk about we, we the people," he said, then proposed a constitutional amendment to impose limits of two terms for the Senate and four terms for members of the House.
Mike Wiley, a former talk show radio host in Florida, also invoked the Constitution and said he believed Reid's health care reform legislation violated the document, a familiar GOP critique.
Sharron Angle, a former Reno assemblywoman, ran up the aisle when her name was called to speak for five minutes.
"This isn't just about getting rid of Harry Reid; it's about getting our party back," said Angle, who proposed freezing spending at 2009 levels and then cutting up to 20 percent in government waste.
Danny Tarkanian, former University of Nevada, Las Vegas basketball star and a businessman, was among those who referenced former President Ronald Reagan, a GOP icon, as a model.
"We are at a pivotal time in our state's history and our nation's history," Tarkanian said, praising the tea party organization as key to helping change Washington. "Like you, I'm fed up with the arrogance of our leadership. The left is hard at work trying to dismantle our system bit by bit. … We need to stop this reckless and irresponsible spending."
The tea party movement has cobbled together a loose coalition of groups that are against taxes and federal government intrusion on the states. But it's still unclear whether the factions can organize into a real political power and overcome differences on social and other issues.
Nathan Gonzales of the Rothenberg Political Report said the tea party types can "keep the heat on Senator Reid, which isn't helping him" overcome polling numbers that show him running about 10 points behind Lowden and Tarkanian, and 5 points behind Angle.
"I think they've had a tremendous impact on getting attention and on the narrative of dissatisfaction with government," with people opposed to the stimulus bill and health care, Gonzales said. "What is the tea party movement's impact more broadly? I don't think that anybody knows for sure yet."
It may depend on how much help the group gets from the establishment GOP, which in Clark County and elsewhere in the country has opened its doors to what critics see as mostly fringe groups.
Gonzales said the Tea Party Express is an example of Republicans "trying to co-opt" the grass-roots movement. The anti-Reid ads are paid for by the group's "Our Country Deserves Better Committee," which has been the subject of criticism for the accuracy of some ads, including those that attacked Barack Obama when the Democrat ran for president.
The anti-Reid ads call the Nevada senator a failure and focus on several verbal gaffes, including the 70-year-old saying the Iraq war was lost and comparing congressional opponents of health care reform to those who fought the end of slavery. Neither mentioned Reid's recently exposed gaffe, in which he described Barack Obama as a light-skinned black man who could turn on and off his "Negro dialect."
Reid campaign manager Brandon Hall criticized the ads.
"Out of state interest groups like Our Country Deserves Better have proven they are more interested in scoring political points than doing what's best for Nevada," Hall said in a statement. "From day one, their top priority has been to distort Sen. Reid's record and obstruct his efforts to turn the economy around and ensure quality, affordable health care for all Nevadans. Sen. Reid will not back down from this or any other fight when it comes to delivering for the hardworking families of Nevada."
Darryl Hoenshell, 64, of Las Vegas, hung near the back of the tea party meeting. Hoenshell said he is an independent who decided to get involved because he doesn't like the Republican or Democratic parties. "There's no difference. They both spend money and then stab you in the back."
Asked why he would work with Republicans to defeat Democrats, Hoenshell said: "I want to put conservatism back into the Republican Party. That's the reason I'm with the tea party."
Contact Laura Myers at lmyers@reviewjournal.com or 702-387-2919.
Video of Tea Party Express event
Sue Lowden speaks to R-J editorial board videos
REID SUPPORTERS TO MEET
Democratic strategist Donna Brazile is headlining a lunch Thursday to kick off an effort to re-elect Sen. Harry Reid by forming the group African Americans for Senator Harry Reid.
About 150 people are expected at the event at the Culinary Training Academy, 710 W. Lake Mead Blvd., according to the campaign.
Those wishing to attend are asked to RSVP at www.harryreid.com/Brazile or to call the Democratic Party at 702-737-8683.