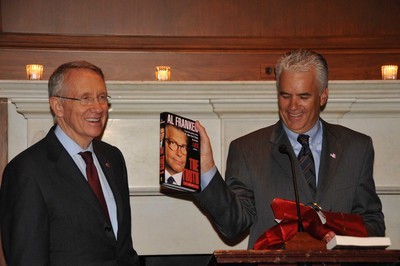 Santa Claus brought Sen. John Ensign an early present last week: the collected works of Al Franken.
The books were a gag gift Wednesday from Sen. Harry Reid at the annual holiday party the senators share for their staffs.
Franken, the comedian-and-writer-turned-politician, is haunting Ensign as the last Democrat still in contention to take a Senate seat away from Republicans this year. There were seven others.
But for the recount in Franken's race in Minnesota against incumbent Norm Coleman, the book could be closed on Ensign's two-year tenure as chairman of the National Republican Senatorial Committee.
Reid told Ensign the books would keep him company on long and lonely flights between Nevada and Washington.
The set contained five books, including Democrat faves "Rush Limbaugh is a Big Fat Idiot and other Observations" and "Lies and the Lying Liars Who Tell Them: A Fair and Balanced Look at the Right."
A Reid aide pointed out the books were purchased brand new and were not bought used on Amazon.com.
It seems turnabout is fair play: Last year Ensign gave Reid a chunk of coal for Christmas, a reference to the Democrat's ongoing crusade against coal-fired power plants.
PASSED UP
Incoming Rep. Dina Titus is expected to learn her committee assignments early in the new year. But her first choice is no longer available.
House Speaker Nancy Pelosi on Wednesday announced new Democratic members of the Energy and Commerce Committee, as well as the Ways and Means Committee and the Appropriations Committee.
Those are considered the most powerful and desired assignments, and the hardest for a freshman to crack. Sure enough, there was no first-termer among the eight new members of the Energy and Commerce Committee that the Nevadan had requested.
Titus spokesman Andrew Stoddard said she always knew the Energy and Commerce panel, which handles issues as diverse as public health care, nuclear waste and tourism, would be a stretch. He said Titus remains hopeful of getting seated on a combination of the Transportation and Infrastructure Committee, the Education and Labor Committee and the Veterans Affairs Committee.
ON THE TICKET?
Last month's line on Sen. John Ensign: The Nevadan would be marginalized after Republicans lost seven seats on his watch as chairman of the party's Senate campaign committee.
This month's line on Sen. John Ensign: The Nevadan is an up-and-comer who might be "formidable" as a Republican vice presidential candidate.
Yes, the conventional wisdom in Washington does change that fast.
Nevada's junior senator, who is 50, was the subject of much conjecture as the campaign committee he headed struggled through this year's elections, outrecruited by Democrats and outspent by them as well.
Still, he survived, and emerged with a prize after Election Day. He was unchallenged in getting elected by colleagues to a post higher up in leadership. He now heads the Republican Policy Committee in the Senate.
Last Wednesday, a profile in Congress Daily, an arm of the respected National Journal, took Ensign even further. It looked ahead and saw a possible national future for him. It said "some Democrats acknowledge that Ensign might be formidable as a vice presidential candidate, especially coupled with former Massachusetts Gov. Mitt Romney."
"I think the way Nevada has gone, Ensign's setting himself up to be a VP candidate one day," Rep. Kevin McCarthy, R-Calif., was quoted musing.
In an effort to revive Nevada's shattered Republicans, it said Ensign already has held "grow the party discussions" with officials in Arizona, Colorado and New Mexico, and also with Texas Gov. Rick Perry, "who may have 2012 presidential ambitions."
Ensign did not respond to the new speculation. The senator "is flattered to be mentioned, but his focus remains on representing his constituents across the state of Nevada," his spokesman said.
CAN I TELL IT LIKE IT IS?
Gov. Jim Gibbons told a group of his fellow Republicans Saturday that he remains committed to not raising taxes.
However, he does plan to put one tax hike in the budget he submits next month: the 3 percentage point increase in hotel room taxes that voters in Clark and Washoe counties advised last month.
"I'm sure it will be (in the budget), because that's part of what I've always said: If voters approve an increase in taxes, then I will accede to the voters' request," Gibbons said in an interview at the state GOP Central Committee meeting in Las Vegas that he addressed Saturday morning. "But I will not raise a tax on my own, nor will I let a small number of elected officials dictate that a tax will be increased. It has to be the people who pay the tax."
Asked if the people paying the room tax weren't mostly tourists rather than Nevada voters, Gibbons said they were both.
"I'm a state resident of Nevada," he said. "If I go stay in a hotel, which I do all the time, I get charged this room tax. I'm a citizen of this state. I'm paying taxes. I had a chance to vote on it. If the voters of this state who also pay that tax, not just the mythical tourists coming across, they should be the ones who approve it."
Gibbons also was asked who he had meant when he said in his speech, "I just don't understand these state leaders who run around the state of Nevada, with certain news crews in tow, calling for higher taxes here, higher taxes there, and get away with it."
Who was he talking about?
"I'm not going to name them specifically, because I don't think I need to," Gibbons said.
Pressed further, he said they might not be elected officials.
Pressed further, he cited the teachers union: "Isn't that a state leader? He's the head of a state teachers union, and he is calling for raising taxes."
Because of his refusal to name names, it's not clear whom Gibbons was referring to. The president of the state teachers union, Lynne Warne, is a woman.
In his speech at the Sahara, where about 120 GOP stalwarts from across the state met to do party business and hear words of encouragement, Gibbons told Republicans not to be discouraged by the election. Rather, he said, they should "lift our head back up, help set the goal and pride in our party to bring our state into the 21st century."
Quoting a Crosby, Stills and Nash song lyric (from "Suite: Judy Blue Eyes": "Don't let the past remind us of what we are not now"), Gibbons advocated looking to the future.
"I trust we will see that economic recovery, and I promise you that the government that you know today will not look like the government you see tomorrow. Don't worry. That economic recovery will come."
In reports from party officials, Republicans at the meeting learned that only 22 percent of Central Committee members are reachable by e-mail and that the party still is carrying more than $100,000 in debt, most of it left over from January's caucuses.
Former state Sen. Joe Heck, defeated for re-election last month, told the group he was confident Nov. 4 was an "Obamanomaly" that would not recur, and said he was eagerly planning for the next election in 2010.
Heck's speech, advocating a return to core conservative values and a de-emphasis of divisive social issues, sounded like the words of someone running for office. But he said for now he is only focused on "working for the Republican Party."
Contact reporter Molly Ball at mball @reviewjournal.com or 702-387-2919.