Reid: Hispanics playing bigger political role in Nevada, West
October 16, 2011 - 11:25 am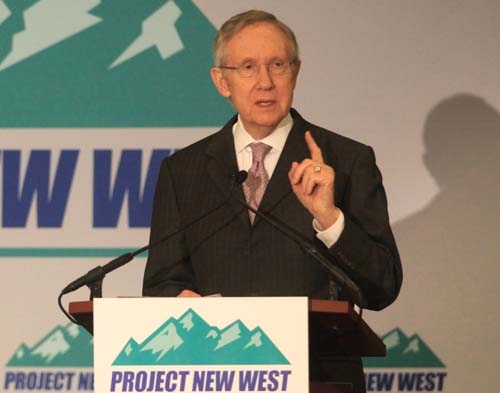 U.S. Sen. Harry Reid said Sunday he owes his job to Latinos, the West's growing political power who could be key to future Democratic victories and the re-election of President Barack Obama.
"I would not be the majority leader in the United States Senate today, but for the Hispanics in Nevada," said Reid, who won a tough 2010 re-election thanks in part to strong Latino turnout.
Reid was speaking to the Project New West Summit, a two-day meeting in Las Vegas of about 400 Western Democratic leaders and activists that continues today .
It's the second summit since 2009 when leaders met in Denver to talk about the increasing diversity and political importance of the West.
In Las Vegas, the summit focused on the growing and changing demographics in the region and the need for better education and jobs, including by developing renewable energy to take advantage of a region rich with wind, solar and geo­thermal sources.
The meeting at the World Market Center comes two days before Republican presidential candidates debate in Las Vegas. The Tuesday debate kicks off four days of the Western Republican Leadership Conference, a gathering of top GOP politicians across the West.
Hispanic voters will play a large role in deciding who wins Nevada — where they make up 26 percent of the population — and in other battleground Western states such as Colorado and New Mexico. In 2008, 76 percent of Nevada Latinos voted for Obama, helping him score a 12-point victory here.
"As we've proved in 2008, the way to the White House is through the West," Reid said.
The summit also served as a forum for Democratic congressional hopefuls from across the West to network, including five Nevadans competing for three Southern Nevada House seats.
On Sunday, state Senate Majority Leader Steven Horsford, state Sens. John Lee and Ruben Kihuen and Assembly Speaker John Oceguera all spoke at a lunch for "up-and-comers."
Today , former U.S. Rep. Dina Titus is set to participate in a "rising Western women stars" event. Titus lost re-election in 2010 to U.S. Rep. Joe Heck, R-Nev. She's seeking to return to Congress, although she's expected to avoid a rematch and run for one of two open House seats instead.
Nevada's new congressional maps are caught up in court so district outlines remain uncertain.
Kihuen, who is hoping to become Nevada's first Hispanic congressman, could help boost Latino turnout, so the White House, Reid and national Democrats have been encouraging his run.
And turnout could make the difference in tight races come Nov. 6, 2012.
In a document released at the summit, polling for Project New West in New Mexico and Nevada suggests Hispanic voters "are less interested in the 2012 elections" compared to the general electorate so far. The survey showed that in Nevada, where unemployment is 13.4 percent and even higher among Latinos, Hispanics are more worried about finding work than anything else.
Some 43 percent of Latinos in Nevada polled said jobs and the economy mattered most when they voted in 2010, and that's likely to be the case again in 2012.
In New Mexico, 33 percent of Hispanics said jobs and the economy was their top issue. In Colorado, 30 percent of Hispanics expressed the same sentiment.
In Nevada, 15 percent of Hispanics named health care as their top issue, 11 percent education, 11 percent immigration, 4 percent taxes, 9 percent another issue and 8 percent didn't know.
Reid said Latinos aren't much different than other voters. He and the Nevada Democratic Party has held registration drives that helped boost Hispanics to 16 percent of the electorate in 2010.
"They care about the same things that we care about," Reid said of Latinos.
That's why both political parties say jobs is the No. 1 issue this election and that's why Democratic and Republican leaders in Congress have been wrangling for advantage.
Reid said U.S. Sen. Mitch McConnell, the Senate's minority leader from Kentucky, has said his top goal is to defeat Obama in 2012, which has "made our jobs very difficult" in Congress.
Reid blamed Republicans for the extended and divisive debate over raising the U.S. debt ceiling earlier this year and for the inability of Congress to agree on a long-term government spending plan.
In the latest standoff, Republicans have rejected Obama's $447 billion plan that Reid said would create 2 million jobs. The GOP critics have dismissed it as another stimulus like the $787 billion plan that GOP critics say didn't cut unemployment as promised. It's now 9.1 percent nationwide.
"Seventy-five percent of the American people support what we're doing," Reid said of the Democratic jobs bill. "If you don't like what we're doing give us something constructive."
Reid said Republicans are too focused on rolling back regulations on private business and on lowering taxes to create jobs. Reid rejected the GOP argument such moves would result in job growth.
"Get off of this kick that the only thing that can create jobs is lowering taxes," Reid said. "If lower taxes was a way to a great economy, during the Bush years we would have been on fire economically."
Instead, 8 million jobs were lost during the administration of President George W. Bush.
Reid also predicted the days of the tea party are waning, pointing to his re-election as well as the 2010 victories of U.S. Sen. Patty Murray, D-Wash., and U.S. Sen. Michael Bennet, D-Colo. They each defeated tea party-backed candidates, in Reid's case Sharron Angle.
"In Nevada, I showed that extremism didn't work," Reid said. "The bloom is off the tea party."
Contact reporter Laura Myers at lmyers@reviewjournal.com or 702-387-2919. Follow @lmyerslvrj on Twitter.