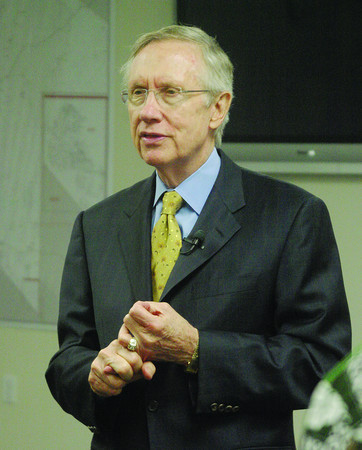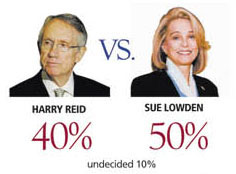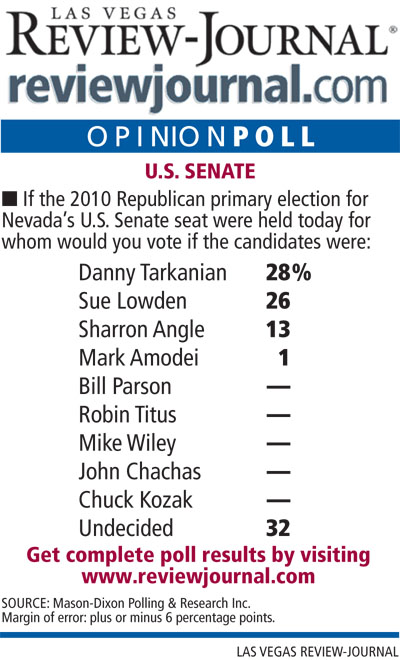 More than half of Nevadans are unhappy with Sen. Harry Reid, according to a new poll commissioned by the Las Vegas Review-Journal. It's the worst "unfavorable" rating he's received in the newspaper's surveys for this year's election, and it comes amid quiet speculation — or perhaps wishful thinking by his opponents — that it's time for the Nevada Democrat to retire rather than lose re-election.
In response, Reid told the Review-Journal Friday he wouldn't consider stepping aside as did Sen. Chris Dodd of Connecticut, whose announcement this week prompted rumors that the Senate majority leader might think about ending his political career now that he's the most vulnerable incumbent.
"I am absolutely running for re-election," said Reid, 70, in a statement. "These are difficult times for Nevada and as the majority leader of the Senate I have been able to take action to address those challenges. But I know there is more work to do to turn our state's economy around and create jobs and I am committed to seeing it through."
Most independent political analysts firmly discounted the idea that Reid would quit the race, despite poll after poll showing him in a losing battle with potential Republican opponents, who surveys suggest would beat him if the election were held today.
Instead, it looks like Reid the former boxer will duke it out to the end in the political fight of his life, wounded by his leadership on health care reform, the dismal economy and an anti-government and anti-incumbent fervor that's put the in-power Democratic Party on the defensive nationally.
"Is Harry in trouble? Certainly. Is he out of the game? No," said Mark Peplowski, a political science professor at the College of Southern Nevada. "I see it coming down to the fourth quarter. And everybody says the fourth quarter is where the best game is played."
That's what the Reid camp is counting on. The November election is 10 months out, which may give the senator's expected $25 million-fueled campaign time to sell him to Nevadans again — and time to tear apart his GOP opponent once a contender emerges from the crowded field in the June primary.
"He's never backed down from a fight," Reid campaign manager Brandon Hall said in an interview when asked whether Reid would retire instead of seeking a fifth Senate term. He added, "We're not trying to win a beauty contest here."
Reid's numbers are pretty ugly, according to the latest survey by Mason-Dixon Polling & Research, which interviewed 625 registered Nevada voters by telephone Jan. 5-7. The margin of error on the poll is plus or minus 4 percentage points.
According to the survey:
• 52 percent had an unfavorable opinion of Reid, 33 percent had a favorable view and another 15 percent said they're neutral. In early December, a Mason-Dixon poll put his unfavorable-favorable rating at 49-38. The lowest Reid's popularity had slipped before in the surveys was 50 percent — in October, August and May of 2009, when Mason-Dixon started tracking the senate race for the Review-Journal.
The poll also took a snapshot of how Reid would do against three potential GOP opponents. In each case — as in past Review-Journal surveys — it showed the senator would lose with only four in 10 voters supporting him. The potential match-ups would look like this:
• Sue Lowden, former Nevada Republican Party chairwoman, would get 50 percent of the vote to Reid's 40 percent with 10 percent undecided.
• Danny Tarkanian, a businessman and former UNLV basketball star, would gain 49 percent of the vote to Reid's 41 percent.
• And Sharron Angle, a former Reno assemblywoman, would get 45 percent of the vote to Reid's 40 percent, a strong showing given her low name recognition statewide — 42 percent don't know her.
Reid's campaign manager Hall said internal polls show the senator winning the general election against any potential opponent, but he refused to share any details.
If the Republican primary were held today, it would be a statistical dead-heat between Tarkanian (28 percent) and Lowden (26 percent), according to the survey. Angle would gain 13 percent of the vote, while the more than half a dozen other GOP hopefuls weren't factors.
Tarkanian and Lowden are fairly well-known statewide and have favorable ratings that are about the same as Reid's 33 percent. Tarkanian's favorable-unfavorable rating was 33 percent-16 percent with 33 percent neutral; Lowden's was 32-17-31; And Angle's was 21-11-26.
Independent voters could be a major factor in the general election.
In each of the three Reid-GOP matchups polled, for example, the senator would get only about one-quarter of the independent vote, according to the latest Mason-Dixon poll. The three potential Republican opponents would get more than half the independent voters' support if the race against Reid were held today: Lowden (59 percent), Tarkanian (56 percent) and Angle (53 percent).
Peplowski, the political science professor, said the independent voters will break in November for whichever political party or candidate makes the strongest case — or they'll stay home. In the past couple of elections, non-partisan voters helped the Democrats win the White House and Congress, but now they've been disenchanted and are leaning more toward Republicans.
"The Republicans have got to move into the middle to get them to the polls," Peplowski said.
Brad Coker, the managing partner of Mason-Dixon, said the Republican primary race is wide open and "any one of those three could come back on top" with Tarkanian and Lowden neck and neck and Angle gaining a bit. He said it might come down to how much money the Republican contender is willing to spend, and both Tarkanian and Lowden have access to big bucks.
As for Reid's chances of re-election, Coker said the senator's negatives are so bad that he will have a tough time making a comeback and earning more than 40 percent of the vote come November.
Coker noted that Reid's fate is tied to the fate of the Democrats and President Barack Obama, which could be bad news since the Oval Office resident's popularity has been plunging. Obama's favorable rating dropped to 34 percent in the latest Mason-Dixon poll compared to 44 percent last month and 55 percent in May. His unfavorables climbed from 30 percent in May to 46 percent now.
"I think it all ties together because Reid is Washington and Obama is Washington," Coker said in an interview. "Right now, you've got a three-headed Democratic monster between (House Speaker Nancy) Pelosi, Reid and Obama. And Pelosi has never been popular nationally. And Reid has become progressively or steadily less popular."
Republicans are licking their chops at the idea of Reid taking a fall.
Brian Walsh of the National Republican Senatorial Committee wondered after Dodd bowed out whether the White House would push Reid to "consider an early retirement instead of facing a forced retirement in November."
The White House on Friday dismissed the notion, jumping to Reid's defense.
"As Senate majority leader, Harry Reid fights for Nevadans every day through his efforts on behalf of homeowners, by ending Yucca Mountain, and by protecting tens of thousands of Nevada jobs through the Recovery Act," said White House spokesman Adam Abrams. "He is spearheading the historic effort to finally make sure that all Americans can get affordable health care coverage and by partnering with the president, Harry Reid is creating Nevada jobs — leading the way toward a clean energy future for all Americans."
Still, Coker, the Mason-Dixon pollster, said he believes Reid has "caught Daschle disease," a reference to the former South Dakota senator and Democratic leader who lost re-election in 2004.
"Now that he's taken over as Senate majority leader, he has to be the spokesman for the (Democratic) cause, and that's a little left of where Nevadans are," Coker said. "If anything, he's gone further to the left rather than pull Democrats to the center."
Coker said the issues that have pulled the Democrats to the left include health care reform and financial institution bailouts, which have angered voters who can't pay their own bills.
Coker is among the few political analysts who believe it's possible that Reid retires.
"I have a theory that one of the reasons Reid's behaving the way he's behaving is he's going to bail out," Coker said. "He's trying to get everything he can get done done. I think he's going to spend the next year trying to get anything and everything through regardless of the consequences."
Contact Laura Myers at lmyers@reviewjournal.com or 702-387-2919.