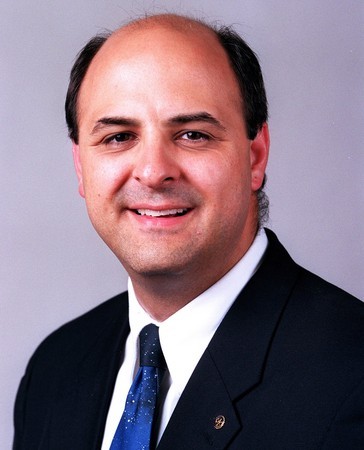 If anger were money, Sen. Harry Reid's opponents would be wealthy indeed. But it isn't, and they're not.
Fundraising appeals sent out by a group that launched a supposedly major anti-Reid campaign last month reveal that the Our Country Deserves Better PAC is struggling financially.
"Ouch folks, this is not too good" was the subject line on an e-mail sent Wednesday. It said only 75 people had chipped in less than $2,800 to the latest push for the "Defeat Harry Reid" campaign against the Senate majority leader from Nevada.
"We've got to do better, friends — much, much better!" the group's Joe Wierzbicki wrote.
Another e-mail came the following day with the subject, "We've made some progress — the update." Thanking "those of you who have graciously stepped up and made a contribution… as we try to keep pace with the fundraising efforts of Barack Obama and Sen. Harry Reid," the letter said that in 48 hours, 192 people had chipped in to raise the tally to $8,282.
A list of 32 of the 192 donors who gave $100 or more included just two Nevada names among many from California, Texas and Florida.
At that rate, it would take 483 days, or a year and four months, to equal the $2 million haul Reid and the Nevada Democratic Party reaped in one night from last month's presidential fundraiser at Caesars Palace, in conjunction with which the California-based Our Country Deserves Better staged a protest and launched a television and radio ad campaign.
This time, the group is trying to rally the conservative troops around a Reid fundraiser scheduled to be held in Chicago later this week.
Attorney William Singer is hosting the fundraising lunch Friday at his Chicago law firm, according to the Chicago Sun-Times. It costs $1,000 to attend the "intimate," "open-ended discussion of the most important issues of the day" with Reid, though the invitation notes that checks for the maximum $2,300 are welcome, too.
'R' IS FOR REID
Last week's announcement of a group of 56 prominent Republicans who are supporting Reid's re-election put the state's Republican Party in a tough spot. How to denigrate Reid's accomplishment in putting together the list, while simultaneously not insulting their own?
After all, a lot of the big names on Reid's list are people the Nevada GOP also badly needs as donors if it is to recover from the broke, battered, disorganized state it was left in after the last election. The Republicans for Reid list includes consultant Sig Rogich, first lady Dawn Gibbons, entertainer Wayne Newton, the mayors of Reno and Sparks, and numerous prominent businessmen.
An e-mail to supporters from the party's chairwoman, Sue Lowden, and finance chair, Robert Uithoven, all but called the Reid supporters out-of-touch elitists: "Without question, he's going to need all the haughty Washington politicians, self-absorbed Hollywood friends and powerful Nevada players he can get to win his re-election," the letter said.
And it came this close to accusing the list members of lying about their fealty to Reid: "While it's arguable whether these listed Nevadans will actually support Harry when casting their votes in private, what is certain is that Harry Reid has a serious lack of support from ordinary, hardworking Nevadans."
The e-mail goes on to ask those salt-of-the-earth types to chip in a hard-earned "$10, $20, $50 or even $100."
The Republicans for Reid are making a more ambitious pitch. A letter from Rogich and Sparks Mayor Geno Martini went out to the more than 800 registered Nevada Republicans who have donated to Reid's campaign, asking them to come out of the closet.
"You have already contributed financially to Senator Reid," the letter says, "now we are simply asking you to make a public endorsement."
The letter touts Reid's work on home-state issues such as water, energy, expanding the 215 Beltway and fighting Yucca Mountain.
"Although our party affiliation may say Republican, we are Nevadans first and we believe it is crucial for our state to retain Senator Reid," it states.
ELEPHANT FIGHT
The Reid committee isn't the only situation that finds Nevada Republicans working at cross purposes. Last week's conclusion to the legislative session also laid bare the longstanding rifts in the party.
Clark County Republican Party Chairman Bernie Zadrowski is convening a special meeting of the party's Central Committee this week to consider condemning the Republican lawmakers who voted for tax increases over Gov. Jim Gibbons' veto during the session.
There are six of them — five state senators and one assemblyman — two of whom, Sens. Dennis Nolan and Warren Hardy, are from Clark County. The other 17 Republican legislators voted against the $781 million in tax hikes, though not all voted against all of the spending in the budget the tax hikes helped to fund.
Zadrowski is calling on the committee to consider two resolutions: one "condemning the actions of each individual Republican legislator by name who voted for the tax increases," and another "praising the actions of each individual Republican legislator by name who voted against the tax increases, and to praise each one of them for standing behind the Governor and Republican principles in voting against overriding the governor's veto."
(An interesting side note: Even those lawmakers loyal to Gibbons, and there are a few, didn't stand by their man all the time. At least one of the 25 veto overrides was unanimous, meaning not a single Republican legislator was 100 percent faithful to upholding Gibbons' wishes.)
Zadrowski also encouraged GOP chairs in the state's other counties to follow his lead.
As conservative activist Chuck Muth reported in his e-mail newsletter, Zadrowski's action drew an angry response from state Senate Minority Leader Bill Raggio, R-Reno, who supported and helped craft the budget and tax hikes.
"Keep up these vituperative lashings at Republicans whom you disagree with and we will continue to lose elections," Raggio wrote.
"(The) Better course would be to reunite (the) party and understand differences of opinions."
Zadrowski replied that he believes standing on principle, not moderation and compromise, is what will lead the GOP back to electoral success.
"I think what is hurting the Republican Party is this idea propagated by 'moderates' that Republicans should look, act, and vote in a manner that is indistinguishable from Democrats, but not be held accountable," he wrote.
Contact reporter Molly Ball at mball @reviewjournal.com or 702-387-2919.