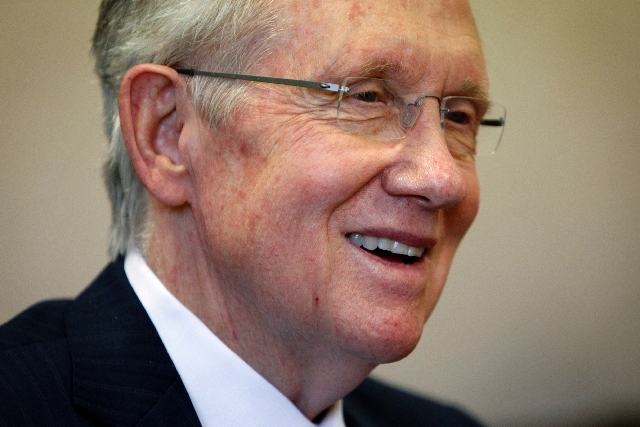 WASHINGTON — Sen. Harry Reid's treasured home in Searchlight now is all his after he paid off its mortgage last year, according to a new personal finance report he filed Wednesday in Congress.
Reid took out a personal credit line at Wells Fargo and tapped it to pay off what he owed on a home loan that was signed in 2004 at 6 percent interest, according to the disclosure.
The interest rate on Reid's credit line is half a percentage point below the prime rate, which this week was 3.25 percent, according to Bankrate.com.
By taking advantage of the lower interest rate, Reid, like millions of homeowners who have refinanced, was poised to save thousands of dollars on the mortgage, which was listed at between $100,000 and $250,000.
The information was contained in a report that Reid and all members of Congress must file each May 15 disclosing the value of their investments, what money they owe, and relationships that may affect their financial bottom line.
The reports are made public later, but Reid and Rep. Mark Amodei, R-Nev., provided theirs on request. Rep. Dina Titus, D-Nev., obtained a time extension to file, according to her spokeswoman.
The disclosures do not include annual congressional salaries which for Reid, the Senate majority leader, is $193,400. Rank-and-file senators and House members are paid $174,000.
Reid is worth between $2.8 million and $6.2 million, according to the report that allows lawmakers to list the value of their assets in broad ranges. That puts him roughly in the top third of senators measured by wealth, according to the Center for Responsive Politics.
Reid's portfolio, which is managed through a Wells Fargo blind trust, contains investments in municipal bonds and exchange-traded funds. But much of his wealth is in land and mining claims in the Southwest. His most valuable holding continues to be a 160-acre parcel he owns in Bullhead City, Ariz., valued at between $250,000 and $500,000.
While Reid and his wife, Landra, live in a one-bedroom condominium at the Ritz-Carlton when they are in Washington, he often speaks of the home he had built in Searchlight, where he grew up, and holds court there when he returns to Nevada.
Amodei's finances are uncomplicated by comparison.
The second-term Republican reported two bank accounts and two individual retirement accounts that all told are worth between $102,000 and $230,000. The mortgage on his home in Carson City is between $100,000 and $250,000.
Contact Stephens Washington Bureau Chief Steve Tetreault at stetreault@stephensmedia.com or 202-783-1760. Follow him on Twitter @STetreaultDC.