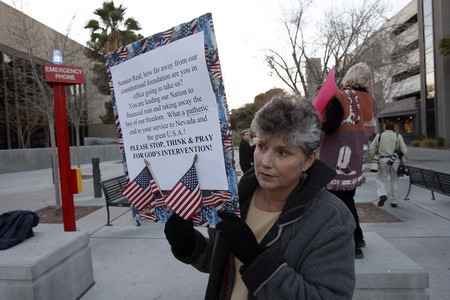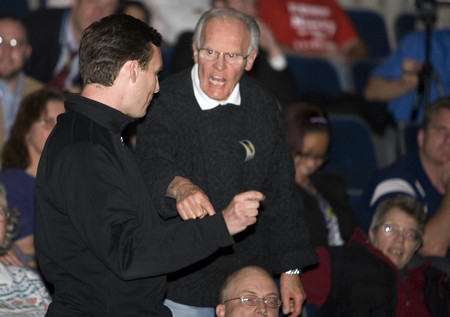 Sen. Harry Reid declared Thursday that Nevada would benefit more than almost any other state if health care insurance reform becomes law, a pledge he made in a carefully choreographed forum at the University of Nevada, Las Vegas, that only a few hecklers managed to crash.
"Who's going to pay for it?" one woman shouted from the back of the packed Judy Bayley Theatre, several minutes after campus police escorted a young man from the auditorium when he questioned Reid's statement that the bill he shepherded through the Senate would help Nevadans.
"I'm here to tell you that when President (Barack) Obama signs this bill into law, Nevada will benefit more than almost any other," Reid, D-Nev., said before he was interrupted.
The statement — which appeared aimed at responding to criticism that the Senate majority leader let states such as Nebraska win special benefits in exchange for support — set off the protester.
"I have to say I have a point," said Michael Steger, the heckler who later identified himself as a supporter of Lyndon LaRouche, a perennial candidate for president and controversial activist.
The crowd of more than 450 mostly Reid supporters and Democrats shouted the man down, chanting "sit down, sit down, sit down," which he refused to do.
Several men in the audience then grabbed him by the arms and dragged him to campus police, who released him outside.
Reid shook his head.
"I'm sorry to say this is what we've been dealing with for a long time," he said, referring to strong criticism he has faced from Republicans and others who oppose the bill and even from within his own party.
The forum was the first Reid has held since the Senate passed the health care insurance reform bill, now the focus of closed-door negotiations among congressional leaders and White House officials to settle differences between the Senate and House versions.
Reid, the most powerful senator Nevada has had, is facing a tough re-election battle. Voters are dissatisfied with the dismal economy, and the national Republican Party is working to take him out as a bevy of GOP hopefuls lines up to oppose him in November 2010.
Reid's campaign believes health care reform can help him win votes if he can convince Nevadans they will benefit after the legislation becomes law — and that it's not a big government program.
In his remarks, Reid said the bill would:
• Lower premiums for Nevada families by as much as $1,600.
• Give 24,000 small businesses in the state access to tax credits.
• Give free preventive care to 328,000 Nevada Medicare beneficiaries, while another 52,800 will get access to more affordable prescription drugs.
Nevada now has the second-highest rate of uninsured citizens in the nation, Reid said.
He said this often leads to bankruptcy and foreclosures, an area in which Nevada leads the nation.
"Too many hardworking Nevadans don't need statistics to tell them that our state suffers more than almost any other from a broken health insurance system," Reid said.
Before Reid spoke, five supporters told their stories onstage, including a cancer doctor who criticized insurance companies for slow responses to patients, a nurse, a small business owner, an AARP representative and a paralyzed man who lost his health insurance after two years.
Outside the theatre, about three dozen protesters showed up.
Inside, the forum drew a friendly audience, which had to RSVP to attend. Most got invitations via e-mails from the Reid campaign and the Democratic Party, which helped organize the event.
"We love you, Harry," one woman shouted as Reid took the stage.
Reid responded: "I really love you, too, and that's the truth."
Not feeling the love was the Republican National Committee, which released the following statement: "Since 53 percent of Nevadans oppose Harry Reid's government-run health care, it's no wonder that this forum was with his handpicked ardent supporters.
"Despite all of Reid's warm and fuzzy rhetoric about his so-called trillion dollar accomplishment — which will increase premiums, raise taxes and cut Medicare on Nevadan families — he should have spent the last six months finding a solution that would have helped Nevada's ailing economy," continued the statement attributed to spokesman Jahan Wilcox.
Reid didn't take questions during the event, but he got a few tough ones while he was shaking hands and chatting with people afterward.
The toughest encounter was with Jeff Jones, 33, of Las Vegas, a multimedia Web designer who owns his own business. Jones asked Reid why he didn't take questions.
Reid told Jones he was welcome to participate in his next "tele-town hall," in which the senator takes questions over the phone, a strategy the campaign says allows him to address thousands of people at a time instead of several hundred. But it also serves to insulate Reid from voters and critics.
Jones initially misheard Reid and thought the senator told him he wasn't welcome at the next event, but Reid took the man's business card and later chatted with him for 15 minutes on the phone, according to spokesman Jon Summers.
Jones confirmed Reid made the call.
In an interview, Jones said he wasn't happy with the forum because it was too controlled.
"I was kind of disappointed he didn't allow people to participate," Jones said, adding that it was very nice of Reid to call him back as promised, however.
Jones said he still didn't plan to vote for Reid, saying, "I'm against big government."
Jones said in the past he has been both a Republican and a Democrat, and in the last presidential election he voted for Ron Paul. Asked who he might vote for in the 2010 Senate race, Jones shrugged.
"I kind of like that gal Sharron Angle," he said of the former Nevada assemblywoman, one of the near dozen Republicans running for the GOP spot on the ticket.
Reid got another surprise when his only Democratic opponent, an unknown named Ed Hamilton, shook the senator's hand and introduced himself. Reid was speechless.
"I guess his staff didn't tell him he has a primary opponent," Hamilton said laughing.
Contact Laura Myers at lmyers@reviewjournal.com or 702-383-2919.
Video of health care town hall
ENSIGN TOWN HALLS SET
Sen. John Ensign announced Thursday the times and places for two health care town hall meetings to be held in Reno and Las Vegas next week. They'll be open to the public and the media.
In Las Vegas, the event is scheduled to begin at 2:30 p.m. Wednesday, Jan. 13, at the Summerlin Library, 1771 Inner Circle Drive.
In Reno, the town hall is set to start at 5:30 p.m. Monday, Jan. 11, in the Washoe County Commission Chambers.
"I am excited to be able to hear directly from Nevadans about their concerns and questions with this massive government takeover in health care that the Democrats are quietly putting into law. I want to encourage Nevadans to come take part in these town halls," Ensign said.
LAS VEGAS REVIEW-JOURNAL
HEALTH BILL RULING REJECTED
CARSON CITY — Nevada Attorney General Catherine Cortez Masto is rejecting Gov. Jim Gibbons' request for an immediate ruling on the constitutionality of the U.S. Senate's health care bill.
In a statement, Masto said she has been monitoring the legislation and has been in contact with other state attorney general offices about the issue.
But she says any legal action challenging the constitutionality of the legislation can only take place once the legislation passes both houses of Congress and becomes law.
Gibbons has criticized the legislation crafted by Nevada Sen. Harry Reid, and says he wants the state to sue the federal government if it passes.
The Democratic-controlled Senate passed health care legislation on Dec. 24, clearing the way for compromise talks with the House.
THE ASSOCIATED PRESS