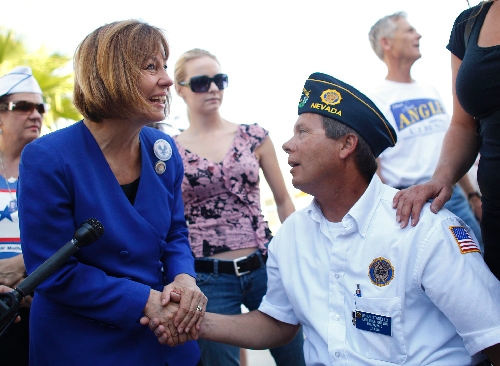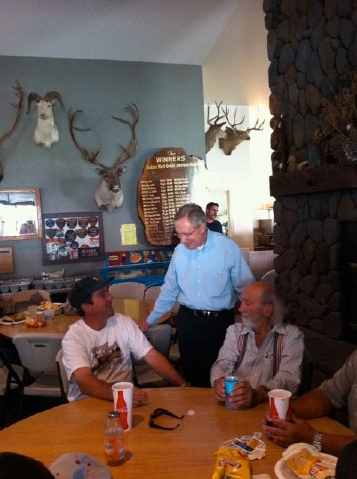 Stampeding stallions couldn't keep U.S. Sen. Harry Reid away from a recent get-together with sportsmen competing in a clay shoot up north in Reno.
"Honest to goodness, wild mustangs came by to see what all the commotion was about. And wild horses weren't the only Union Sportsmen's Alliance fans to show up at Sage Hill Clay Sports that day. Harry Reid, U.S. Senator (D-Nevada) and leader of the United States Senate, also stopped by to show his support and wish the shooters good luck in the day's competition."
Or so says an account on the alliance's website, which shows photos of the galloping herd as well as Reid chatting with sportsmen in a room with hunting trophy heads of elk and deer on the walls.
That's just the sort of press coverage Reid likes as he campaigns for re-election — a friendly story, no questions and no protests or disruptions — unless you count the four-legged kind.
Outside of official events, where Reid often speaks from a podium, the 70-year-old has been running a stealthy campaign. He rarely advertises appearances in advance, especially in rural Nevada where he is highly unpopular and could attract anti-Reid signs and jeers. (More than half of Nevadans have an unfavorable opinion of him, polls show, and most of them live outside Reno and Las Vegas.)
"Big Secret is Out — Reid in Town Today" blared a headline Tuesday in the Mesquite Local News, which broke the story of the Senate majority leader's trip to town.
"Usually when a U.S. senator schedules a visit to a small town, particularly in the middle of a fierce campaign, all the stops are pulled out," the online story said. "Plenty of photo ops are set up, big announcements are made, press releases are issued, and campaign workers do everything possible to ensure that their candidate receives tons of publicity. But not always.
"The Reid campaign has been unusually quiet about the visit."
At his campaign events, Reid surrounds himself with friendly supporters, as he did in Mesquite, 80 miles northeast of Las Vegas, next to the Arizona state line.
Reid held a round table discussion "with eight local retirees, mostly from the Mesquite Democratic Club, while another half-dozen members of the press and public served as spectators at the Falcon Ridge Hotel conference room," the Local News dutifully reported the next day. "A small handful of Tea Party members stood at the entrance to the hotel's driveway to 'greet' the senator with signs that said 'Dump Reid' and touting Republican senatorial candidate Sharron Angle."
A photo showed six protesters, most wearing smiles, sun hats and shorts in the August heat.
Reid also recently visited folks in Pahrump and Henderson, according to photos of the senator with supporters that were tweeted and posted on Aug. 21 by campaign spokesman Jon Summers.
The Reid campaign says it notifies specific beat reporters about the senator's events depending on the subject, whether education, business or energy and the environment.
Political reporters, including members of national publications parachuting in to follow the close Reid-Angle race, usually get a day-ahead notice of events to keep track of the Senate's most powerful Democrat, who doesn't publish his schedule on his campaign website.
Security also is a concern for Reid because of his top position, which is another reason for keeping his schedule under wraps for as long as possible, according to his staff.
Guy Rocha, a renowned Nevada historian and former state archivist, said the U.S. Senate race is unlike any he has chronicled or read about in the past. The stakes are sky high since President Barack Obama's agenda relies on Reid as does the ability of the Democrats to retain power in the Senate.
Unlike days past when candidates were far more open and relaxed, today's contenders are wary of holding town halls and taking reporters' questions too often in an era of 24-hour news and wall-to-wall website coverage where every stray comment is open to swift attack, Rocha said.
"Candidates have to be much more on their guard, on their best game," he said. "Because anything they do out of impulse or spontaneity that's perceived as out of the ordinary or controversial will be scrutinized. And then they're just doing damage control all the time."
angle on road
So where has Sharron Angle been lately?
On the road a lot and raising money — at fundraisers in Texas the week before last, and in Tennessee and Colorado this past week, as she tries to keep her campaign coffers full to stay competitive with Reid. He has vowed to spend $25 million to win a fifth term in the Senate.
Since Angle won the GOP primary June 8, the former Reno assemblywoman has raised more than $3 million online. But she also has been spending as much as half a million dollars a week to run TV ads to both attack Reid and defend herself from the incumbent's heavy and sharp ad campaign against her.
Angle, a favorite of the Tea Party, is among a half dozen candidates across the country who beat establishment party contenders. Now, they're being portrayed as too extreme for wanting to close agencies such as the Department of Education and phase out Social Security. So she's having to spend a lot more money to fight back and prove she is a viable candidate who can last through Nov. 2.
The latest Mason-Dixon poll for the Las Vegas Review-Journal shows Reid and Angle in a dead heat, 45 percent to 44 percent. But if she starts to fall behind it might be more difficult to keep raising money and convince the national Republican Party to stay all-in to back her candidacy.
"She's up against a huge Democratic machine, and there are people all over the country who want to show their support," said Jarrod Agen, communications director for Angle, explaining why she has been spending three-quarters of her time raising money of late. "She's got to stay competitive."
Angle also has been rubbing elbows with her staunch conservative pals, who have Reid in their sights as a way to kick Democrats out of power and stop Obama's agenda.
Friday night in Las Vegas, Angle joined Sean Hannity's "Freedom Concert" at the Orleans Arena.
And Saturday morning, Angle was invited with other conservative GOP candidates to the "Restoring Honor" rally in Las Vegas, one of several such events across the country to coincide with a big Lincoln Memorial gathering in Washington, D.C., hosted by Glenn Beck of Fox News.
Angle's closeness with divisive figures such as Hannity and Beck could backfire, especially among Nevada's most moderate voters, who might find the far-right talkers a little over the top.
The national and state Democratic Party organizations are taking notice.
"Sharron Angle spent the early months of her campaign hiding from mainstream press that might ask her tough questions about her extreme positions, instead taking refuge with right-wing talkers and conservative media, where she feels most comfortable," Phoebe Sweet, communications director for the Nevada State Democratic Party, said in a statement Friday.
"So this weekend, while she's paling around with Sean Hannity and Glenn Beck types, maybe she'll finally feel comfortable enough to reveal which members of Congress she considers 'domestic enemies' of the United States," Sweet said. "After all, Angle wants to serve in Congress with these supposed enemies, so it's high time she named names."
Sweet was referring to Angle's agreement last October with a talk show host who said he thought there were domestic enemies in Congress, a comment that got Reid riled up last week.
Contact Laura Myers at lmyers
@reviewjournal.com or 702-387-2919.
POLITICAL EYE BLOG