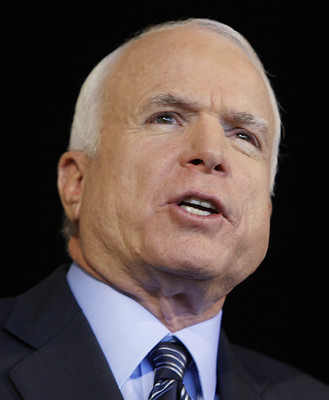 WASHINGTON — The feud between Senate Majority Leader Harry Reid of Nevada and Sen. John McCain heated up on Tuesday, with Reid charging the Republican presidential nominee "has done nothing" to change the country in the past eight years.
"John McCain talks about moving and changing Washington, which is a new bit for him," Reid said.
"I have to just look at the facts. He's done nothing to change what has happened to this country the last eight years," Reid said in reference to President Bush's two terms.
During a weekly gathering with reporters just outside the Senate chamber, Reid usually discusses legislation that is coming up for debate and then takes questions.
On Tuesday, he opened the news conference as he usually does, then changed the subject to McCain whom he called "this so-called leader of the Republican Party."
"Does anyone ever hear Senator McCain offer an opinion as to something that should be done?" Reid asked.
"The only thing we have heard him say is nothing that relates to substance — nothing."
Reid noted McCain has been largely absent from the Senate during debates on energy and housing, and probably would be a no-show this week for a defense authorization bill.
According to a Washington Post database, McCain has missed 63.8 percent of the Senate's vote while running for president the past two years.
Democratic presidential candidate Barack Obama missed 45.5 percent of Senate votes while Sen. Joe Biden, who ran unsuccessfully for president and is now the vice presidential nominee, missed 30.4 percent of the votes.
Rick Gorka, a spokesman for the McCain campaign in Las Vegas, called Reid's comments a "partisan attack."
"The fact is that Senator Reid has taken on an increasingly harsh tone with Senator McCain that shows the weakness and desperation of the Democratic Party as it continues slipping in the polls," Gorka said.
As for the charge that McCain has done nothing in the past eight years, Gorka said the Arizona senator has reached across the aisle to craft legislation on campaign finance reform, ethics and immigration.
"Senator McCain has passed more legislation in the last eight years than (Democratic presidential nominee Barack) Obama would ever hope to dream of passing," he said.
Bad feelings between Reid and McCain go back several years. In February 2004, McCain went on a national radio show and accused Reid of holding up a boxing reform bill to protect Las Vegas promoters.
Antipathy between the two seems to have grown more intense in the past three weeks.
During an Aug. 21 brown bag lunch with staffers at the Review-Journal, Reid said, "I can't stand John McCain."
In his address at the Democratic National Convention, Reid blasted McCain's energy policy and mockingly referred to the GOP nominee as "kindly old Doc McCain."
Last week, during her acceptance speech as the Republican vice presidential nominee, Alaska Gov. Sarah Palin said Reid "can't stand up to John McCain."
After her speech, Reid spokesman Jim Manley issued a statement calling Palin's speech "shrill." Some network commentators said the term sounded sexist.
Manley said, "Any criticisms I leveled were based on the fact that John McCain is more than willing to carry out four more years of Bush-Cheney policies — nothing more, nothing less. The simple fact is that America can't afford a McCain-Palin ticket."
On the topic of another senator, Reid on Tuesday denied that Joe Lieberman of Connecticut has been locked out of Democratic luncheons after he spoke out for McCain during the Republican National Convention last week.
"Joe Lieberman has been invited to everything we have done," Reid said. "He is part of the (Democratic) caucus. If he chooses not to attend that is up to him."
Lieberman said through a spokesman that he skipped Tuesday's lunch and probably will miss others.
Relations between Lieberman and Democrats have been awkward to say the least since the Senate returned to work this week. An independent from Connecticut, Lieberman gathers with the Democrats and is a committee chairman.
But Democrats plan to strip Lieberman of his chairmanship if they increase their slim majority in the November by four or five seats, The Politico Web site reported Tuesday.
Stephens Washington Bureau chief Steve Tetreault and the Associated Press contributed to this report.