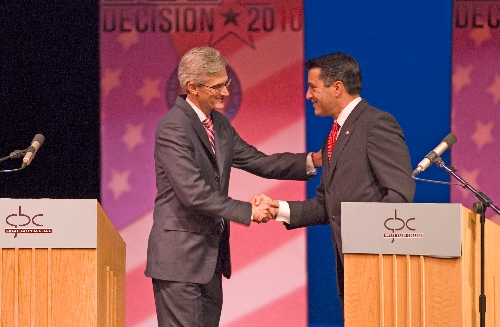 Democrat Rory Reid called Republican Brian Sandoval the "biggest quitter in the history of Nevada" on Tuesday evening, and Sandoval invoked Reid's famous father, the Senate majority leader.
Their comments were part of the most feisty debate yet between the two leading candidates for governor, coming a week before Election Day and with Reid trailing in the polls.
Rory Reid, chairman of the Clark County Commission, was the aggressor most of the night, with Sandoval, a former federal judge, looking to play defense and undermine Reid's repeated attacks.
Reid attacked Sandoval's lack of a detailed plan to balance the state budget, and he tried to turn Sandoval's lengthy resume into a liability by depicting the Republican as a quitter.
"Your experience is the experience of the biggest quitter in the history of Nevada," Reid said, referencing Sandoval's background as an assemblyman, gaming commission chairman, attorney general, federal judge and gubernatorial candidate. "Nobody has quit more than you."
Sandoval tried to turn around the quitter label by reminding the audience at Great Basin College in Elko and on statewide television that Reid's father had supported his career in backing the Republican's nomination to the federal bench.
"It was a privilege to be recommended by your father to the federal bench," Sandoval said. "He never questioned my integrity."
At two other points, Sandoval referenced the Patient Protection and Affordable Care Act, a federal health insurance reform law that polls show is unpopular in Nevada despite being shepherded into law by Sen. Harry Reid.
Sandoval promised to continue the state's lawsuit seeking to block the law from taking effect. Rory Reid tersely said he would oppose such a lawsuit.
At one point, Reid rattled off four dates during the campaign when Sandoval promised a budget plan.
"The election is in a week. Where is your balanced budget plan?" Reid asked. "In the last two minutes, you said more about the budget than you have in the year that you have been campaigning."
Sandoval blamed the delay on waiting for the arrival of estimates from state departments that came in last week before he elaborated on his overall proposal.
The gist of Sandoval's plan is to roll back general fund spending to about $5.2 billion during the upcoming biennium, less than the $5.8 billion spent in the 2005-07 budget. He justified it by saying the population in Nevada has fallen 2.6 percent since 2007 and demand for some state services has declined or remained flat, yet spending has increased 38 percent.
"I waited to get the real numbers," Sandoval said, again slamming what he said was Reid's "fantasy" plan, which includes $615 million most analysts say won't materialize. "We can live within our means."
After the debate, Jeremy Aguero of the economics research firm Applied Analysis said Sandoval's own figures suggest such a rollback is unrealistic.
Aguero said the declining population has sucked tax revenue out of the state and the remaining residents are demanding more, not fewer, services from government in the form of welfare, unemployment insurance benefits and education.
"It seems to me that creates a larger problem, not a smaller one," Aguero said. He also said many costs are out of the governor's control.
"The cost of energy you can't roll back to 2007, you can't roll back the cost of health care to 2007," Aguero said.
David Damore, a professor of political science at University of Nevada, Las Vegas, said Reid scored more points than Sandoval during the hourlong debate.
"I think Rory won," Damore said. "He came out early and said, 'Where's the plan, Brian?' "
Damore also said Reid's charge was likely too little, too late, as Sandoval has led Reid by double digits in nearly every statewide poll, and many voters have already cast their ballots.
"It is coming too late to really do any damage here," Damore said.
Contact reporter Benjamin Spillman at bspillman@reviewjournal.com or 702-477-3861.