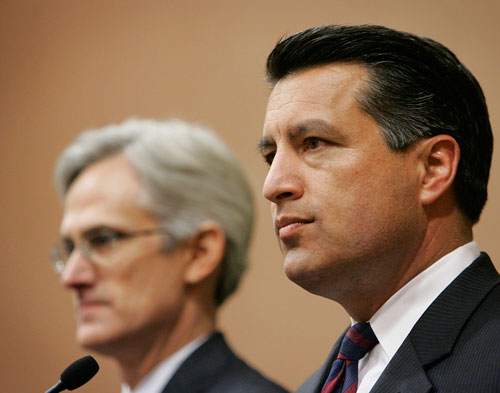 Five of the candidates running for governor of Nevada say they're unhappy about being excluded from an upcoming debate between Democrat Rory Reid and Republican Brian Sandoval, the two major party candidates.
In a news release sent Monday, non-partisan candidates Aaron Honig and Eugene DiSimone, David Scott Curtis of the Green Party, Floyd Fitzgibbons of the Independent American Party and Arthur Forest Lampitt Jr. of the Libertarian Party say the education debate scheduled Sunday won't give voters the opportunity to learn about a majority of their choices.
The debate, sponsored by 8 News Now, the Las Vegas Review-Journal and Vegas PBS, will be at 6 p.m. Sunday at Andre Agassi College Preparatory Academy.
"While the sponsors' announcement stated their intent was 'to ensure Southern Nevadans have the opportunity to learn about the candidates' they have intentionally and blatantly excluded five of the seven candidates for this important public office," the candidates wrote.
Ron Comings, news director for 8 News Now, said the decision to exclude the candidates was based on their failure to meet objective criteria designed to limit the event to candidates with viable campaigns.
The criteria include showing a campaign has reported at least $50,000 in contributions to the secretary of state, and showing the candidate has either received 10 percent of the vote in the June primary, 10 percent support in an opinion poll deemed credible by the organizers, or 10 percent of the vote in a prior election for the same or a similar office.
"It is really a fairly low threshold, just to determine if a candidate is at all viable," Comings said. "It is just a fact of life, you have got have enough money to wage a viable campaign."
The debate Sunday is the first of three in which Sandoval and Reid have agreed to participate. Reid, who trails Sandoval in the polls but leads in fundraising, has attacked Sandoval for not agreeing to more debates.
Sandoval originally said he would agree to four: two in Las Vegas, one in Reno and one in Elko.
The Reno debate, however, remains in doubt. On Monday Reid's campaign released an online ad attacking Sandoval for not yet committing to it.
Contact reporter Benjamin Spillman at bspillman@reviewjournal.com or 702-477-3861.