Reid says money didn't buy judge nomination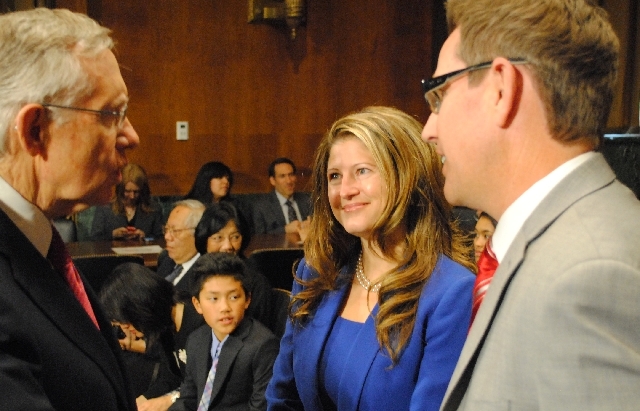 WASHINGTON — U.S. Senate Majority Leader Harry Reid, D-Nev., defended his choice of Jennifer Dorsey for a Nevada federal judgeship, saying he was not influenced by $150,000 in contributions her law partners made to a political committee for Senate Democrats while she was being considered.
Money "hasn't entered into my selection of anybody" to become a judge or fill other government posts, Reid said Friday during a group interview at the Las Vegas Review-Journal. "I don't feel that is part of what I have done."
Reid said Dorsey, 42, an attorney with the Las Vegas firm Kemp, Jones & Coulthard, was "extremely qualified" to become a federal judge. He insisted she not be disqualified by the donations two senior partners made to the Senate Majority PAC, an organization headed by former Reid aides to help him remain majority leader by electing more Democrats.
"It's too bad that her being a member of that law firm is causing some problems for her," Reid said. "I hope she doesn't feel this disqualifies her. I didn't."
Despite sudden controversy surrounding the nomination, Reid predicted Dorsey will be confirmed by the Senate. "I think she'll be OK ," he said.
The session with Review-Journal reporters and others at the newspaper was the first time Reid was questioned about the matter following the newspaper's report a week ago that Will Kemp and J. Randall Jones, founding partners of the prominent Las Vegas firm, made the donations in May 2012.
The contributions — Kemp gave $100,000 and Jones gave $50,000 — came at a time Reid was weighing Dorsey, a partner since 2004, for a judicial nomination. He sent her name to the White House a month later.
The timing of the donations, plus their size as much larger than anything the partners had given to any politician previously, caused a legal ethics expert to describe them as "problematic," and that could give rise to a perception the firm was trying to buy a judgeship.
Republicans on the Senate Judiciary Committee made a similar discovery of the donations during a background check. Sen. Charles Grassley, R-Iowa, the panel's ranking Republican, has asked Dorsey about them in written questions before the committee schedules a vote on her confirmation.
Kemp has said that Reid solicited a donation from him in January or February 2012, and steered him to the Majority PAC. The Las Vegas attorney has said there was never discussion linking contributions to a possible nomination.
Reid said Friday he had nothing to do with the size of the donation, emphasizing that was between the firm and the political committee. Federal rules prohibit lawmakers from soliciting donations above $5,000, "and I follow them very closely," he said.
Since President Barack Obama took office, Reid has proposed five nominees for federal judgeships, including Dorsey. One, Elissa Cadish, withdrew in March.
Miranda Du, confirmed in March 2012, and Andrew P. Gordon, confirmed in March of this year, worked at the firm of McDonald-Carano-Wilson when they were nominated. Various partners at that firm have donated $15,200 to Reid from 1998, but none during the periods that Du and Gordon were being weighed for judgeships, according to federal records.
Gloria Navarro was a Clark County assistant district attorney and was not in private practice when she was nominated and then confirmed in 2010.
At the Review-Journal, Reid blamed the U.S. Supreme Court's 2010 ruling in Citizens United v. Federal Election Commission for opening the floodgates of even bigger money into politics.
Among other outcomes, the ruling has fueled an arms race that has included the formation of so-called super PACs like the Senate Majority PAC, that can raise unlimited sums from individuals, corporations and labor unions, and in some cases without disclosing where the money came from.
The Senate Majority PAC raised $42.1 million in 2011-12, ranking fourth among super PACs, according to the Center for Responsive Politics.
"I believe the Supreme Court's (Citizens United) decision was one of the four or five worst decisions in the history of the court," Reid said.
Contact Stephens Washington Bureau Chief Steve Tetreault at stetreault@stephensmedia.com or
202-783-1760. Follow him on Twitter @STetreaultDC.