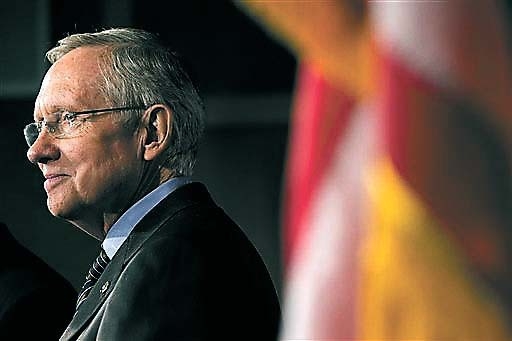 WASHINGTON — Sen. Harry Reid spent Friday in a hospital in the nation's capital after complaining he was out of sorts. He was released at the end of the day after doctors diagnosed him as "exhausted," a spokesman said.
Reid, 74, was kept under observation at George Washington University Hospital for the day.
The Senate majority leader missed what turned out to be the last day of the Senate's 2013 session as lawmakers conducted final votes and dispersed for the holidays.
The Nevadan was taken to the hospital a few blocks from his apartment early Friday. His spokesman Adam Jentleson said it was a precaution after "not feeling well."
After being released from the hospital Friday afternoon, Reid returned home with his wife, Landra, Jentleson said.
"The doctors diagnosed him as exhausted, not anything more serious, and have cleared him to go back to work," Jentleson said. "He spent today resting, talking to family, friends and colleagues, reading the news and discussing Senate business."
Earlier in the day, Reid's office reported medical tests showed "everything is normal," Jentleson said, but doctors suggested he stay in the hospital for observation.
Reid's hospitalization comes at the end of a series of long days and evenings in the Senate, where Democrats and Republicans feuded this week to finalize a number of federal confirmations and a defense bill for 2014.
In Reid's absence on Friday, the Senate was managed by Sen. Dick Durbin, D-Ill., the No. 2 Democratic leader.
Durbin reported Friday afternoon he had spoken with Reid. He said the Nevadan was "hale and hearty" and looking forward to returning to work. The Senate now is in recess until Jan. 6
Jentleson said Reid "appreciates the kind words and thoughts sent by so many, thanks to the doctors at George Washington University Hospital for the excellent care he received, and wishes everyone a Happy Holidays."
A former boxer and a runner who completed multiple marathons, Reid also has taken up yoga in recent years. In May 2011 he dislocated his right shoulder after he slipped while jogging in the rain near his Washington apartment.
In August 2005, he was determined to have suffered a "transient ischemic attack," a brief interruption of blood supply to a part of the brain, after feeling lightheaded at his home in Searchlight. He was not hospitalized.
Contact Stephens Washington Bureau Chief Steve Tetreault at stetreault@stephensmedia.com or 202-783-1760. Follow him on Twitter @STetreaultDC.