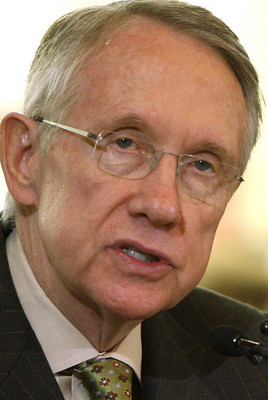 WASHINGTON — The Senate is picking up where it left off in the fall with a battle between Sen. Harry Reid and Sen. Tom Coburn, an Oklahoma Republican who is protesting a big federal lands bill he says is full of questionable spending.
Reid, the Senate majority leader from Nevada, has scheduled a rare session for this Sunday in an effort to work through a blockade that Coburn has erected. The legislation is an agglomeration of more than 160 individual bills sponsored by senators from both parties that the Oklahoman blocked last year.
Among its elements, the measure would designate more than 2 million acres of wilderness in nine states. It would create three new national park units while expanding several others. It also sets aside more than 1,000 miles of federally protected rivers.
"Collectively, the bill is one of the most sweeping conservation laws considered by the Senate in recent years," said Sen. Jeff Bingaman, D-N.M., chairman of the Energy and Natural Resources Committee.
Included in the package are a half dozen Nevada bills including flood control for the foothills of Sunrise Mountain and a Las Vegas land transfer intended to benefit the Nevada Cancer Institute.
But as Congress reconvened this week. Coburn said he was not backing down. The Oklahoman has a well-earned reputation as a gadfly who will not hesitate to call attention to bills he believes are flawed and to hold them up if necessary. His critics say he is more interested in finding problems than finding solutions.
Coburn has questioned the expense and need for most of the segments of the measure and has called for "thorough debate." He has charged that Reid is preventing him from offering amendments.
"The American people expect us hold open, civil and thorough debates on costly legislation, not ram through 1,300 page bills when few are watching," he said.
The U.S. Chamber of Commerce has come out against the package.
"The omnibus bill would withdraw millions of acres of public land from energy development, increase government spending by more than $10 billion and add even greater restrictions to federally managed lands," it said Friday.
With Coburn and Reid at an impasse, the matter took a turn on Thursday. The Oklahoman proposed an amendment that would prevent any new spending until the National Park Service gets caught up with a $1.5 billion repair backlog at high profile parks.
The amendment singles out Lake Mead National Recreation Area, along with the Grand Canyon, the Statue of Liberty, Yellowstone National Park, the USS Arizona, Glacier National Park, Civil War battlefields at Gettysburg and Antietam, and the National Mall in Washington.
Coburn spokesman John Hart on Friday denied that Lake Mead was put in the amendment as a poke at Reid.
A Reid spokesman said Coburn was maneuvering for attention, and has no interest in working constructively.
"He has been disingenuous in the process from the very beginning," Reid aide Jon Summers said. "If he was interested in these issues he would be working with us. There is a reason he has earned the name, 'Dr. No.' "
Contact Washington Bureau Chief Steve Tetreault at stetreault@stephensmedia.com or 202-783-1760.