Reid slams Lowden tie to failed bank
February 15, 2010 - 10:00 pm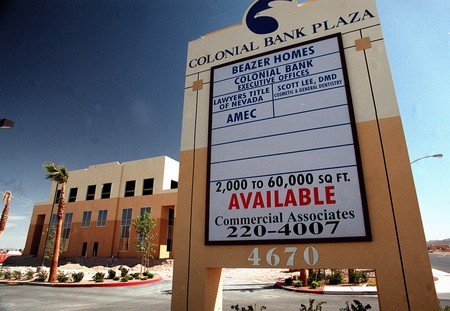 Political opponents of U.S. Senate candidate Sue Lowden are using her connection to a failed bank to attack her candidacy.
The attacks highlight Lowden's role on the board of directors of the failed Colonial Bank of Nevada and failed efforts by the bank's parent, Colonial BancGroup of Montgomery, Ala., to get money from the federal government's troubled asset relief program, also known as TARP or "bailout money."
On his campaign Web site, Sen. Harry Reid, D-Nev., whom Lowden and several other Republican candidates are seeking to challenge, criticizes Lowden, accusing her of several flaws, including her role at the bank and her statements about the bank bailouts.
The post, titled "Lowden's economic 'plan' doesn't let facts get in the way," said Lowden was a paid member of the board of directors of Colonial Bank of Nevada from June 1998 to February 2009.
Her role at the bank is mentioned in an online profile of Lowden by Forbes magazine.
But it would be a stretch to imply Lowden contributed to Colonial's problems or suggest she played a role in the decision to seek bailout money from the government, said Tony Plath, a banking expert familiar with Colonial and an associate professor of finance at University of North Carolina, Charlotte.
Plath said that the board of directors at Colonial Bank of Nevada was an "advisory board" and that the board with legal responsibility for the bank operated out of the Alabama headquarters.
Plath sadi that in 1998, when Colonial took over Commercial Bank of Nevada, of which Lowden was a founding member, it did what many new corporate parents do. It maintained an advisory board at the local level to continue giving the impression of local control though decisions would be made by leaders at the corporate level.
"They're really not legally responsible board members," Plath said of advisory boards.
Plath added that problems that led Colonial to seek bailout money and subsequently fail didn't have much to do with its business in Nevada, anyway.
"That is not where they needed (bailout money) to save the franchise," Plath said. "Their position in Nevada was relatively small."
Lowden consultant Robert Uithoven said Reid shouldn't criticize Lowden for her role with the bank.
"Colonial Bank of Nevada created far more private sector jobs in Nevada than Harry Reid ever could have dreamed of with their small business loans," Uithoven said.
CALIFORNIA FUNDRAISING
Sen. Harry Reid is poised to depart snowy Washington for a fundraising sweep in California when the Senate is out of session this week, reports the Sunlight Foundation, a government watchdog group.
Reid, who has set a $25 million goal to fund his re-election bid, has scheduled a cocktail party night in San Francisco and a breakfast there Tuesday.
Also on Tuesday, the Senate majority leader will be in Bel Air, the foundation said.
YUCCA QUESTION
At a Senate Environment and Public Works Committee hearing on Tuesday, Sen. Barbara Boxer, D-Calif., posed a question to the nominees for three seats on the Nuclear Regulatory Commission.
"I have a question here for all three of you from Senator (Harry) Reid, and you can just answer yes or no: If confirmed, would you second-guess the Department of Energy's decision to withdraw the license application for Yucca Mountain from the NRC's review?"
George Apostolakis, nuclear science and engineering professor at the Massachusetts Institute for Technology: "No."
William Magwood, former director of the Office of Nuclear Energy at the Department of Energy: "No."
William Ostendorff, former principal deputy administrator at the National Nuclear Security Administration: "No."
"Thank you," Boxer said. "I think he will be very pleased with that."
The significance of that exchange: If the three are confirmed, that means a majority of the five-member commission will be on record as having said they would not intervene to halt the Energy Department's planned pullout from the proposed Nevada nuclear waste repository.
A fourth member of the five-member NRC board, Chairman Gregory Jaczko, might be expected not to intervene. Jaczko worked as Reid's science adviser before he joined the NRC board in January 2005.
At Tuesday's hearing, Boxer, the committee chairwoman, said she expected "speedy confirmation" for the nominees. Sen. James Inhofe, R-Okla., the panel's ranking Republican, said he would support all three.
Energy Secretary Steven Chu has said DOE within a month would file a motion with an NRC judicial panel to withdraw the repository construction application.
Contact reporter Benjamin Spillman at bspillman@reviewjournal.com or 702-477-3861. Contact Stephens Washington Bureau Chief Steve Tetreault at stetreault@stephensmedia.com or 202-783-1760.
The Political Eye blog