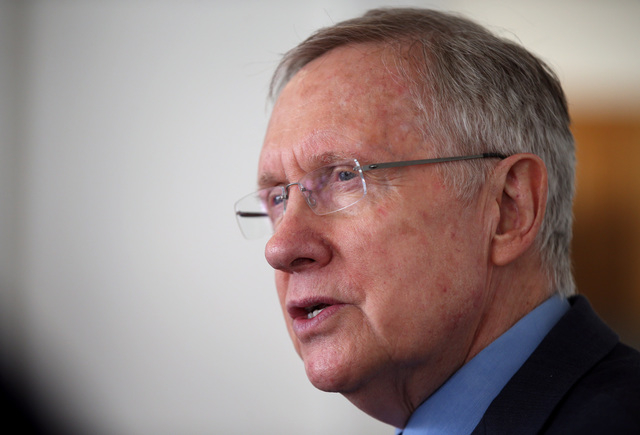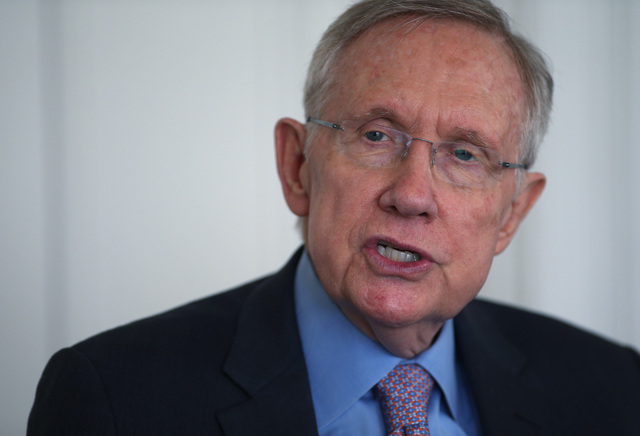 CARSON CITY – U.S. Sen. Harry Reid said Tuesday that he believes Congress will act to raise the minimum wage as proposed by President Obama earlier this year.
He noted that a Congressional Budget Office report released Tuesday on hiking the minimum wage shows that it would bring about 1 million people out of poverty.
"Two-thirds of the people who get minimum wage are women," Reid said. "A majority of those women are supporting a family on that money. Someone who works 40 hours should not be listed as poor."
Obama's proposal would raise the minimum wage from $7.25 to $10.10 an hour by 2016. The minimum wage in Nevada is $8.25 an hour.
Reid touched on a number of issues during a 30-minute question-and-answer session with members of the Nevada media.
Reid said he will also try again to extend federal unemployment benefits.
"We came within one vote of doing it," he said. "And there is tremendous pressure now on a number of Republican Senators, and we've got all the Democrats. So I'll bring it up again."
Reid said Democrats will field a respectable contender for governor against Brian Sandoval but he declined to name the candidate.
"I think it will be a respectable Democrat and someone that people know," he said.
But Reid said he is "still working on it."
Filing for Nevada public office for the 2014 general election starts March 3 and one of the stronger potential Democratic candidates, Clark County Commissioner Steve Sisolak, said Monday he would not seek the governor's office this year.
Reid reiterated that he intends to be a candidate for the Senate in 2016.
"Every trip I come home I say it and I'll say it again. Yes, I'm running."
Reid said he believes the Democrats can keep control of the Senate this year, despite big spending by Republican supporters, including the billionaire conservative Koch brothers.
"But we have such superior candidates and we're right on the issues," he said. "And even though we don't have the money of the Koch brothers, we have enough to defend ourselves."
Reid said he still maintains that prostitution should be abolished in Nevada, and that it will be a factor in whether the Republican National Committee picks Las Vegas for its national convention in 2016. Reid is supportive of bringing the convention to Nevada.
"There are people who don't come to the state of Nevada for a number of reasons," he said. "Our education system and the image that we have. And one of the images we have, gambling, is long since passed as a negative. But prostitution hasn't."
Contact Capital Bureau reporter Sean Whaley at swhaley@reviewjournal.com or 775-687-3900. Follow him on Twitter @seanw801.