Reid to keep Senate working until debt deal is done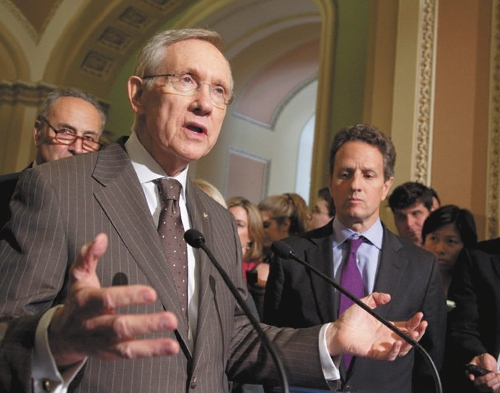 WASHINGTON — Closing in on an Aug. 2 deadline to extend the government's borrowing powers and avoid financial default, Senate leader Harry Reid said Monday he will keep senators working seven days a week until a deal is done.
"We are going to stay in session every day, including Saturdays and Sundays, until Congress passes legislation that prevents the United States from defaulting on our obligations," said Reid, the majority leader from Nevada.
"We have a lot of things to do," Reid said. "Not as many things as normal but extremely important things that are going to take time."
Reid said he spoke with President Barack Obama's advisers, and Obama "understands the importance of our meeting the responsibility we have."
Reid also got a buy-in from his Republican counterpart, Senate Minority Leader Mitch McConnell, R-Ky.
"We need to stay in every day until we resolve this crisis confronting our country … and get this problem fixed," McConnell said.
Reid's action reflected the increasing pressure Congress faces with two weeks to go until Treasury Secretary Timothy Geithner said the government will run out of ways to stretch out its bill-paying and avoid defaulting on required payments to debt holders.
Geithner met with Democrats last Thursday. "The picture was grim," Reid said in his daily remarks on the Senate floor. "This is how he described the state of our government if Congress allows this unprecedented default: 'lights out.' "
"Even those who believe government should be small enough to drown in a bathtub have to admit that a total shutdown of even the most basic and essential functions of government is scary," Reid said.
The revised schedule would be the second time this summer Reid has kept senators in Washington in an attempt to push progress on the debt limit.
Reid canceled a weeklong Fourth of July recess after Obama chided Congress for taking breaks during the looming crisis. While the Senate took only two procedural votes during that week, Reid said it was productive for meetings that took place "behind the scenes."
As members of Congress began to reassemble on Monday, a path away from possible default remained unclear.
House Republicans are scheduled to vote today on a debt ceiling bill that would increase government borrowing by $2.4 trillion, but only if Congress also caps federal spending at 20 percent of gross domestic product, or about $5.8 trillion over 10 years to start, and also a constitutional amendment to require a balanced budget.
While allowing Republicans to demonstrate toughness on federal spending, the so-called "cut, cap and balance" bill is not expected to pass the Senate if brought up for a vote.
The White House on Monday said Obama also would veto the "cut, cap and balance" bill. A statement from the White House budget office called it an "empty political statement."
Meanwhile, Reid and McConnell reportedly may unveil an alternative debt plan this week. It is being described as a "Plan B contingency," but may be the proposal best-positioned to pass by the deadline.
It would allow Obama to raise the debt ceiling by $2.5 trillion in three installments. According to reports, the Senate leaders are discussing adding $1 trillion to $1.5 trillion in spending cuts to the bill, and creating a special committee to identify further reductions that would be fast-tracked to votes in the House and Senate.