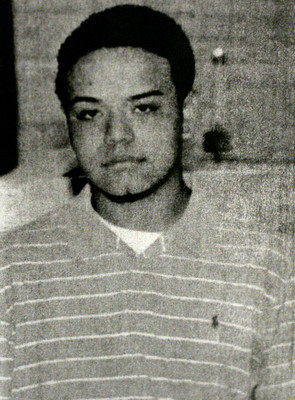 Anna Ramirez and her husband were used to seeing their 16-year-old nephew around the house doing what typical teenagers do: hanging out with friends and talking on the phone.
Their house was quieter than usual Thursday as they sat near photos of their slain nephew, which were sitting on a TV stand next to a lit candle of the Virgin Mary.
The candle and picture memorialized Clemente Carlos Garcia-Benitez, whose body was found in a drainage wash by Las Vegas police Monday morning. The teenager, who had been missing since Saturday night, had been shot in the head.
"He was so respectful, he was so nice," Ramirez said in Spanish, as she described her live-in nephew.
Clemente moved in with his aunt 21/2 years ago, when he came to Las Vegas from Mexico.
"My two young daughters adored him," Ramirez said. "His grandmother adored him."
The body of the teenager who attended Robison Middle School was recovered behind a shopping center near Washington Avenue and Lamb Boulevard, not far from where he lived with his aunt and uncle in a ranch-style home.
Police said the body was so badly decomposed they couldn't make out Clemente's ethnicity.
Las Vegas police are pursuing tips they've received about the slaying but still had no suspects Thursday.
Homicide Lt. Lew Roberts said "it's a good possibility" the crime was gang-related.
If the crime did indeed have gang ties, they did not include Clemente, his family said.
Carlos Garcia-Morales, Clemente's uncle, said in Spanish that his nephew showed no signs of belonging to a gang. He did not have any tattoos and did not drink. Garcia-Morales said his nephew was going to meet a friend and then never returned home. Garcia-Morales also said he recently checked Clemente's room and possessions for drugs and found nothing.
Garcia-Morales said Clemente came to live with him to get a better education than he could obtain in Mexico. Clemente struggled in school as he learned English, but he recently passed a summer school course and had officially become a high school student, his uncle said.
Clemente's goal was to get a high school diploma, Garcia-Morales said.
Clemente also planned to marry his girlfriend of more than a year once he turned 18. He wanted to move back to Mexico to work with his father, who is an architect.
Garcia-Morales said the death has devastated Clemente's parents who live in Penjamo, a city in the Mexican state of Guanajuato. Clemente's parents feel guilty and are questioning why they allowed their son to come to the United States. Clemente's family members in Las Vegas are trying to raise money to send Clemente's body home, with the help of the Mexican consulate.
"He was very close to me," Garcia-Morales said. "It was like I was his father and he was my son."
Anyone with information on the incident can call Crime Stoppers at 385-5555.
Review-Journal writer Lawrence Mower contributed to this report. Contact reporter Antonio Planas at aplanas@reviewjournal.com or 702-383-4638.