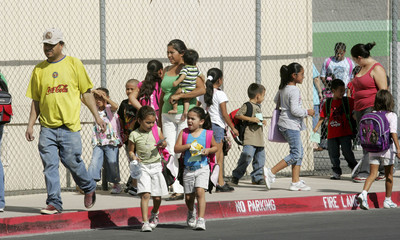 Nevada isn't investing enough in instruction for English-language learners to meet the changing needs of a growing number of students, according to a new report released today.
The report, titled "Gambling on the Future: Managing the Education Challenges of Rapid Growth in Nevada," said a lack of funding and resources for such instruction places Nevada's economic future in jeopardy.
"Nevada faces real risks if it continues to ignore the importance of educating (English-language learners) and the children of immigrants," the report said.
The Migration Policy Institute's National Center on Immigrant Integration Policy compiled the report. MPI is a Washington, D.C.-based, nonpartisan, nonprofit think tank that studies the movement of people worldwide.
Nevada's immigrant population increased 50 percent between 2000 and 2006, and English-language learners compose about 15 percent of the state's students, according to the report.
The numbers are higher in the Clark County School District, where about 20 percent of students, 62,650 youngsters, are English-language learners, said Norberta Anderson, director of the district's English Language Learners Program.
Such students eventually will enter the work force.
"Just as immigrants are an important part of the population in Nevada, they're also an important part of Nevada's labor force," said Aaron Terrazas, one of the report's authors.
Terrazas said that many immigrants historically have found low-skill jobs in industries such as construction and service, where they could earn a middle-class wage because of demand for such workers in Nevada.
But the foreclosure crisis and economic slump might change the demand for low-skilled workers, Terrazas said.
Economic experts have recommended diversifying Nevada's economy, but diversification would require either attracting more highly skilled workers to Nevada or producing more skilled workers, the report said.
"Improving the educational outcome of Nevada children — who are increasingly the children of immigrants — could complement long-term efforts to diversity Nevada's economy," it said.
Anderson said 73 percent of the district's English-language learner students were born in the United States, as identified by the students' birth certificates.
More than 100 languages are represented in the district's English-language learners program, but Spanish is by far the most common.
Spanish is the primary language for about 90 percent of the district's English-language learner students, Anderson said.
The district has 160 English-language learner specialists to work with the students, she said.
Anderson agreed with the report's conclusion that Nevada could learn from other states with large numbers of English-language learners — such as California, New York, Florida and Texas — which have allocated additional state funding for English-language learner instruction to districts that most need it.
"Here in Clark County we rely on the federal government to identify the amount of money allocated to the district based on enrollment," Anderson said. "We would love to provide more services to schools as far as more funding for instructional materials and more personnel."
The district receives $90 in federal money per English-language learner student each year, Anderson said.
The state "allocates extra per pupil funding for kindergartners and special-needs students," she said. "I'd love to see (English-language learners) included in those appropriations."
But the report acknowledged the "unlikelihood" of any "short-term budgetary changes" in Nevada.
The state Board of Education recently approved a tentative budget that would reduce funding by $101 million for fiscal year 2009-10 and by $162 million for fiscal year 2010-11.
Because of the economic downturn, state education officials expect shortfalls in revenues from property taxes and gaming taxes and expect growth in student enrollment to slow to less than 2 percent over the next two years.
Recommended reductions included eliminating or cutting back on funding for empowerment schools, early childhood education, library books and substitute teachers.
Contact reporter Lynnette Curtis at lcurtis@reviewjournal.com or 702-383-0285.