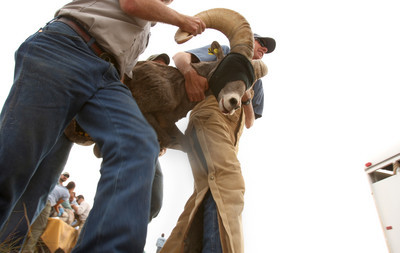 DOZENS OF PEOPLE GATHERED TUESDAY AFTERNOON IN A WEST LAS VEGAS NEIGHBORHOOD to celebrate turning over five newly renovated "dignified housing" units to homeless families. In the process, they got an unexpected pre-Halloween scare.
Just as the outdoor ceremony at Adams Avenue and D Street was set to begin, five Las Vegas police vehicles raced up Adams and surrounded a home across the street.
Officers, at least one with a gun drawn, spilled out and began frisking and handcuffing several men on the front lawn of the residence.
"My goodness," said one of the homeless mothers.
"Should we move everybody inside?" asked one of the organizers.
As the drama wound down, an old man approached a reporter and several other women and said: "Thank you, ladies, for coming to the 'hood.'"
LYNNETTE CURTIS
DURING THE TUESDAY OPENING OF THE METROPOLITAN POLICE DEPARTMENT'S CONVENTION CENTER AREA COMMAND, former Sheriff Bill Young praised Rossi Ralenkotter, president and CEO of the Las Vegas Convention Center and Visitors Authority. The convention authority paid $17 million to build the substation.
Young said he first met Ralenkotter at Bishop Gorman High School, where Ralenkotter was his baseball coach.
When it was Ralenkotter's turn to speak, he had this to say about his former player: "He still can't hit a curveball."
LAWRENCE MOWER
WHEN A GROUNDBREAKING CEREMONY WAS HELD ABOUT A YEAR AGO FOR THE CONVENTION CENTER AREA COMMAND, Las Vegas Mayor Oscar Goodman said the event was witnessed by two men drinking Miller Lites from the balcony of a low-rent apartment complex across the street.
"When they found out we were building a Metro substation they moved," Goodman said.
LAWRENCE MOWER
OVERHEARD ON THE SCANNER: "The neighbors are apparently throwing dirty diapers in their yard."
AS A CROWD GATHERED IN WEST LAS VEGAS FOR A RALLY featuring would-be first lady Michelle Obama last week, Tim Gee, owner of M&M's Chicken & Waffles, was manning his restaurant's trailer outside the event.
Asked what he thought of the Obamas — Michelle and her husband, Democratic nominee Barack — Gee said they were about the cutest couple he had ever seen.
"They go together like chicken and waffles."
MOLLY BALL
WHAT TO DO FOR HALLOWEEN IF YOU'RE A THIN, dark-haired, young white woman?
"I kind of look like Palin," UNLV marketing professor Angeline Close said during an interview the other day. "People were encouraging me to dress up like her."
She didn't want to do that. Too trendy. Too political.
"I just opted for Snow White," she said.
RICHARD LAKE
Week In ReviewMore Information