November 30, 2008 - 10:00 pm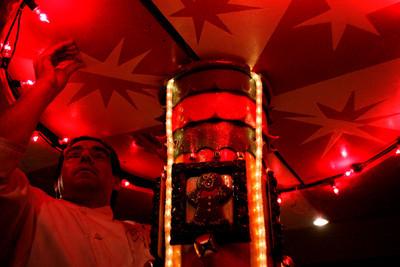 Ian Green runs a company called Greenheart that builds eco-friendly projects around the world, including the zip-line attraction that just opened in Bootleg Canyon outside Boulder City.
Dominic Greene runs a company called Greene Planet that builds eco-friendly projects around the world but is also the front for a ruthless criminal syndicate.
One of them is the villain in the new James Bond movie "Quantum of Solace." The other jokingly wonders if his cover has been blown.
"I will go see the movie," Ian Green wrote in a recent e-mail, "but I don't think they are onto me yet."
HENRY BREAN
OVERHEARD ON THE SCANNER: "FYI, your trunk is open."
THE HEADLINE ON A NEWS RELEASE FROM LAST WEEK that sounds inappropriate but really isn't: "Commissioner offering mammograms to women without insurance Tuesday and Wednesday."
SHE'S THE CEO OF A FOOD BANK, so maybe it's a good thing Julie Murray excels at making lemonade out of lemons.
A news conference where Sen. Harry Reid, D-Nev., came to praise the work of her organization, Three Square, was repeatedly drowned out by the deafening roar of fighter jets overhead.
"Nellis, thank you," she said of the Air Force base not far from the Three Square warehouse at Pecos and Craig roads.
"They happened to fly over to salute you," she told Reid.
Later, when the planes again buzzed over the warehouse, Reid paused and looked irritated. "Are those planes going to Nellis?" he asked.
"To and from," the optimistic Murray chirped. "We feel safe here."
MOLLY BALL
REID, THE MOST POWERFUL MAN IN THE U.S. SENATE, is possessed of a slightly darker sensibility, more easily demoralized. Opening the floor to questions, he told reporters, "It doesn't matter what you talk to us about, as long as it's not UNLV's football program."
Apparently Reid was watching when the favored Rebels lost big last weekend to San Diego State University, dashing their bowl game hopes.
MOLLY BALL
REID'S POSITION PUTS HIM IN CONTACT with America's most powerful people. In the news conference, he mentioned recent conversations with the current Treasury secretary, Henry Paulson; the proposed future Treasury secretary, Tim Geithner; President-elect Barack Obama, and others.
Reid generally appears nonchalant about such encounters with political stardom, but he finally caught himself.
"Joe Biden called me on the way over here," he said of the vice president-elect. "Boy, I'm name-dropping today."
MOLLY BALL
Week In ReviewMore Information