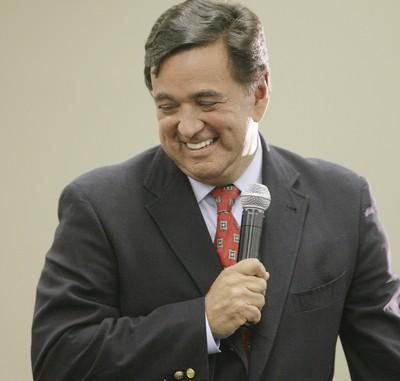 DURING A CAMPAIGN STOP THURSDAY MORNING, New Mexico Gov. Bill Richardson told a group of laundry workers about his most recent — somewhat deflating — call home to his 94-year-old mother.
"She says to me, 'Are you still fat?' " Richardson recounted. "I said, 'Yes, Mom, I'm still fat.' Ten minutes later … she says to me, 'Are you still fat?' I said, 'Yes, Mother, I'm still fat. But did you know I'm running for president?' She says, 'President of what?'"
LYNNETTE CURTIS
SEN. HARRY REID, D-NEV., CONVENED A MIDDAY ROUNDTABLE Thursday in Las Vegas for a handful of state leaders to discuss strategy to fight the Yucca Mountain nuclear repository.
Sen. John Ensign, R-Nev., was invited but declined, spokesman Tory Mazzola said, because of "previously scheduled engagements."
Ensign's office wouldn't say more. But in the popular "sightings" section of his Review-Journal column, Norm Clarke reported Ensign was spotted "catching lunch Thursday at Vintner Grill" in Summerlin.
"That was a private meeting," Mazzola said when asked for more details.
STEVE TETREAULT
OVERHEARD ON THE SCANNER: "My small intestines are eating my big ones."
THE MOST LIKELY SPOT FOR A LAS VEGAS ATTORNEY to wrinkle a suit is in a Regional Justice Center elevator when the Monday rush is on. One attorney, pressed tightly in the middle of a morning squeeze, observed that there might be a more efficient way to come and go from the courtrooms on the upper floors.
"I keep suggesting a ski lift up and a fireman's pole down," he said.
LISA KIM BACH
IT'S A GIVEN THAT NONATTORNEYS ARE GOING TO GET CONFUSED when they listen to attorneys speak, but there are times when you have to wonder if the lawyers really get it.
"We may be able to win even if we don't win, if that makes sense," a lawyer told companions after leaving court Monday.
Huh?
LISA KIM BACH
TRYING TO BE RESPECTFUL WHILE INTERVIEWING SEN. JACK REED, D-R.I., about his friend, Sen. Harry Reid, D-Nev., a reporter was having trouble keeping her "Senator Reid" and "Senator Reed" references straight. Reed was asked whether, in the halls of the Capitol, he ever hears "Hey, Senator Reid!" and turns around, only to find out it's his higher-ranking colleague being summoned.
"That happens occasionally," Reed acknowledged. "But he has the same dilemma, so I think it's fair."
MOLLY BALL
BOB STOLDAL, CHAIRMAN OF THE HISTORIC PRESERVATION COMMISSION, had a suggestion last week for city officials worried about the cost of replacing bronze medallions etched with incorrect information about Las Vegas history.
To recoup the loss, Stoldal jokingly told Scott Adams, director of the city's Office of Business Development, "You could probably put the wrong ones on eBay."
CARRI GEER THEVENOT
Week In ReviewMore Information