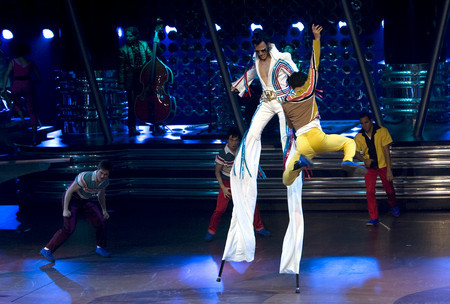 AS IF THE JOB DIDN'T HAVE ENOUGH PERKS, Oscar Goodman decided to throw in a little something extra for the next Las Vegas mayor.
"Whoever the new mayor is occupying the new City Hall, I'm going to donate the bar," he said at Wednesday's council meeting, out of the blue.
See, he's got a bar up in his office … yeah, you knew that already.
ALAN CHOATE
OVERHEARD ON THE SCANNER: "Is there a gas station around here that I won't get jacked at?"
WEEK IN REVIEW DOESN'T HAVE AN ONGOING WORD OF THE WEEK CONTEST, but if it did, Las Vegas Councilman Steve Ross would have won the latest round.
He didn't think the city needed to be tinkering with its alcohol regulations. Only instead of "tinkering," he said, "Fiddlefartin."
It's a fine word with many meanings, including, "what happens when the band eats too many beans before launching into 'The Devil Went Down to Georgia.'"
ALAN CHOATE
CHIP MOSHER, A COLUMNIST WHO WRITES ABOUT PUBLIC EDUCATION for the alternative weekly CityLife, describes himself in print as a "simple classroom teacher."
The "Socrates in Sodom" scribe was further humbled in the hallway outside a School Board meeting by Mary Ella Holloway, the former president of the teachers union, which is a favorite target of Mosher's ridicule.
Holloway, who works for the Clark County School District as an expert on employee morale, evidently did not want a district employee to come under Mosher's influence.
Holloway interrupted Mosher's conversation with the employee by shouting, "Don't talk to him."
After a brief moment of stunned silence, Mosher resumed the conversation as Holloway disappeared into the board meeting.
JAMES HAUG
Week In ReviewMore Information