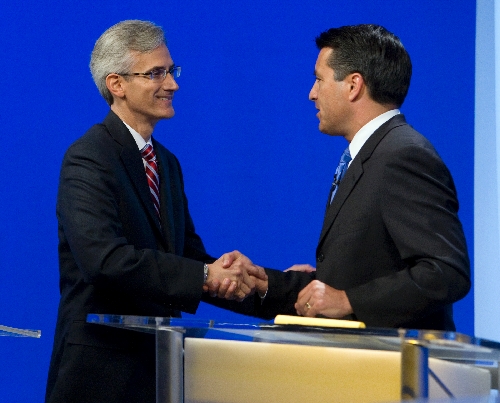 Mike Myers — the longtime Las Vegas fire department employee, not the killer from the "Halloween" franchise or the former "Saturday Night Live" player — initially had the Las Vegas City Council's full support as the city's next fire chief.
Then Mayor Oscar Goodman started to waver.
"I've been advised that Chief Myers is going to jump off the top of the Stratosphere with Councilman (Steve) Ross," Goodman noted.
That would be the bungee jump attraction, which they are set to do as a Boy Scouts fundraiser.
"My understanding," responded Myers, "is that I am pushing Councilman Ross."
And that allayed all concerns.
ALAN CHOATE
Strip headliner Terry Fator helped unload a truck at Opportunity Village's temporary thrift store at 4600 Meadow Lane recently, but he was also shopping.
"Can we buy some of this? Seriously!" he said as he toted pieces of donated furniture about. "We just moved into a new house … That entertainment center is exactly what we've been looking for."
He and his girlfriend decided to buy the entertainment center, a table and chairs and a patio love seat swing.
But officially, officials, they didn't "buy" anything. How could they? The store, set to open Monday, didn't have a business license yet.
ALAN CHOATE
Not to toot our own horns,
but the Las Vegas Review-Journal was first to report on the strange union of ample sunshine and cutting edge architecture that has produced a reflection intense enough to singe hair at one of CityCenter's swimming pools.
Now the phrase "Vdara death ray" produces 141,000 search results on Google, including a few funny headlines from other news outlets.
The Detroit Free Press' website offers this, for example: "Vegas hotel features guest-scorching death ray."
But our personal favorite comes from AOLNews.com: "Las Vegas Sun Creates 'Death Ray' on Vdara Hotel Pool Deck."
Yes, that's right. Blame it on the Sun.
HENRY BREAN
Week In ReviewMore Information