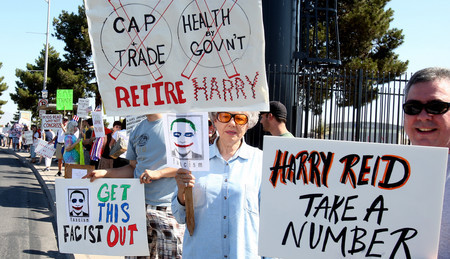 A CELL PHONE NATURALLY RANG SOON AFTER THE STATE BOARD OF EDUCATION discussed requiring all phones to be on the silent mode during their meetings.
Board members then laughed and teasingly threatened to expel Doris Arnold, the owner of the offending phone and the executive assistant to State Superintendent Keith Rheault.
Because the board was wading into wonky subjects like charter school oversight, Arnold seemed elated at the request to leave.
"Hallelujah!" she said Wednesday.
By the way, the phone call was for Rheault.
JAMES HAUG
FARMERS ARE NOTORIOUS PESSIMISTS WHEN IT COMES TO THE WEATHER. Ask them how it has been lately, and they can usually be counted on to find the cloud in any silver lining.
Take rancher Dean Baker, who grows hay and raises livestock on a large spread that straddles the Nevada-Utah line near Great Basin National Park.
He said this has been a pretty good year so far for precipitation, though lately it has rained "just enough to slow hay baling."
Then he caught himself.
"Moisture is always more valuable than hay," said Baker, who added with a laugh, "No matter what the weather is, you could always like something else I guess."
HENRY BREAN
LAS VEGAS DID NOT FAIR WELL ON THE INTERNET MESSAGE BOARD OF THE SALT LAKE TRIBUNE ON FRIDAY, after news of a deal between Nevada and Utah that could clear the way for a water pipeline to Sin City from a basin shared by the two states.
Only one reader took Southern Nevada's side, sort of.
As the post from "flatlander100" pointed out, "If Las Vegas dries up and blows away, BYU will never get to play in bowl games."
HENRY BREAN
PRIOR TO A TUESDAY HEARING IN SAN FRANCISCO INVOLVING PERSONAL INJURY ATTORNEY NOEL GAGE, the 9th U.S. Circuit Court of Appeals panel heard arguments about an allegedly illegal search of a vehicle as police investigated a case of stolen tires.
The judges appeared puzzled, but it had nothing to do with the circumstances surrounding the incident. What they struggled to understand was why officers removed the stolen tires and replaced them with another set.
"They changed the tires?" asked Chief Judge Alex Kozinski.
"Did they change the oil, too? They sound very accommodating."
ADRIENNE PACKER
A POLICE HELICOPTER MADE AN EMERGENCY LANDING WEDNESDAY AFTER AN ENGINE FAILED, shaking up the pilot and an observer who were lucky to avoid motorists during the set-down.
When a Las Vegas police spokesman was asked how one of the department's choppers wound up in the middle of the street, officer Bill Cassell replied, "Someone parked it there. We're going to give them a ticket."
KEITH ROGERS
Week In ReviewMore Information