Republic Services focuses on single-stream recycling
December 29, 2013 - 9:35 pm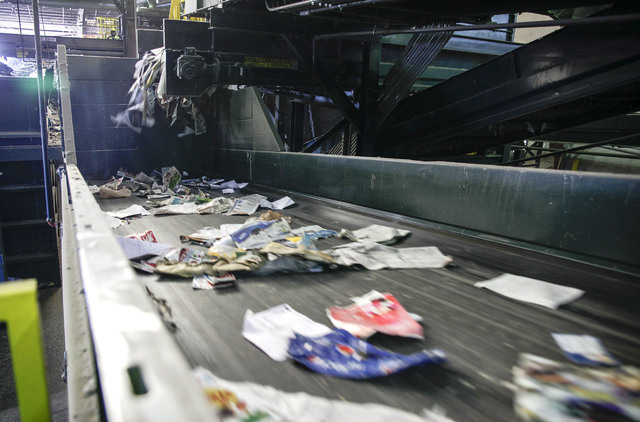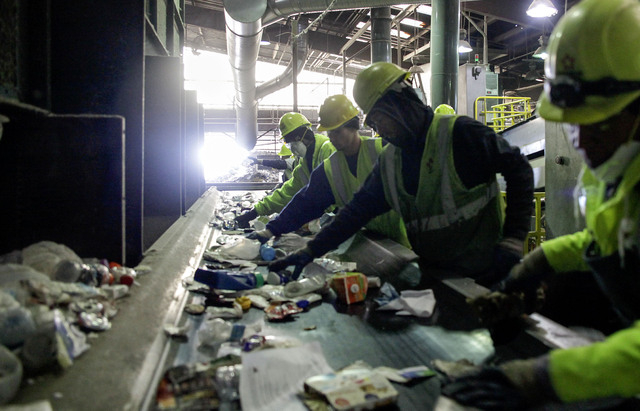 Water bottles, cans and the like are mingled on the conveyor belt at Republic Services' sorting facility for recyclable materials in North Las Vegas.
Magnets separate the metal from the plastic, and shifting discs separate different types of paper.
The company's ability to sort recyclable materials will increase in the next couple of years. Republic Services, which provides Clark County's trash removal and recycling services, is designing a new facility to prepare for a widening trend in single-stream recycling, which allows the public to do recycling without sorting the materials.
Those facility plans will go to the city of North Las Vegas for permitting in the first quarter of 2014, company spokesman Bob Coyle said. The company aims to start construction later in 2014, with completion happening in late 2015.
When finished, the new facility will have the ability to sort and process about 70 tons of materials an hour, Coyle said.
That's about sevenfold compared to two decades ago. In 1991, Republic Services' facility, when built, could handle about nine or 10 tons an hour. After an upgrade in 2006, that volume increased to 25 to 30 tons an hour, Coyle said.
Customers in the valley who already have switched to single-stream recycling can put all their reyclables into one container without spending time sorting them into three separate plastic crates.
When the transition happens, the recycling materials will be picked up once a week instead of once every other week. In exchange, trash pickup will be reduced from twice a week to once a week.
The shift for single-residence homes in unincorporated areas of the county is still about two years away. The county in November approved the change.
North Las Vegas and most of Henderson already have single-stream recycling in place. The city of Las Vegas is considering a move in that direction, and Republic Services anticipates giving the city a presentation in early 2014.
The new facility will be built at the northwest corner of West Gowan and North Commerce streets in North Las Vegas near the company's existing site.
The existing recycling facility will remain in place, doing similar work.
The company's facility has about 120 to 132 employees on staff. Those people will move to the new facility, and the company anticipates adding about 25 to 30 new employees, Coyle said.
The jobs, which include operating forklifts and maintenance, will pay between $9 and $20 an hour.
"As single-stream recycling became more of an industry standard, they've been able to integrate lots of different mechanical sorting tools," Coyle said.
An automated process does much of the sorting, but employees are needed to run the machines, look for foreign objects and load the baled materials. Optical scanners can scan plastics, separating them by density. Magnets pull out metal recyclables, separating them from other materials. The technology also magnetizes aluminum cans, sorting them from other recyclables. Those tools are in place at the existing facility.
Republic Services doesn't do the re­cycling, which is a common misperception, Coyle said. The company's job is to sort and bale materials which go to recyclers.
Republic Services is working with Bulk Handling Systems, a Eugene, Ore.-based company, to plan the expansion.
Steve Miller, chief executive officer of BHS said: "As quantities have increased, and the volume that you need to process each hour, each minute, more technology is being applied because people just can't keep up with the volume.
Miller said the industry, compared to 20 years ago, is "night and day."
"Twenty years ago, you'd have a sort belt — a conveyor belt with a lot of people so your ability to perform really would be based on the number of people you had," he said.
The service won't cost Clark County residents any increase in fees.
The single-stream service will start to roll out for unincorporated areas of the county in late 2015 or early 2016. Republic Services will divide its service area in a grid of six areas, based on the days that residents receive collection service.
The company doesn't handle garbage for Mesquite or Boulder City. In March, the company talked to Laughlin officials about single-stream recycling.
Residents will have a choice of three sizes for one trash and one recycling bin — 35-gallon, 65-gallon and 96-gallon. The company will have community outreach meetings for residents with models of the different sizes on display, Coyle said.
"People can kick the tires, if you will," he said.
Contact reporter Ben Botkin at bbotkin@reviewjournal.com or 702-405-9781. Follow him on Twitter @BenBotkin1.