Republicans offer tentative support for Buckley's foreclosure mediation bill
February 11, 2009 - 3:42 pm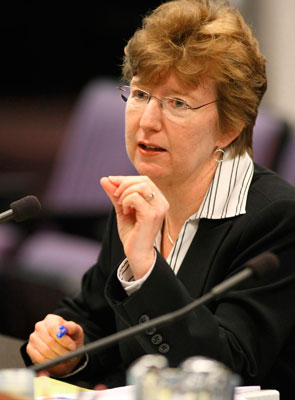 CARSON CITY — Conservative Republicans expressed tentative support today for a Democratic bill to require banks and other lenders to participate in mediation hearings with homeowners who are in danger of losing their homes to foreclosure.
"This bill represents intervention into the private sector that I would generally be uncomfortable with," said Sen. Warren Hardy, R-Las Vegas. "But these are not normal circumstances and I want to be part of the solution."
Hardy, Assemblyman James Settelmeyer, R-Gardnerville, and others expressed general support for Assembly Bill 149, the foreclosure proposal by Assembly Speaker Barbara Buckley, D-Las Vegas.
Under this bill, lenders would be required to make a good faith effort during court-ordered mediation hearings to try to come up with a loan modification to keep the homeowner in the home.
Lenders would not be forced to agree to loan modifications, but Hardy and Buckley both pointed out it would make sense for them to do so financially in an era where home values have dropped dramatically.
During a joint meeting of the Senate and Assembly commerce and labor committees, Buckley said lenders always lose financially if a home goes into foreclosure.
She estimated her bill might keep 17,000 owner-occupied homes from going into foreclosure.
"It has such potential to help out all our constituencies," said Settelmeyer, who suggested lawmakers add a date in which to terminate the program if the economy rebounds.
Under the proposal, people in danger of losing their homes would apply to the Administrative Office of the Courts, at the Nevada Supreme Court, and request a mediation hearing. Lenders would be required to attend or send a representative who has the power to renegotiate loans.
"We recognize the importance of this issue to the citizens of the state," Chief Justice Jim Hardesty said. "This is an all-hands-on-deck crisis."
He asked legislators to consider giving judges a lot of flexibility in working out solutions.
Buckley said she fears 10,000 or more people might immediately file for mediation hearings and overburden the court system.
The bill tentatively could go into law on July 1, but Buckley said she hopes it's even sooner.
Contact Capital Bureau Chief Ed Vogel at evogel@reviewjournal.com or 775-687-3901.